Emily Sullivan is NJAC Volleyball Rookie of the Year
Galloway, NJ – Four Stockton University volleyball players were chosen for NJAC all-conference honors, which were announced today. Leading the way was freshman Emily Sullivan(Bridgewater/Bridgewater-Raritan) who was voted NJAC Rookie of the Year and picked for an NJAC First Team slot.
Senior Stephanie Kovacs (Allentown, PA/Central Catholic) was selected for her third consecutive NJAC First Team honor. Sophomore teammates Natalie Miller (Pittsburgh, PA/Thomas Jefferson) and Sarah Walsh (Flemington/Hunterdon Central) were recognized with NJAC Second Team accolades.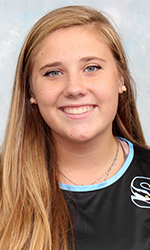 Sullivan has had a tremendous first season at Stockton. A six-time NJAC Rookie of the Week this year, the setter became the seventh Stockton player to receive the NJAC Rookie of the Year award. Sullivan stands fourth in the conference in aces (0.60/set) and sixth in assists (6.37/set) while leading Stockton in both categories. She has dished 20 or more assists in 21 of 33 matches this year.
Kovacs is the ninth player in Stockton history to be named NJAC First Team three or more times. The senior has a team-high 423 kills and is averaging 3.78 kills per set, good for second in the league. Kovacs also ranks second in the NJAC in points (3.96/set) and fourth in hitting percentage (.329). She reached the 1,000-kill mark for her career on September 30 and spiked a career-high 30 kills versus FDU-Florham on October 14.
Walsh has filled the stat sheet once again in her sophomore season. The outside hitter is second on the team in kills (315) and digs (220) to go along with 31 blocks and 13 aces. Walsh ranks sixth in the NJAC in kills (2.89/set) and 10th in points (3.17/set). She has reached double digits in kills 16 times in 32 matches played, highlighted by career-high with 27 kills against Union on October 13.
Miller has been solid in the back row as the libero for the Ospreys. For the year, the sophomore has a team-best 496 digs and stands sixth in the league (4.13/set). Miller also is second on the Ospreys in aces (27) and third in assists (112). She has reached double digits in digs 27 times in 33 matches and has been chosen NJAC Defensive Player of the Week on two occasions this season.
- Ospreys -
Contact:
Chris Rollman
Sports Information Director
Stockton University
(609) 626-6011
www.stocktonathletics.com