Deon Davis of Atlantic City Sworn In as Stockton Student Trustee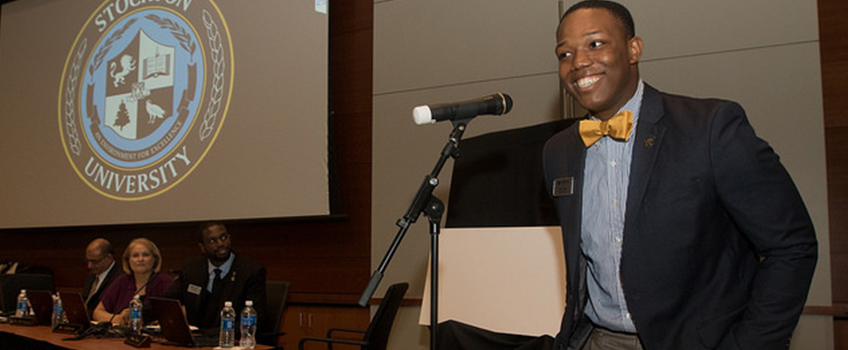 Galloway, N.J - Deon Davis, 20, of Atlantic City, a junior at Stockton University was sworn in Wednesday as the alternate student trustee on the University Board of Trustees.
Davis is a native of Atlantic City and 2015 graduate of Atlantic City High School, where he was a middle linebacker on the football team. He also participated in the Boys and Girls Club Champions of Youth Program and was the Atlantic County Youth of the Year in 2015.
"That's where I honed my leadership skills," he said of the Champions of Youth Program.
A communications major at Stockton, Davis said he chose the university because it was small and offered personalized attention.
"I have dyslexia," he said of the disorder that can made it difficult to read and process language. "I wanted the ability to be able to talk to and build rapport with my professors."
A member of Alpha Phi Alpha, Davis is vice president of the Stockton Greek Council and a former member of the Student Senate. He wants to be a film maker, and his role model is Oprah Winfrey.
Two students, chosen by the student body, serve on Stockton University's Board of Trustees: one as a voting member, the other as a nonvoting alternate. The alternate becomes the voting member in their second year on the board. Both Student Trustees serve as representatives on specific Board committees, and participate in Board discussions, deliberations and the Open Public meetings.
Ike Ejikeme, a native of Jersey City, who was the alternate trustee last year, moved to voting member of the board this year. Ejikeme is in a Dual Degree Master's program pursuing a Homeland Security track. He hopes to pursue a doctorate degree in an Emergency Management field.
A former member of Student Senate, Ike is also president of the Stockton chapter of Iota Phi Theta Fraternity, Inc. He founded the I-Phi Food Drive to benefit the Atlantic City Rescue Mission.
# # #
Contact: Diane D'Amico
Director of News and Media Relations
Galloway, N.J. 08205
Diane.D'Amico@Stockton.edu
(609) 652-4593