Students, Faculty, Start Year with Day of Service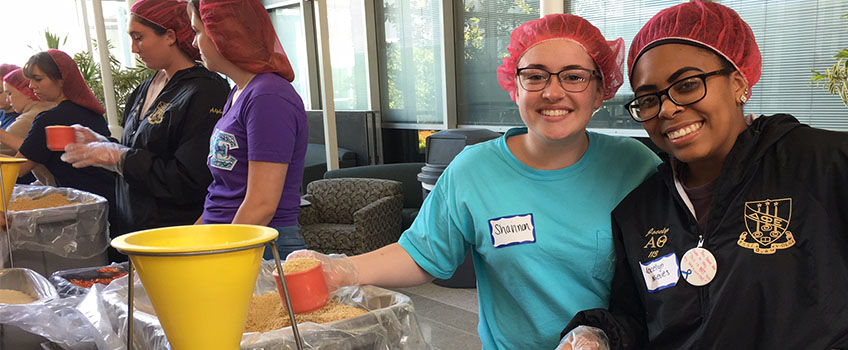 GALLOWAY N.J. - More than 400 students and 30 faculty and staff members made meals, packed books, and created greeting cards and pillows for sick children at the 14th annual Stockton University Fall Day of Service at the Campus Center Saturday.
Circle K service club president Taylor McKay tracked student progress as teams rotated through the activities. They made sandwiches for the Atlantic City Rescue Mission, coloring books and friendship bracelets for the Ronald McDonald house, stuffed pillows and bears for AtlantiCare, and cat toys for the Humane Society.
Senior Ace Shepherd-Sloan of Atlantic City worked on projects with Alexis Thompson of Sicklerville and Allison Adams of Glassboro.
"I've been doing this since my freshman year," said Shepherd-Sloan who also a member of the Kappa Alpha Psi fraternity.
The annual fall event is coordinated by staff in the Office of Student Development, the Office of Service Learning, and the Stockton Center for Community Engagement.
In October Stockton will receive a Civic Learning and Community Engagement Award from the American Association of State Colleges and Universities for its work with the American Democracy Project and service learning.
Stockton also hosts a community-wide Day of Service in January on Martin Luther King, Jr. Day. The fall event, traditionally held on the first weekend of classes in September, introduces students to service learning at Stockton.
Student Jake Grootenboer, president of the Stockton chapter of Books with Borders, said their last shipment went to Zimbabwe. By the lunch break they had sorted more than 2,000 books and packed 63 boxes.
In the Civics Fair outside the library, students made posters, "vote" buttons for the November election, and wrote their thoughts on a "Democracy Wall."
In the C-D atrium students filled thousands of bags with a special rice mixture to make meals for Rise Against Hunger. Their goal was 45,000 meals.
"Each day 20,000 people in the world die of hunger," said David Cook, community engagement coordinator for Rise Against Hunger, who efficiently organized students into teams of meal-makers, weighers , labelers and packers. "We are filling bags to nourish lives."
See more photos on Flickr
Contact:
Diane D'Amico
Director of News and Public Relations
Galloway, N.J. 08205
Diane.D'Amico@Stockton.edu
(609) 652-4593
stockton.edu/media