Constitution Day Speaker Says Congress Plays Important Role in Future of Trump Presidency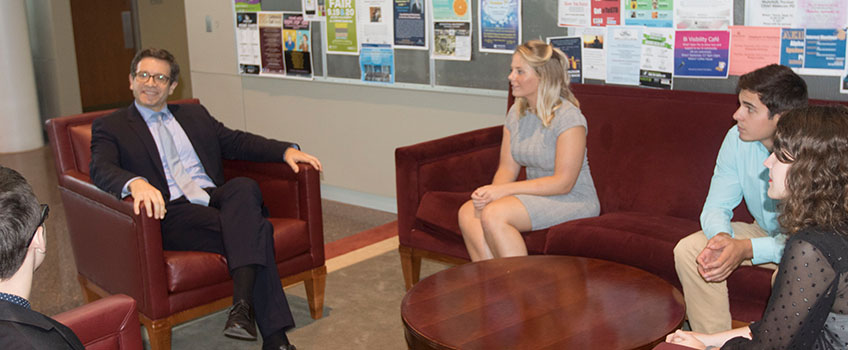 Galloway, N.J. - If President Donald Trump were to exceed his Constitutional authority, Congress still has the power to challenge him, Julian E. Zelizer told a crowd of more than 450 people at the Stockton University Campus Center Tuesday night.
Zelizer, a CNN analyst and a professor of History and Public Affairs at Princeton University, spoke at the annual Constitution Day celebration at Stockton.
"The question that comes up today is 'Do we face a Constitutional crisis?' " Zelizer said. "A lot of what we see today feels different from White Houses in the past."
He said supporters see Trump as someone who gets things done. Others are concerned that the president is overstepping and crossing the line of even an "imperial presidency."
"I think it is fair to be pretty concerned," Zelizer said. But, he said, the key is what Congress will do about it.
"So far they have been relatively supportive, or passive," he said. "But historically presidents need to be careful."
Zelizer cited examples ranging from Franklin Delano Roosevelt to Ronald Reagan and Lyndon B. Johnson to show how presidents can find their wishes and popularity undermined by Congress, even when Congress has a majority in the same party.
"Right now (Trump) is testing the loyalty of the Republican Congress," Zelizer said. "And Congress can cause immense damage to a president."
He said an angry Congress can stifle progress on legislation, or use their own bully pulpit on TV to affect the president's approval ratings.
He said Trump is vulnerable because he has created more incentives for Republicans to take a stand.
"The cost to stand by him increases," Zelizer said. "He is in pretty good shape in the polls with Republicans, but he has to be wary that those numbers are soft."
He said the key to Trump's success has been the strength of partisan polarization, and the question is whether his own party will develop enough interest to challenge him. He noted that Trump has criticized members of his own party, and a few have spoken out against him.
Among the tools Congress could use are impeachment, congressional investigations, ignoring Trump's legislative priorities, or sending him bills with which he does not agree, forcing him to either veto or sign them.
"Even with an imperial presidency, Congress still matters," Zelizer said. He said while Trump has used executive orders aggressively and fairly successfully, he has had almost no legislative victories so far.
"But he has a very loyal base," Zelizer said. "He uses Twitter in ways no other president has."
See more photos on Flickr.
Contact:
Diane D'Amico
Director of News and Media Relations
Galloway, N.J. 08205
Diane.D'Amico@stockton.edu
(609) 652-4593
stockton.edu/media