Stockton Coastal Research Center Reports on 30 Years of NJ Shoreline Change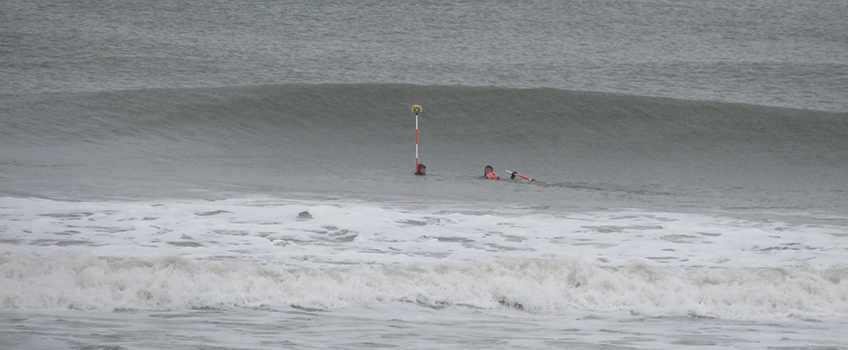 Galloway, N.J.— The Stockton University Coastal Research Center, located in Port Republic, New Jersey, has published a 30-year report on shoreline change in New Jersey to provide science-based guidance for future management decisions.
Since 1986, the Coastal Research Center has monitored 107 New Jersey beach profile sites, including the Raritan and Delaware Bays, with at least one site in each oceanfront municipality. Biannual surveys in the fall and spring document shoreline position and sand volume to help identify areas with potential erosion problems, to inform policy decisions that will protect beaches and reduce risks to developed regions, and to assess storm impacts.
The 30-year retrospective report analyzes each beach profile site to determine trends and patterns of change, and takes a broad perspective to identify natural events and human efforts that may have altered overall trends in the data collected.
The report is organized by county (Atlantic, Ocean, Cape May and Monmouth) and is accessible online.
Stewart Farrell, director of the Coastal Research Center, said, "When northern Ocean County beach replenishment is complete next year, all 97 miles of the New Jersey developed shoreline will be under U.S. Army Corps management with shore protection projects. The Wildwoods remain under a feasibility study leading to a project eventually."
The most resilient beaches have a few commonalities. "Wide, dry beach width plus a decent, continuous elevation dune was the most effective means to avoid or reduce Hurricane Sandy damage from the wave attack," explained Farrell.
New Jersey is considered the most developed and densely populated shoreline in the country, but out of the 130-mile stretch between Sandy Hook and Cape May Point, there are 31.2 miles of undeveloped shoreline.
The New Jersey Beach Profile Network project was established by the New Jersey Department of Environmental Protection and the Coastal Research Center following Hurricane Gloria with the mission to document storm damage and seasonal changes.
-Reported by Susan Allen
Contact:
Diane D'Amico
Director of News and Media Relations
Galloway, N.J. 08205
Diane.D'Amico@stockton.edu
609-652-4593
stockton.edu/media