Christopher Catching Named New VP for Student Affairs
Christopher C. Catching has been selected as Stockton University's new Vice President for Student Affairs.
Catching comes to Stockton from Southern Connecticut State University where he is Assistant Vice President for Student Affairs. Previously, he served as Coordinator for Greek Leadership Development at Seton Hall University, Director of Multicultural Engagement at Rutgers University and Assistant Provost at Hofstra University.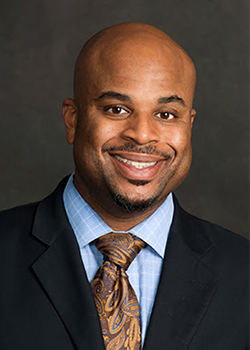 Catching is passionate about providing students with access to transformative learning opportunities. The foundation for his commitment to educational access was established during his undergraduate experience. A native of Newark, N.J., Catching received the opportunity to pursue higher education through the Educational Opportunity Fund Program (EOF) at Montclair State University and was the first person in his family to graduate from college. He was recognized in 2012 with the Governor Thomas Kean Distinguished Alumni Award from the New Jersey Educational Opportunity Fund Program.
Stockton President Harvey Kesselman said Catching's experience in strategic planning and student success programs like EOF, and his interest in social justice and inclusion, mesh perfectly with Stockton's mission to develop engaged and effective citizens and provide an environment of excellence for a diverse student body.
"He understands and represents the values and vision of Stockton," Kesselman said. "He is a great fit for us."
Catching will replace Thomasa Gonzalez, who is retiring after more than 30 years at Stockton.
Catching said he is excited about joining the Stockton community in helping students achieve their dreams and goals.
"I am honored and very excited about the opportunity to join the Stockton family and work closely with campus and community partners to provide students with learning opportunities that transform their lives and prepares them for life-long success," he said.
Catching received his Bachelor of Arts from Montclair State University, his Master of Arts in Higher Education from New York University and his Doctorate in Education from Rutgers University.
Catching will begin work on or about February 5, 2018.
Contact:
Diane D'Amico
Director of News and Media Relations
Galloway, N.J. 08205
Diane.D'Amico@stockton.edu
609-652-4593
stockton.edu/media