Softball Program Gift Honors Memory of Christine Ross '85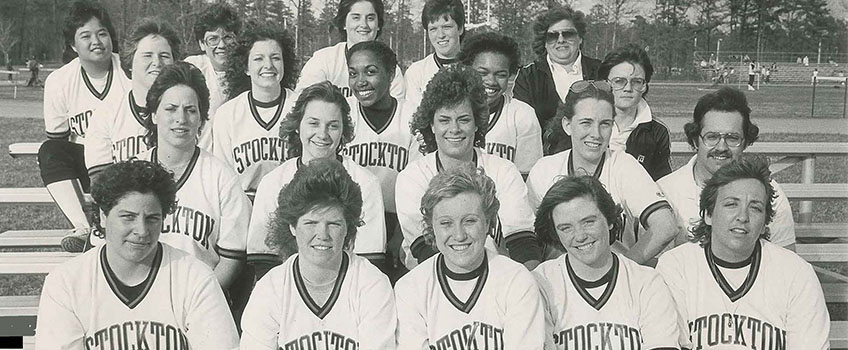 Galloway, N.J. - Friends and family of Stockton University alumna Christine Ross '85 today signed a gift agreement establishing a Stockton University Foundation fund in her memory. The Christine "Scrapper" Ross '85 Memorial Fund will support the Stockton softball program for whom Ross, who passed away in July, played four seasons.
The gift agreement was signed by Stockton University President Dr. Harvey Kesselman, Ross' sisters Jean Ross and Barbara Ross Kovelesky, her wife Sandrae Hidi and her Stockton teammates Abby Roessler '86 and Maureen Getcliffe '86.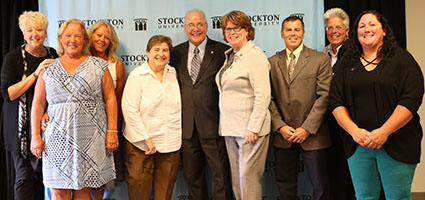 Among those in attendance were Dr. Phillip Ellmore, chief development officer; Dr. Susan Davenport, executive vice president; Kevin McHugh, athletic director; Mavreen Hering, head softball coach and Val Julien, who was an assistant coach during two of Ross' four seasons at Stockton and later served as head coach of the Ospreys for 29 years.
Ross, a native of Manalapan, was a four-year letter winner in softball who played catcher for the Ospreys. As a senior, she served as the team captain for the 1985 squad that became the first Stockton team in any sport to win an Eastern College Athletic Conference regional title. The Ospreys set a then-school record with 21 victories that year as well. Ross, a marine science major, was a Stockton Honor Athlete and an inductee into Who's Who Among Students in American Colleges and Universities.
"Scrapper was the heart and soul of our 1985 team," said Roessler. "At her funeral, we decided to do something to honor her memory. We're really grateful to have a place to honor her memory and the Stockton softball team is the perfect place."
Proceeds from the gift agreement will help defray costs associated with an NCAA Division III softball program, most notably the team's annual trip to Florida for 10 games in March. "This helps so much with giving us the opportunity to go to Florida each year and compete against nationally-ranked teams and teams from other regions," Hering said.
The fund balance stands at $2,300 so far. To donate, visit https://elevate.stockton.edu/athletics and select Women's Softball. In the "in memory of" box on the donation page type in "Christine "Scrapper" Ross.
PHOTO: From left: Abby Roessler '86, Barbara Ross Kovelesky, Jean Ross, Sandrae Hidi, Dr. Havey Kesselman, Maureen Getcliffe '86, Kevin McHugh, Val Julien, and Mavreen Hering at the gift agreement signing.
Contact:
Chris Rollman
Sports Information Director
Galloway, N.J. 08205
rollmanc@stockton.edu
(609) 626-6011
www.stocktonathletics.com