Council of Black Faculty and Staff Honors Eight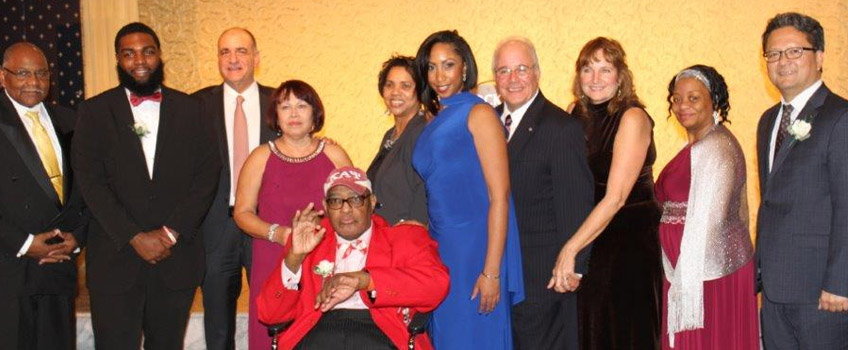 Egg Harbor City -The Council of Black Faculty and Staff honored seven Stockton University faculty, staff and alumni, and a Stockton club at the 36th annual Council Awards Dinner & Dance on Nov. 10 at Renault Winery Grand Ballroom.
Some 300 people attended the event, which raises money for student scholarships. University President Harvey Kesselman praised the group for raising almost $300,000 that has been distributed to date.
Honorees spoke about the importance of scholarships to making college accessible to more students. Some shared stories of overcoming their own struggles, which made them even more determined to help others.
A Special Recognition Awards was presented by Associate Dean of Students Stephen B. Davis to retired administrator Arthur A. Davis, Jr., who recalled his long career and all the people he has met and worked with both at Stockton and in the community.
Jonathan L Johnson, Director of the Office of Community Wellness and Health Education at Stockton presented Lifetime Achievement Awards to Assistant Director of Admissions Melvin Gregory and Vice President for Student Affairs Thomasa Gonzalez.
Gonzalez, who is retiring, was in Puerto Rico when Hurricane Maria hit. She said has discovered her next calling, to return to the country and help rebuild.
Atlantic City Campus Chief Operating Officer Brian Jackson presented Merit Awards to Interim Vice President for Administration and Finance E. Michael Angulo and Program Assistant Renee Tolliver.
Director of Alumni Relations Sara E. Faurot presented the Distinguished Alumni Award to Stockton Trustee and Certified Public Accountant Raymond D. Ciccone, '79, and Stockton Professional Service Specialist, Adjunct Instructor and Coordinate of STEM Initiative, Dawn N. Watkins.
The Outstanding Stockton University Club Award went to Kappa Alpha Psi Fraternity. Paul Collier, Polemarch of the Atlantic City Alumni Chapter presented the award to Ahmad Shepherd Sloan, president of the Xi Gamma Undergraduate Chapter at Stockton.
Scholarship recipients Daniela Puerta, a senior Health Science major and Ike Ejikeme, a Student Trustee and Criminal Justice Major spoke about how the funds are helping them earn a degree so they can help others.
The event also honored 10 students from the Carver Early College High School Program who are earning both a high school diploma and a degree from Cumberland County College while in high school. The students wrote essays about "What Community Means to Me," and received certificates of recognition at the dinner.
Atlantic City Councilman Kaleem Shabazz served as Master of Ceremonies for the event. Patricia W. Collins, president of the Council of Black Faculty and Staff, welcomed guests and thanked them for their support of the scholarship program.
View a gallery of photos at: CBFS Dinner
Contact:
Diane D'Amico
Director of News and Media Relations
Galloway, N.J. 08205
Diane.D'Amico@Stockton.edu
609-652-4593
stockton.edu/media