Students Network with Employers at Stockton University's Largest Career and Internship Fair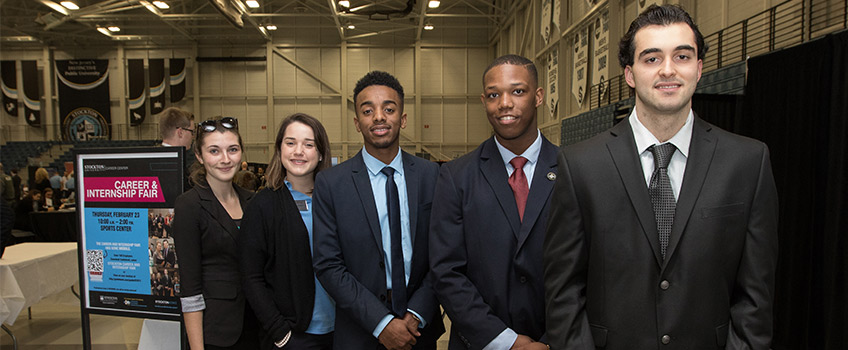 For Immediate Release; see photos on Flickr
Contact: Susan Allen
News and Media Relations
Galloway, N.J. 08205
Susan.Allen@stockton.edu
(609) 652-4790
www.stockton.edu/media
Galloway, N.J. – Nearly 800 students networked with employer representatives from about 140 organizations seeking interns, part-time and full-time staff at Stockton University's Career and Internship Fair.
This semester's fair saw the largest turnout in history for this growing event, which moved into a larger venue, the Sports Center, last semester.
Donna Albano, associate professor of Hospitality and Tourism Management Studies, and her students formed a line and lights flashed as a photographer captured headshots to help students establish a professional online presence. Nearby, Campus Police Sgt. Tracy Stuart spoke with students, accompanied by her K-9 partner, Hemi.
"Network yesterday," said Jacob Helmeczi, a 2009 Stockton Philosophy and Religion graduate who is now an assistant director in the Career Center. "Forming relationships with key decision makers leads to opportunities," he explained, emphasizing that students should start networking as soon as possible.
"You need a degree, but employers care more about what you have done," he said.
For senior Computer Science majors Shawn McCall, of Lincroft, and James Girard, of Egg Harbor Township, competing in their first hack-a-thon at Stockton and winning it is just the kind of experience Helmeczi is talking about.
Last weekend during StockHack, they worked with a third team member, Drexel student Kevin Garrone, to code a safety app that sends users' locations to their contacts in the event of an emergency and maps the threats for emergency planning. Today, they are looking for software engineering job opportunities.
Melissa Tucker, a sophomore Communications major from Haddonfield, attended the fair last semester and is back this semester with event sponsor Townsquare Media, as its digital intern.
Of her internship, which resulted from meeting representatives of Townsquare Media at the last Stockton fair, she said, "It's exactly what I was looking for."
Her work so far has helped her gain experience in social media, filming and editing videos, photography and writing blogs for five radio stations. Recently she created engaging videos to make Oscar predictions and to introduce the DJs to listeners.
Ashley Surkin, digital marketing editor for Townsquare Media South Jersey and a resident of Mays Landing, said, "We love to meet new faces who are interested in the communications field. Stockton students present themselves in a positive way. It's great to see their confidence."
Other event sponsors are Enterprise Holdings and Barrette Outdoor Living.
Kelly Garcia, a senior Health Sciences major from Voorhees, is a familiar face to many of the employers. As a Career Center office assistant since her sophomore year, she has worked four previous fairs and helped numerous students and employers.
She hopes to be a speech therapist and was just accepted into graduate school. Attending a career fair is a great way to get practice at presenting yourself to employers, she explained.
After four internship experiences, Ankit Amin, a senior accounting major from Absecon, is looking for a full-time position. He graduates in May, but he is already actively searching for opportunities. He credits his professors with giving him leads to his internship opportunities that gave him diverse experience. He also utilized the Career Center to have his resume reviewed prior to attending.
Rebecca Reed, clinical services coordinator for the Arc of Atlantic County, said that the fair is also an opportunity for students to ask employers for feedback on their resumes.
After today, Dayna DeFiore, an assistant director in the Career Center, encourages participants to keep up the momentum of their job searches. "The conversation doesn't stop after today. Follow up to maintain relationships by writing thank you cards, submitting applications in a timely fashion, reaching out to contacts and visiting the Career Center for additional support," she explained.
Eighty-eight percent of Stockton graduates are employed or enrolled in graduate school within six months of graduation, exceeding national statistics. The Career and Internship Fair, an etiquette dinner and programming that prepares students for interviews, outlines professional attire and offers resume feedback all help students to attain careers.