Career Center Links Students to Jobs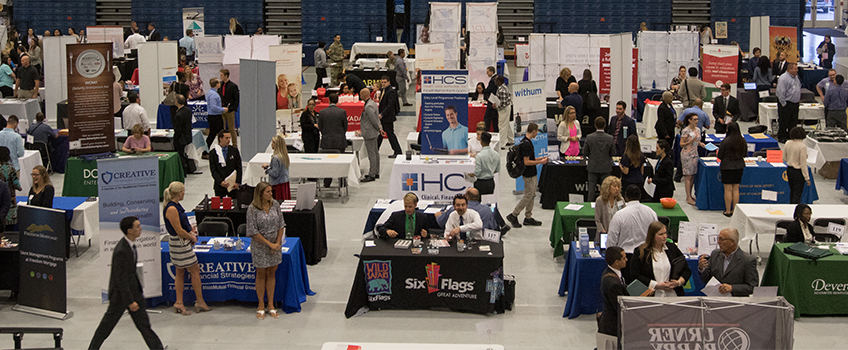 Galloway, N.J. - Vincent Calderone of Hammonton graduated from Stockton University with a degree in accounting and finance in December 2016. He started an internship in January 2017 with the Northfield accounting firm of Capaldi, Reynolds & Pelosi, then was hired full-time by the firm.
"It was really rigorous during tax season," Calderone said of his internship, which he applied for after talking with the firm at the Stockton Career and Internship Fair last fall. This year he was back at the event, assisting as an alumni recruiter with CPA John Moller, '94.
Moller started with the firm right out of college. This is the third year they have participated in the Career Fair. Moller and managing partner Matt Reynolds said the event is valuable for both students and businesses.
"It gives us a chance to meet potential interns," Moller said, "and internships give them a sample of what the job is like, especially during tax season."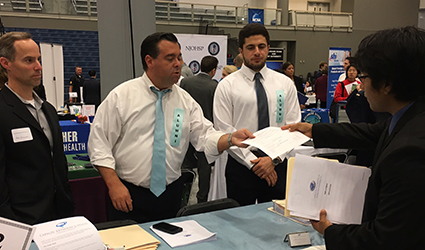 More than 100 businesses participated in the fall Career and Internship Fair, offering internships and jobs in fields ranging from nursing to police work and business management.
The fair is just one of services provided by Stockton's Career Center, which offers services ranging from resume writing to job search strategy, plus the StocktonWorks link to jobs and internships. They even offer lessons in how to tie a tie, part of the "Are You Suitable" message that encourages students to dress professionally for interviews.
Career Center Director Walter L. Tarver, III said the center uses the Career Community Model in which advisers specialize in six specific career areas, such as business and hospitality, education or health sciences. Students sign up for the areas they are interested in and get more targeted assistance.
"We want to make the time students spend with us valuable," Tarver said.
Alumni at the 2017 fair said attending the Career Fair and taking advantage of internships were crucial to their obtaining a job quickly once they graduated. They also encouraged students to consider looking beyond the obvious companies or careers. Many types of businesses need accountants or human resources people.
Alumna Erin Gorman, of Galloway Township, who graduated with a degree in public health in 2016, has been a recruiting manager with Bayada Home Health Care for almost a year. She learned about Bayada at a Stockton Career Fair, then did an internship with Virtua Health that led to a job, but it was a long commute. When a job closer to home with Bayada became available she applied.
"I didn't know that there were positions like this in the local office," she said. "I love this job, and I have learned so much about all the different jobs there are."
Debbie Rusnak recruits for Barrette Outdoor Living, which makes fencing, railing and outdoor living products at the old Lenox building in Galloway Township.
"We have jobs in accounting, product design, office work, and CAD technician," said Rusnak, a 2002 graduate of Stockton with a degree in business, who recently joined Barrette. "I have to explain we have a lot more than just plant work."
Rusnak got student's attention with one of the best "freebies" at the fair, forest green stadium blankets with a Barrette logo storage pouch.
"I have collected some resumes," she said. "I just have to get them to stop and listen."
More information on the Career Center is online at: Stockton.edu/career-center.
To see more photos from the Oct. 5, 2017, Career and Internship Fair, visit https://www.flickr.com/photos/stockton_edu/albums/72157687505687444.
Contact:
Diane D'Amico
Director of News and Media Relations
Galloway, N.J. 08205
Diane.D'Amico@stockton.edu
(609) 652-4593
www.stockton.edu/media