Stockton Receives Award from Commerce and Industry Association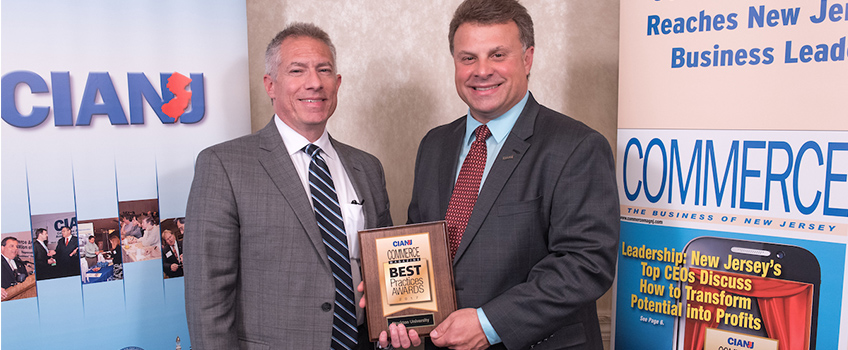 GALLOWAY, N.J. _ Stockton University received a Best Practices Award from the Commerce and Industry Association of New Jersey for its 2020 Strategic Initiatives, which funds special projects involving faculty, students and the community.
The award was presented Sept. 12 at the Fourth Annual Best Practices Conference in Belleville attended by some 150 executives. Stockton Chief Planning Officer Peter Baratta accepted the award from Anthony Russo, president of CIANJ.
"Stockton's 2020 Strategic Initiatives provides seed money for innovative ideas that connect the community to our strategic themes of Learning, Engagement, Global Perspectives and Sustainability," Stockton president Harvey Kesselman said.
Since the first 2020 Strategic Initiatives were approved in 2011, the university has provided $1,090,741 in support for a total of 68 projects. The grassroots ideas are vetted through a collaborative team process, then approved by President Kesselman.
In 2016-17 alone, 14 projects were funded. They include a trip to Greece for military veterans in a special class studying Homer's Iliad and Odyssey; a project on migrants to South Jersey currently on exhibit at the Noyes Museum of Art at Stockton's Kramer Hall in Hammonton; and the Student Spaceflight Experiments Program (SSEP), which took an experiment designed by Stockton students to the International Space Station for testing.
Proposers seeking ongoing support can use the results of their 2020 project to pursue funding options through other internal or external sources.
Stockton also received a CIANJ Best Practices in Leadership Award last year for its practices in seeking input from stakeholders, collaboration and open communications.
Contact:
Diane D'Amico
Director of News and Media Relations
Galloway, N.J. 08205
Diane.D'Amico@stockton.edu
(609) 652-4593
www.stockton.edu/media