Stockton Inducts 2017 Athletics Hall of Fame Class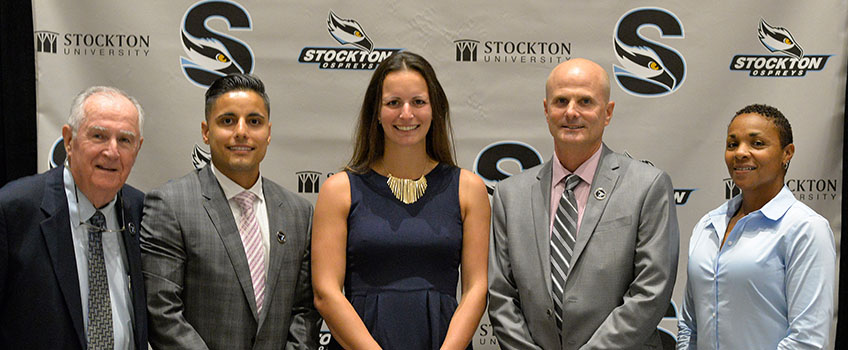 Galloway, N.J. - Stockton Athletics inducted its eighth Hall of Fame class at a dinner in the Campus Center Event Room Oct. 6. The inductees were Santini Lancioni '12 (men's basketball), Linda Long '93 (women's basketball), Lisa Shepherd '10 (women's track & field) along with coaches Jeff Haines (men's soccer) and Gerry Matthews (men's basketball).

The event began with opening remarks by Dr. Harvey Kesselman, Stockton University president, and was preceded by a moment of silence in memory of long-time Stockton men's lacrosse coach Dick Rizk, who passed away in August.

Lancioni, a 2009 NABC First Team All-American and 2009 NJAC Player of the Year, was the first inductee of the night. Lancioni said, "I'd like to thank my brother Mario, who came to Stockton before me. I'm proud of the man he's become." The two-time NJAC First Teamer later added, "I'll remember the bonds and relationships I had at Stockton and that's because of Coach Matthews."

Haines was the second inductee to the podium, introduced by Matthews, with whom he shared an office for 17 years. "I'm not here without the love and support of my wife and family," he said. Haines had heart surgery over the summer and joked that the Hall of Fame Committee was "worried about Gerry's health, not mine." Haines is the only coach in Stockton's history to guide a team to an NCAA championship, which came in 2001 for men's soccer.

After dinner was served, Long became the third inductee of the night. A three-time NJAC All-Conference honoree, she is Stockton's all-time leader in steals and ranks third in scoring. Long graduated from Stockton and served honorably in the U.S. Marine Corps for 20 years before obtaining her master's degree to coach.

Long wants to help other young athletes that are in similar situations that she was in as a youth. "I'm here because of the kindness of a stranger," she said. "This man took a chance on me and inspired me to become a better person and player and that's (Stockton women's basketball coach) Joe FUssner."

Shepherd was inducted next. A six-time All-American and eight-time NJAC champion in the high jump, she mentioned that "the inductees tonight prove the competitiveness of our athletes." A doctor in physical therapy, she noted how the faculty supported her in one of the toughest programs in the country. "I'm proud to be a part of a school that made such an impact on my life," Shepherd said.

Matthews was the final honoree of the night and his induction began with remarks from Haines. "I watched how Gerry coached and learned not to take any team for granted," said Haines. Matthews, the winningest basketball coach in New Jersey history with 603 wins, noted that he had only eight assistant coaches over his 30 years at Stockton. He also thanked Dr. Kesselman, who was instrumental in elevating the first Stockton coaches, including Matthews and Haines, to full-time status in 2000.

"Harvey has been here throughout my tenure and nobody is more loyal to the student-athletes and school than him," he said. Matthews was asked about his legacy and after some thought introduced many of his former players who were in attendance and asked them to stand. "There was no basketball or athletic history when I got here. There's your history," he said to a standing ovation.
Contact: Chris Rollman
Sports Information Director
Christopher.Rollman@stockton.edu
(609) 626-6011
StocktonAthletics.com