Alicia Belko Becomes First All-American in Stockton Cross Country Program History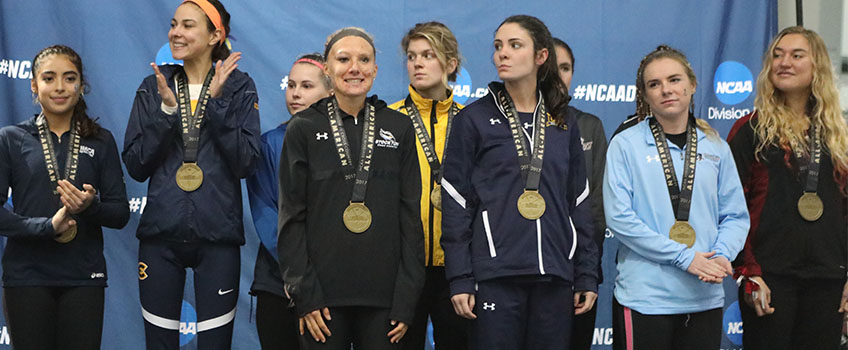 Galloway, NJ – A fall and a subsequent black eye one kilometer into the NCAA Division III Women's Cross Country Championship on Nov. 19 in Illinois did not stop Stockton University senior Alicia Belko from becoming the first All-American in the history of the Stockton men's and women's cross country programs.
"It definitely hasn't sunk in yet," said Belko, of Hainesport, about her most recent accomplishment. The runner, who is no stranger to success, also earned All-American status in the 3000m steeplechase during the outdoor track and field season in the spring of 2017.
The Rancocas Valley grad was recruited to play field hockey and run track and field at Stockton, but her passion for running led her to retire her field hockey stick and put on another pair of running shoes.
"It was hard to walk away from field hockey, but joining the cross country team last year helped me gain so much toughness, confidence and the physical fitness I needed to reach the goals I set on the track," said Belko, who is currently in Stockton's Doctorate of Physical Therapy Program.
"After I raced my way to my first All-American honor in the steeplechase last spring, I was extremely focused and hungry to see what I could do with this last opportunity on the cross country course as an Osprey."
Belko's focus and hunger has guided her throughout her final cross country season at Stockton, enabling her to make history and to leave her mark on the program forever. After a pileup of fallen runners caused her to lose her ideal positioning and suffer a black and bleeding eye, Belko reminded herself, "I didn't come this far just to give up."
Despite the setback, Belko ended up finishing the race with a time of 21:23.70, placing 27th out of 279 runners from schools throughout the country and earning All-American status by placing in the top 40.
Despite her decorated career, Belko remains modest about her successes on the track and in the trails. She credits her much of her success to the support she has received from her teammates and the Stockton coaching staff.
"The support all around has been amazing," said Belko. "The coaching staff and members of the team have been there for me every step of the way, and have truly helped me get to this point."
Jayson Resch, Cross Country and Track and Field program coordinator and Men's Cross Country and Track and Field head coach, said Belko's love for the sport and the hard work she puts in is inspiring.
"Alicia is one of the most committed and dedicated athletes I have coached," said Resch. "She committed herself to the lifestyle necessary to succeed, while balancing school and working hard to reach her goals."
"Alicia's accomplishments showcase her hard work, dedication and commitment to reaching her goals as well as the success of the entire program," said Resch, whom Belko says has played a huge role in her success as well as the success of the entire women's team through the years.
Belko believes that the encouragement she received has helped her to grow and develop into a better person on and off the track or trails.
"When I took my visit (to Stockton) years ago, I knew that it would be the place for me," said Belko. "I have amazing memories that will stay with me forever and I will always be appreciative of the things that I've gained here."
_ Story reported by Marielena Dottoli.
# # #
Contact:
Chris Rollman
Sports Information Director
Galloway, N.J. 08205
Christopher.Rollman@stockton.edu
609-626-6011
stocktonathletics.com