Stockton Celebrates Largest Commencement Ever in Atlantic City Boardwalk Hall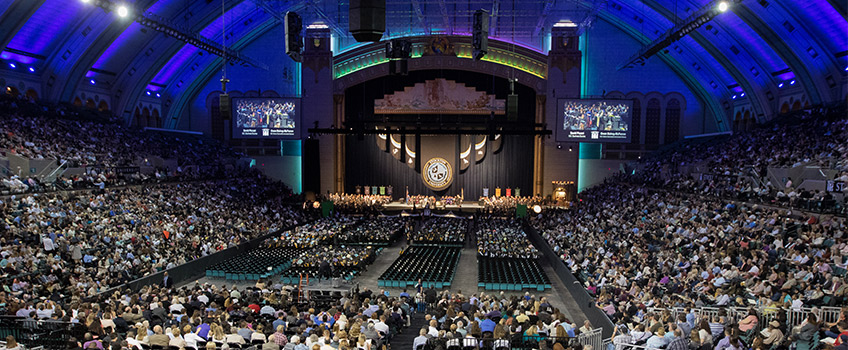 For Immediate Release; photos on flickr
Contact: Maryjane Briant
News and Media Relations Director
Galloway, N.J. 08205
Maryjane.Briant@stockton.edu
(609) 652-4593
stockton.edu/media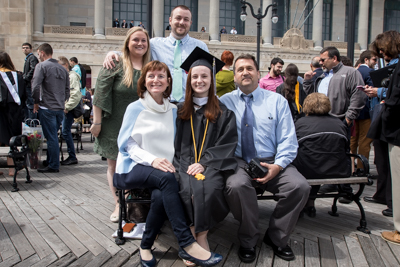 Stockton Degrees: A Gorecke Family Tradition
Eric and Julie Gorecke met in art class at Stockton in 1985, graduated in 1986 and got married in 1987 - and when they had children, getting a Stockton degree (or two) became a family tradition.
Today, daughter Olivia graduated at Atlantic City Boardwalk Hall with her B.A. in Literature, cheered on by her parents and siblings, Zachary, who got a B.A., in Criminal Justice in 2013, and Meghan, who earned her M.A. in Social Work in Wednesday, topping off her undergraduate Social Work degree from 2014.
Eric, a retired parole officer, got his B.A. in Psychology when the school was Stockton State College, and Julia, a case manager for the Department of Human Services, got her degree in Social Work. The family lives in Avalon in Cape May County, N.J.
"Stockton gave me a great foundation." said Olivia, speaking on the Boardwalk after the university's largest-ever Commencement. "I was able to graduate in three years with no debt and I've been accepted at Drexel University to get my master's in Library Information Science in the fall."
Zachary said his Stockton education helped prepare him for law school, where he is completing his third year at Rutgers University-Camden. Meghan said she's working full-time at the Atlantic County Mental Health Association.
"We love social work and justice," said Julia. And it all started in art class.
Caption: Seated left to right on the Atlantic City Boardwalk after the May 12, 2017 Commencement: Julia, Olivia and Eric Gorecke; standing: Meghan and Zachary Gorecke.
Galloway, N.J. - Stockton University today held its largest Commencement ceremony ever - and its first in Boardwalk Hall in Atlantic City, the community where Stockton's first classes were held in 1971 and where steel is rising for a residential campus set to open in fall 2018.
"This is awesome!" said University President Harvey Kesselman, looking around as close to 10,000 cheered in the storied arena, built in 1929 and home to the world's largest pipe organ and countless major events including the Miss America Pageant, the 1964 Democratic National Convention, and the nation's first indoor football game. "As president of this extraordinary institution, I have the distinct privilege of being the first to say: Let's give it up for the Class of 2017!"
A record total of 1,556 graduates from the Schools of Arts and Humanities, Business, Education, General Studies, Health Sciences, Natural Sciences and Mathematics, and Social and Behavioral Sciences earned degrees this spring, including 1,339 undergraduates today and 217 who earned advanced degrees from Stockton's 13 master's and doctoral programs in a separate ceremony May 10.

State Sen. James Whelan, D-2nd, spoke about the lessons to be learned from two of the giants of the 19th century: Charles Darwin and Abraham Lincoln.
Darwin's theory of evolution and natural selection changed the world, but he wasn't right about everything, Whelan said. When the massive bones of dinosaurs were first discovered, "Darwin figured that they had been replaced by species that were more fit for survival, and that if we kept digging we'd find the replacement species in the fossil record," said Whelan.
"Darwin was wrong. We now know that dinosaurs went extinct because a giant asteroid crashed into the earth at the Yucatán Peninsula/ Gulf of Mexico, changing the earth's atmosphere, resulting in a great extinction," he continued. Polar bears aren't threatened because other species are taking their place, "they are threatened because the Arctic environment is disappearing."
Although Darwin "got the back half of his theory (how animals go extinct) wrong," that "doesn't mean he wasn't the greatest scientist of his time, who changed the way we think about the world and its creation. It just means he got something wrong."
Lincoln, trying to win the Civil War and keep the country together, repeatedly picked ineffective generals, Whelan said. "There was ridicule and controversy for Lincoln each time he made a change, but Lincoln kept changing commanders, kept getting it wrong, until he got it right with Ulysses S. Grant," he said.
"So that's my message to you: Don't be afraid to make mistakes. You are going to make some - keep going and you will make some more, but go a little further and you will get it right!"

Whelan, a state senator since 2008 who also served as Atlantic City's mayor, on City Council, as an assemblyman and a teacher in the city's schools, received the university's Distinguished Service Award. Madeleine Deininger, chair of the Board of Trustees, cited "his outstanding leadership as the state senator in the Second Legislative District, and his many professional contributions to Stockton University, the City of Atlantic City, and to the State of New Jersey," as she and Kesselman presented Whelan with the award.
Student Speaker's Theme: Service to Others
The student speaker, Joachim Cendana, received a B.A. in Liberal Studies. He was introduced by Lori Vermeulen, provost and vice president for Academic Affairs, who said, "Mr. Cendana is thoroughly engaged in civic activities through musical performance and mentoring young children at his local parish. He aspires to teach in an elementary school and model values of civility and respect for the next generation."
"Stockton University has taught me many important lessons that extend beyond the classroom, and there are three that stand out to me that I would like to share with all of you today. The first is that we are all lifelong learners," said Cendana.
"Our college experience is not ultimately defined by the grades that we received in our classes; rather, it is about what we have learned and how we have overcome difficulties and stumbling blocks along the way to become better and wiser people," he said. "Most importantly, it is what we do with these learning experiences that make us who we are, which brings me to the next important lesson that I have learned here at Stockton – the importance of service.
"Service is a word that we hear quite a bit at Stockton, from service-learning courses and activities to the Martin Luther King, Jr. Day of Service held every January.... By serving others, we put all of the knowledge, skills, morals and values that we have learned here at Stockton to good use. We often hear from others that we have the power to change the world, and that it is up to our generation to make positive changes. This often leaves us with the impression that we need to reach out to the ends of the Earth in order to make an impact," Cendana continued.
"However, I believe that we have the ability to make a difference by serving the people who are around us every day, from our family members and friends, to our neighbors and our co-workers."
Cendana said the final lesson he learned at Stockton involved meeting Nick Sena, a Stockton staff member and alumnus, at a Foundation Scholarship Awards Dinner. During his senior year of high school, Sena had lost his mother in a car accident that also injured him and the rest of his family.
"Because of the injuries that he sustained, Nick decided to attend Stockton because there was a hospital nearby where he could receive treatment while taking classes," Cendana related. "Stockton's warm and friendly atmosphere and its dedication to service inspired Nick to establish the Angela Sena Memorial Scholarship to honor the memory of his mother and make an impact on the lives of Stockton's students. Hearing Nick's story taught me a powerful lesson: no matter what difficulties or hardships we may face in life, we all have the ability to spread kindness and compassion through our acts of service to others.
"So, to the class of 2017, I leave you with this message: be open to the countless learning experiences that will come your way as you move forward; give of yourselves in service to others; and lastly, even when times get tough, never stop showing love, kindness, and care."
'Passion, Patience and Persistence Are the Anchors of Your Eventual Success'
President Kesselman prefaced his remarks by lightheartedly clearing up a misunderstanding: He attended Stockton's first classes in the Mayflower Hotel on the Atlantic City Boardwalk in 1971 before the Galloway campus was ready. He didn't "come over on the Mayflower," as he overheard a young family member of a graduate saying earlier.
His theme for graduates was more serious: "Passion, patience and persistence are the anchors of your eventual success."
He illustrated these traits through the story of Kevin King, of the University of Washington, who recently took part in the NFL Draft but was not chosen the first day. "Kevin was the only invited draftee to return for the second round. He explained it in a tweet: 'I came here to walk my mom and dad down the red carpet, hear my name called, and get my hat. They ain't getting rid of me that easy!'"
"The Twitter world exploded in support of Kevin King," Kesselman continued. "He held on to his dream, and the very next day, he was the first to be selected and announced as the 33rd pick of the draft.
"Kevin King sustained a passion to pursue his dream, demonstrated persistence to press on when confronted with disappointments, and showed patience while positioning himself for success.... And you too, have fulfilled your dream. Earning a graduate degree in your chosen field is no small achievement," he said.
In encouraging graduates to be persistent, Kesselman pointed out that best-selling author Stephen King's first novel was rejected 30 times before it was published: basketball legend Michael Jordan was told he wasn't good enough to play in high school and cut from the team, and Oprah Winfrey was fired from her first TV anchor job.
"In closing, this is what I leave you with today. Remember to follow your passion, exercise patience, and most of all…make your motto for persistence be: "They ain't getting rid of me that easy!"
Vermeulen introduced the graduates to receive their degrees, which were conferred by Kesselman. Caitlin Pagkalinawan, a 2015 alumna and the fiancée of Steven Hensle, who was unable to pick up his B.A. in Computer Science and Information Systems today for medical reasons, received his degree.
Kesselman announced that the senior class gift is a video projection unit for the Campus Center Coffee House, "which will contribute to students' education and entertainment there for years to come."
Representing the Stockton Board of Trustees at Commencement were Chair Deininger, a member of the class of 1980, Ellen Bailey, Raymond Ciccone, a 1979 alumnus, Nancy Davis, a retired professor, Nelida Valentin, a 1986 alumna, student trustee Cristian Moreno, who graduated today, and Ike Ejikeme, alternate student trustee.
Also present were: Rick Dovey, '75, chair of the University Foundation Board and Johanna Johnson, first vice chair and a 1979 alumna; First Lady Lynne Kesselman, an alumna of the classes of 1982 and 2005 and a nationally recognized educator; Barbara Gaba, president of Atlantic Cape Community College; Michael Klein, CEO of the N.J. Association of State Colleges and Universities; Maryam Sarhan, president of the Student Senate, who graduated today; and Atlantic City Mayor Don Guardian and City Councilmen Marty Small, an alumnus, and Kaleem Shabazz.
The Next Stage of Life: Graduate Proposes to Felllow Grad on Boardwalk after Ceremony
Grand Marshal Norma Boakes, associate professor of Education, headed the procession. The singing of the national anthem was led by student Danielle Quinn, who was accompanied by Beverly Vaughn, professor of Music, at the organ, and by Paula Dollarhide, a 2003 alumna and associate director of Academic Advising, at the piano.
Joseph Sramaty, a Stockton staff member and 2015 Stockton alumnus, sang "Ospreys on Parade," the alma mater with lyrics by Professor Emeritus of Creative Writing, and 2001 Pulitzer Prize winner for poetry, Stephen Dunn, which were adapted by Sramaty. The music was composed by Bud Noble, an adjunct instructor. Sramaty was accompanied by Dollarhide at the pipe organ and Vaughn on the piano.
Nine long-time faculty members received Emeriti Status on their retirements this spring:
David Carr, professor of Political Science and director of Research and Policy Analysis, William J. Hughes Center for Public Policy;
Jamie Cromartie, associate professor of Environmental Studies;
Sonia Gonsalves, professor of Psychology and director of Academic Assessment;
Bess Kathrins, professor of Physical Therapy;
Melaku Lakew, professor of Economics;
Franklin Smith, professor of Sociology;
Karen Stewart, professor of Business Studies, Marketing;
Henry van Kuiken, professor of Dance;
Marilyn Vito, associate professor of Business Studies, Accounting.
After the ceremony, the boardwalk erupted in cheers from onlookers as Scott Scerbo, a Business graduate from Toms River, N.J., got down on one knee to propose to his Stockton sweetheart Catherine Dell Elba, an Education graduate from Washington, N.J., at Kennedy Plaza. In addition to his degree, "Catherine is the best thing Stockton gave me," said Scerbo, who met his fiancée in their freshman year.
Family, friends and Talon, Stockton's osprey mascot, surrounded the couple as cameras flashed and hugs were exchanged.
Video of the event was livestreamed and is available for viewing, along with the May 10 ceremony, at stockton.edu/commencement.