Stockton Earns National AASCU Award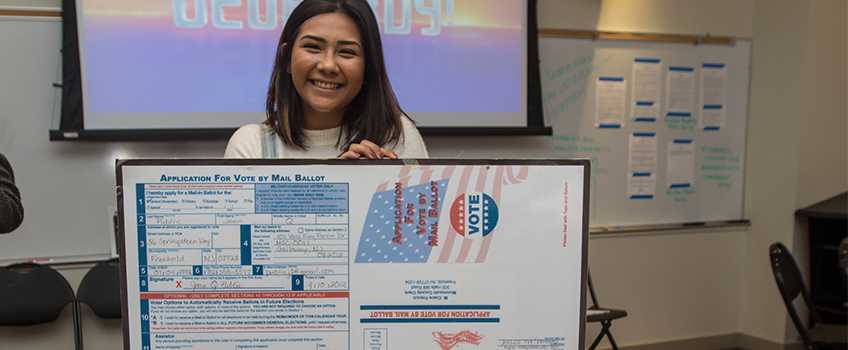 Galloway, NJ - Student Julie Coker, 19, of Union Beach in Monmouth County, knew she would not get home to vote on Election Day. So she stopped into the Absentee Ballot Party at Stockton University in October to fill out an absentee ballot request form with a little help from student Juliana Murcia, 19, of Egg Harbor Township.
The "party," which included many boxes of pizza and one box of absentee ballot request forms filed by county, was just one of the events planned through Stockton's American Democracy Project, or ADP, and Political Engagement Project, or PEP, to encourage students to become actively involved in their communities.
The University's efforts were rewarded this year with the first Civic Learning and Community Engagement Award from the American Association of State Colleges and Universities.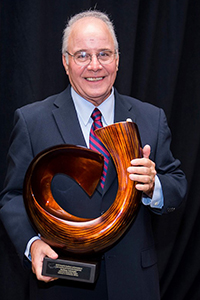 Stockton President Harvey Kesselman accepted the award, one of the AASCU's Excellence and Innovation awards, on Sunday, Oct. 22 at the AASCU annual meeting in San Diego, California. He said Stockton was founded on the principles of civic learning and community engagement.
"The success and growth of the ADP and related programs show the ongoing commitment of faculty, staff and students to achieve the University's mission of developing engaged and effective citizens." he said. "I am so very proud of the work they do every single day."
The award recognizes the wide-ranging series of programs at Stockton, including voter registration, feeding struggling families, and teaching students how to make underwater robots.
Begun as a partnership with the New York Times, ADP was introduced at Stockton through the efforts of now retired Provost David Carr.
Stockton Director of Service-Learning, Daniel Fidalgo Tomé is currently the Chair of the steering committee for the national ADP, which now includes 260 colleges. He said the program has been successful at Stockton because it is not just one or two annual events, but integrated into the mission of the University and its impact on the local community.
So while the Constitution Day program in September and Martin Luther King Day of Service in January are among the more publicly visible examples of the ADP in action, students participate every day when they volunteer or intern in the community.
"This is not just episodic," Tomé said. "It's built into our fabric. People here know what service-learning is. One of every eight students here is doing a service-learning project."
The University has put a special focus on Atlantic City, where a new residential campus is under construction and the economy has struggled to rebound from multiple casino closures.
Through the Stockton Center for Community Engagement, or SCCE, directed by Merydawilda Colon, some 300 Stockton students ran a Campus Kitchen that in 2016-17 made and delivered 2,347 meals to struggling families. The program partners with the Atlantic City School District, Sodexo and the Community Food Bank of New Jersey Southern Branch to make the program, which began in 2010, a success.
For the last three years, Stockton students have tutored children after school at two Atlantic City housing projects in a partnership with the Atlantic City Housing Authority and Atlantic City Police. More than 200 children participated in 2016-17 and the program expanded to the Pleasantville public library this fall.
SCCE Faculty Fellow, Professor Tara Luke, collaborated on the Sea Perch program in Atlantic City where students learned to build underwater robots.
"What is wonderful is that this is not just Stockton," Colon said. "It is a group of committed partners working together. That is our strength."
Stockton also hosts naturalization classes to help local residents become American citizens. Twenty-one new citizens took the Oath of Allegiance at a naturalization ceremony at the University in May.
Political events through the PEP have included legislative debates, debate-watching parties and Election Day activities, coordinated by Claire Abernathy and Jennifer Forestal, both assistant professors of political science.
At the Stockton Polling Institute, most of the workers are students, who get to earn while they learn about the political process.
Those efforts have paid off. The National Study of Learning, Voting and Engagement, which looks at voting among college students, found that Stockton's voter registration rates increased from 74 percent in 2012 to almost 79 percent in 2016. In 2016, 67 percent of registered students voted, up from 60 percent in 2012.
Murcia volunteered to help at the Absentee Ballot Party because voting is important to her.
"My parents are into politics, but we don't have the same viewpoint," she said.
Tome said students today are more aware of social issues and willing to get involved.
"As a public institution it is important to be stewards of our area to work for the common good," Tomé said. "This is what being engaged in the community means, and it is part of the job of a liberal arts college."
The AASCU award honors institutions that prioritize and advance student civic learning
and community engagement, at regional, state, and national levels. The winning entries required evidence of top-level administrative support; connection with an institution's mission and strategic agenda; contribution to significant institutional improvements or programming; and grounding in research and best practices.
"Innovation at America's state colleges and universities is focused on advancing the quality of the educational experience for their students and the distinction of their institutions in service to their communities," said AASCU President Muriel A. Howard in announcing the award.
Contact:
Diane D'Amico
Director of News and Media Relations
Galloway, N.J. 08205
Diane.D'Amico@Stockton.edu
(609) 652-4593
stockton.edu/media