Lab/Research
Capabilities
Be at the Forefront of Aviation Research and Development
NARTP is able to facilitate advanced aviation research by creating a collaborative and cooperative research environment for researchers, scientists, engineers, aviation organizations, operational facilities, and end users. The ideal research environment would contain a combination of private research facilities and an integrated research environment of operational facilities, laboratory systems, and simulators that can create a realistic operational environment in a way that any member, end user, system developer, service provider, or Government agency can gain insight, analyses, or validation of advanced aviation concepts, applications, systems, and services.
The Research Park is designed and implemented with an advanced laboratory infrastructure that shall provide members with the opportunity to have integrated or private research facilities. The integrated environment provides access to resident systems and research facilities through the nation and creates a realistic operational environment for advanced research and product commercialization and innovation.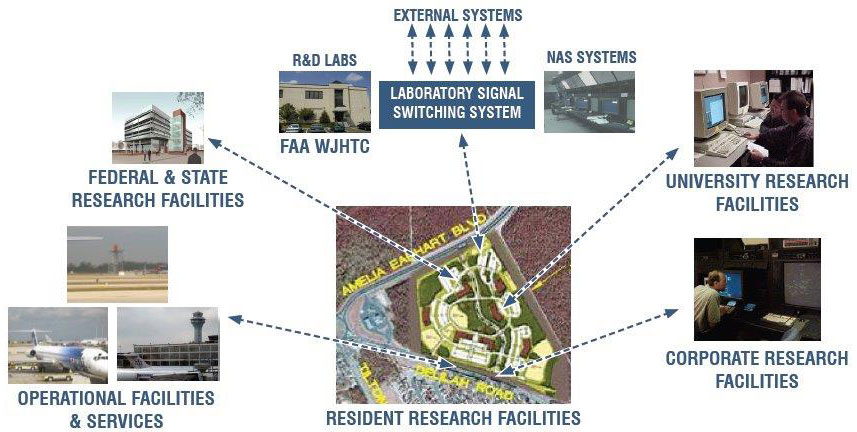 Characteristics
Research facilities can be located in private space or in a centralized laboratory
State-of-the-Art centralized laboratory environment
Advanced, flexible communications infrastructure that will provide connectivity between research facilities throughout the Research Park
External communications to operational and research facilities including the FAA William J. Hughes Technical Center
Advanced, collaborative research capabilities including data fusion, data collection & analysis, test tool development, emerging technologies, and research test benches.
The National Aviation Research and Technology Park has received generous support from Stockton University, FAA William J. Hughes Technical Center and funding from the United States Economic Development Administration, the New Jersey Casino Reinvestment Development Authority, the County of Atlantic, New Jersey Department of Transportation, and the United States Department of Agriculture.