Constitution Day 2021

Anti-Asian Hate: History, Law, Culture, and Coalition-Building
Tuesday, September 21, 2021, 6:00 p.m.
Please register HERE: https://stockton.zoom.us/webinar/register/WN_SpmTY8JaRzK7Yh195R3oQQ.
Registration will be capped at 3,000.
---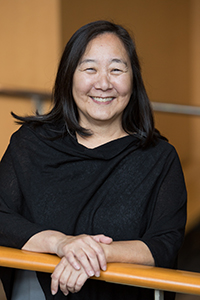 Lorraine K. Bannai is a Professor Emeritus of Seattle University School of Law, as well as Director Emeritus of the Law School's Fred T. Korematsu Center for Law and Equality. After earning her J.D. from the University of San Francisco School of Law, Professor Bannai served on the legal team that successfully challenged Fred Korematsu's World War II conviction for refusing to comply with orders that resulted in the forced removal and incarceration of Japanese Americans from the West Coast.
The Korematsu Center for Law and Equality, which she co-directed with Executive Director Robert S. Chang until spring 2021, seeks to carry on Fred Korematsu's legacy by engaging in research, education, and advocacy to advance the causes of equal treatment and fair process for all. The Center has been involved in a wide range of cases, including litigation to preserve ethnic studies in the Tucson Unified School District; asserting the need for diversity on medical school faculties; challenging the citizenship question on the U.S. census; and arguing against bias in legal proceedings, such as in the closing arguments of counsel, the striking of jurors of color, and the imposition of the death penalty.
Professor Bannai has written and spoken widely on the wartime Japanese American incarceration and its present-day relevance. She has testified before the U.S. Senate Judiciary Committee in opposition to the provisions of the National Defense Authorization Act (NDAA) that permit the indefinite detention of individuals without due process. She has also co-authored amicus curiae briefs on behalf of the children of Fred Korematsu, Gordon Hirabayashi, and Minoru Yasui in Hedges v. Obama, a case challenging those same NDAA provisions, and in Trump v. Hawaii, challenging the Muslim travel ban. She authored a biography of Fred Korematsu: Enduring Conviction: Fred Korematsu and His Quest for Justice, and, most recently, published the co-authored book Race, Rights, and National Security: Law and the Japanese American Incarceration.
Additional Information
2021 Constitution Day Planning Committee
Linda Wharton, Co-Chair
John Froonjian, Co-Chair
Sara Faurot Crowley
Darya Hrybava
Regina Kinney
Peter Gallagher
Nikki Strothers
Giancarlo Brugnolo
Lisa Warnock
Lauren Balasco
Claire Abernathy
Kerrin Wolf
Maya Lewis
Michael Rodriguez
Mark Jackson
Shannon Aungst
Stacey Clapp
Diane D'Amico
Sponsored by the William J. Hughes Center for Public Policy, Office of the Provost, Office of Development & Alumni Relations and the Stockton University Foundation & the American Democracy Project/Political Engagement Project.
On September 17, 1787, the delegates to the Constitutional Convention in Philadelphia signed the United States Constitution. Stockton University began celebrating this important occasion in 2006 as a result of a new federal law designating September 17th of each year as Constitution Day. The law—championed by Senator Robert C. Byrd of West Virginia--requires public schools, universities and governmental entities to offer educational programs to promote a better understanding of our Constitution.
Professor Linda J. Wharton proposed to then-Provost David Carr that Stockton offer a series of events each September that focus on important constitutional issues. Since 2006, Professor Wharton has chaired the Constitution Day Planning Committee, which includes a dedicated group of faculty and staff. Administrative oversight is provided by the William J. Hughes Center for Public Policy.
Over the years the Committee has partnered with the William J. Hughes Center for Public Policy, the Stockton University Foundation, the Office of Development and Alumni Relations, the Office of the Provost, and the Political Engagement/American Democracy Project to offer a variety of events, including a well-attended and popular annual keynote presentation by a constitutional scholar, public figure or journalist.
Past Constitution Day Speakers:
Burton Caine (2007)

Linda Greenhouse; Kevin Cathcart & James Dale (2006)