Jewish Studies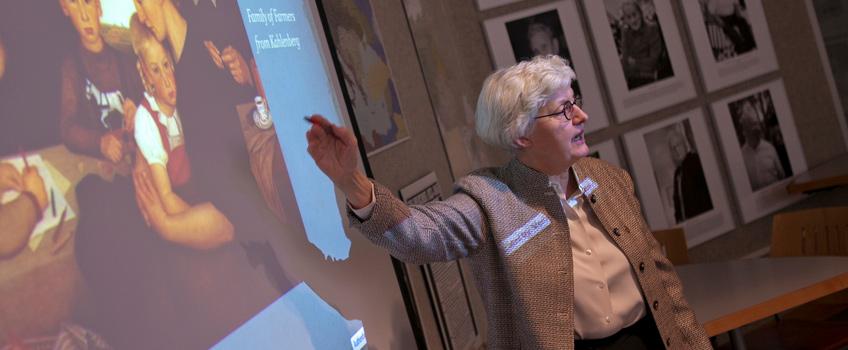 The minor in Jewish Studies is concerned with the investigation and understanding of a major cultural tradition, Judaism. This tradition has made seminal contributions to the cultural and religious heritage of Europe, America and the Middle East. It has had a major impact on the literature, art, music, philosophy, science and social science of Western civilization.
The minor, through its sequence of formal courses and independent studies, provides a breadth of inquiry that is interdisciplinary in its overall thrust. It involves faculty from all the divisions of the University. While it is not possible to major in Jewish studies, students can concentrate in Jewish studies through their major programs and/or the General Studies program. Another possibility is to design a Liberal Studies degree with emphasis on Jewish Studies. The Jewish Studies minor is available to all graduating students who complete the program's requirements.
---
Program Organization
A wide range of Jewish Studies courses and independent studies is offered under both General Studies and program acronyms. These courses provide both a wide scope for studies in breadth and an opportunity for thorough investigation of specific issues. Courses that are relevant to the program will be offered every year and are open to any student at Stockton. Every formal Jewish Studies course carries 4 credits and is classified as belonging to one of three major categories:
Topics in Jewish Language and Culture
Topics in Jewish History and Civilization
Contemporary Jewish Issues
Requirements
Students interested in completing the Jewish Studies minor will be required to take four courses in Jewish Studies in at least two different content areas. Two of these courses may be related to Holocaust Studies.
All students wishing to complete the Jewish Studies minor must, in addition, enroll in either an independent study or internship project as a capstone to their program. Project topics must be approved by the Jewish Studies coordinator and be supervised by a member of the Jewish Studies faculty (or by another Stockton faculty member upon the request of the Jewish studies coordinator).
ANTH2230 Ethnicity
ANTH2237 Jewish Culture
GAH 1044 Women in the Bible
GAH 1052 Jewish Stories and Storytellers
GAH 1320 The Bible, Art and Literature
GAH 1355 The American Jewish Experience
GAH 1362 Jewish Culture and Western Civilization
GAH 1365 Influences of Jewish Civilization
GAH 1367 Current Issues in Judaism
GAH 1368 Heritage: Civilization and the Jews
GAH 2171 Major World Religions
GAH 2176 Jewish Spirituality
GAH 2118 Christian, Jews, Muslims
GAH 2144 Women in the Bible
GAH 2149 Biblical Ethics, Modem Times
GAH 2157 Jewish American Writers
GAH 2239 Old Testament and Film
GAH 2248 Seriously Dangerous Religion
GAH 2302 American Jewish Literature
GAH 2304 Jewish Stories and Storytellers
GAH 2305 Basic Judaism
GAH 2327 How Judaism Approaches Life
GAH 2376 American Jews in Film
GAH 3634 Ethnicity Through Film
GIS 3230 Jewish Women
GIS 3630 Finding Joseph
GSS 2193 Jewish Organizations
GSS 2195 Blacks and Jews: Future Hope
GSS 2246 Introduction to Middle East
GSS 2436 The Arab-Israeli Conflict
GSS 3240 Holocaust and Genocide Education
GSS 3946 Holocaust Center Internship
HIST 1310. Early Christianity
HIST 2117 Modem Germany
HIST 2106 Modem Middle East History
HIST 2169 American Jewish Women
HIST 2131 Islam and Eastern Christianity
HIST 2200 Ancient Israel
HIST 2405 Eastern Christianity
LANG 1255 Beginning Hebrew I
LANG 1256 Beginning Hebrew II
LANG 1257 littermediate Hebrew I
LANG 1258 Intermediate Hebrew II
LITT 3213 Literature of the Bible
PHIL 2102 Issues: Religion and Society
PHIL 2402 Abrahamic Faiths
Additional Information
For more information contact:
Dr. Marcia Fiedler, Coordinator of Jewish Studies
609-626-6087
Marcia.Fiedler@stockton.edu
Opportunities
Opportunities for related overseas studies are available at Tel Aviv University and other universities in Israel. Stockton, along with the other New Jersey State colleges and universities, participates in a semester-long program of study at Tel Aviv University. The courses offered at Tel Aviv are conducted in English and include classes in Judaica and in subjects of a more general nature. Opportunities also exist for students to spend a year at the Hebrew University in Jerusalem or Ben Gurion University in Be'er Sheva. Interested students should contact the coordinator of international education. Stockton students may also undertake study visits to Israel during the summer or winter break and carry out their credit-bearing projects under the auspices of Stockton's International Education program; scholarships to help defray the cost of study in Israel are often available for this purpose.

Students who are studying for the Jewish Studies minor are eligible to apply to the Stockton Foundation for several special scholarships and book awards. These scholarships and awards are designated for students who are completing the Jewish Studies minor, planning a career in Jewish communal work, have made major contributions to Jewish life on campus, or have made major contributions to multicultural harmony on campus.

Extensive cultural activities of relevance to Jewish studies are offered at Stockton, sponsored by the Jewish Studies faculty and Stockton's active Jewish Student Union/Hillel. The Stockton Library has a strong collection in Jewish Studies. A regional Holocaust Resource Center housed in the Library was opened at Stockton in 1990. The Center serves as a focal point for the study of the Holocaust and its meaning. It helps to train teachers and also houses artifacts and oral histories of the Holocaust. Students are able to serve internships for academic credit at the Holocaust Center.

The Jewish Studies faculty works closely with the Jewish Federation of Atlantic and Cape May Counties. Students interested in careers in Jewish communal work can serve internships with the Federation or its agencies. Internships in Washington D.C., of relevance to Jewish Studies, may also be available.