Academic Quad Expansion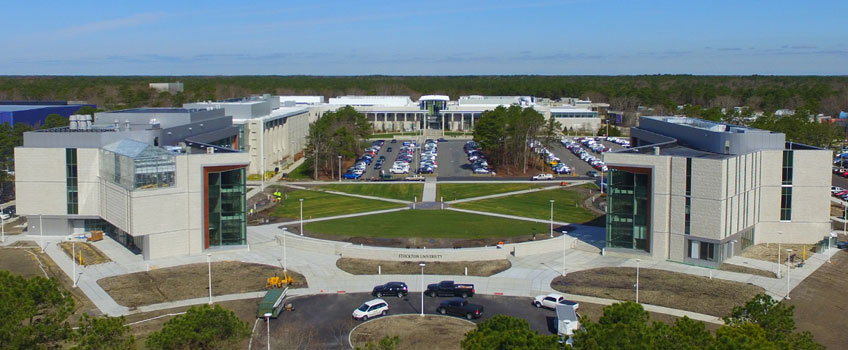 Growing Opportunities, Growing Careers
As the demand for Stockton graduates continues to grow, Stockton continues to expand its facilities to make room for our well-qualified students. The signature entrance and the two new buildings stretch out like welcoming arms to students, faculty, staff and community members.
These new Academic Quad buildings extend our statewide leadership in science and mathematics education and provide the academic tools for our health science majors and students seeking careers in science, technology, engineering and mathematics (STEM).
Looking towards the Campus Center, on the left, you will see the brick and glass structure known as the Unified Science Center 2. The three-story building houses teaching and research labs for various disciplines in the sciences, a vivarium, a large greenhouse, a multipurpose room and faculty offices. The 58,210 square foot building is an expansion of the existing 64,000 square-foot Unified Science Center.
On the other side of the Academic Quad, the 37,720 square-foot John F. Scarpa Health Sciences Center includes a state-of-the-art simulation suite that offers simulated clinical experiences to students majoring in health-related disciplines. The simulation program offers both high/medium fidelity and standardized patient experiences and provides a platform for students to develop clinical skills specific to their area of study. The expanded space also accommodates the growth of the Doctor of Physical Therapy program.
Building Our Future Bond Act, which was overwhelmingly approved by New Jersey voters in 2012, supports the financing of the new buildings.
The $33.2 million Unified Science Center 2 (USC2) and the $15.2 million John F. Scarpa Health Sciences Center were built with funding from the Building Our Future Bond Act. The bond act provided $21.465 million in funding for the USC2 and the University paid 25 percent or $7.155 million. The John F. Scarpa Health Sciences Center received $13.5 million in funding from the bond issue and the University paid 25 percent or $4.5 million.
Academic Quad Ribbon-Cutting Photos