Atlantic City Gateway Project
A residential campus is planned to expand Stockton University's presence in Atlantic City, benefiting students and contributing to the city's renaissance.
The campus will be located at the site of the old Atlantic City High School, at the intersection of Atlantic, Albany, and Pacific avenues, with student residences overlooking the beach and Boardwalk.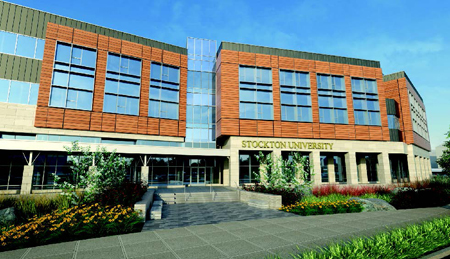 The project is a public-private partnership with Atlantic City Development Corp., or AC Devco, a non-profit modeled off of New Brunswick Development Corp., which expanded Rutgers' New Brunswick campus along with other successful redevelopment there.
Funding sources for the Atlantic City campus include: $50.6 million in bonds issued by the Atlantic County Improvement Authority that are secured by almost $70 million in tax credits from the New Jersey Economic Development Authority; $77.2 million of lease revenue bonds issued by the Atlantic County Improvement Authority that are payable by the University; $22 million grant awarded under the State of New Jersey's Higher Education Capital Improvement Fund Act; $18 million from Stockton; and, $8.3 million from South Jersey Industries for costs of the parking garage.
The campus will include: a housing and student center on the Boardwalk for about 520 students; a parking garage topped by new offices for South Jersey Gas, with 879 parking spaces for use by the University, South Jersey Gas and the public; and an academic building that can accommodate up to 1,800 students.
The University plans to open the Atlantic City campus in 2018 with about 1,000 students and grow from there.
News