Coronavirus Information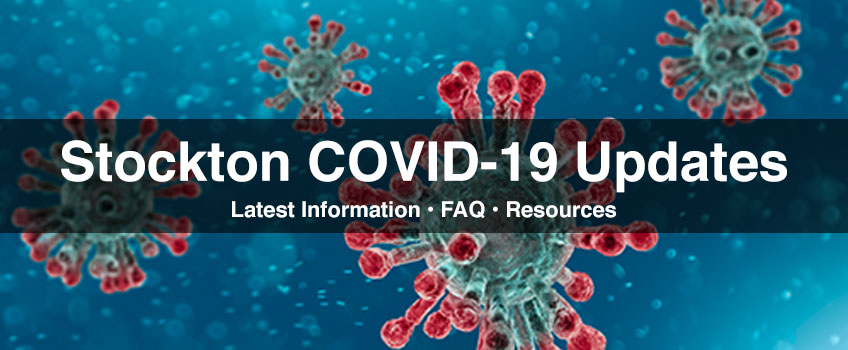 Stockton is operating remotely until further notice. All summer sessions classes will be conducted online.
Updated Wednesday, July 8, 2020
President Kesselman sent a message to the Stockton community announcing the university's plans for fall 2020. The plan and other updates can be found on the Return to Campus webpage.

Residential Life has posted updated information about fall 2020 student housing procedures on its website.

Due to reduced staffing levels in ITS from the recent CWA furlough agreement, the Help Desk is temporarily reducing hours of service. From July 6-24, the Help Desk will operate 8 a.m. to 5 p.m., Monday through Friday. On Saturday, July 25, the Help Desk will resume normal 7-day-a-week operation with extended hours of availability. Contact the Help Desk at 609-652-4309 or HelpDesk@stockton.edu.
Stockton Actions
The University is operating remotely until further notice. All summer session classes will be conducted online.
While the campus will remain open, students and the community are strongly encouraged to stay home as the University supports social distancing. On-site staffing is limited as faculty and staff follow work-from-home protocol.
If you have been tested for COVID-19 in any jurisdiction, please contact Stockton at publicsafety@stockton.edu as soon as possible. You do not need to wait for results. This will greatly assist our efforts in tracking the people in our community who have been impacted.
Current Stockton Students: If you are sick and would like to be seen by Stockton's health professionals please contact Student Health Services in advance of visiting the office: (609) 652-4701(Galloway); (609) 345-6000 (Atlantic City) or wellctr@stockton.edu. Hours are Mondays and Thursdays from 10 a.m. to 2 p.m.
Coronavirus Hotline
Learn what precautions you can take about the Coronavirus.
Call the NJ Coronavirus & Poison Center Hotline at 1-800-222-1222 or 1-800-962-1253 if using out-of-state phone line.

Have general questions about COVID-19? Call: 2-1-1
Trained health care professionals are taking callsl 24/7 OR visit nj.gov/health
FAQ
Campus Access and Operations
Course Instruction - Resources for Students and Faculty
Campus Events
Information for Faculty and Staff
Previous Announcements
About Coronavirus
COVID-2019 is a respiratory infection caused by a novel (new) virus that arose from the area of Wuhan, China, in December 2019. Outbreaks of novel virus infections among people are always of public health concern. The risk from these outbreaks depends on characteristics of the virus, including how well it spreads between people, the severity of resulting illness, and the medical or other measures available to control the impact of the virus (for example, vaccine or treatment medications).
For additional information about COVID-19, including how it spreads, symptoms, prevention, treatment and preparedness, please visit the CDC coronavirus website or the New Jersey Department of Health (NJDOH) website.
Prevention
To protect yourself from the spread of viruses, including flu, practice these everyday habits:
Wash your hands often with soap and water for at least 20 seconds. If soap and water are not available, use an alcohol-based hand sanitizer.
Avoid touching your eyes, nose and mouth with unwashed hands.
Avoid close contact with people who are sick.
Stay home.

Practice

social distancing.
Cover your coughs or sneezes with a tissue, not your hands, then throw it way,

or use your upper shirt sleeve, completely covering your mouth and nose.

Clean and disinfect frequently touched objects and surfaces.
For more information on the Coronavirus Disease 2019 (COVID-19):
For questions about Stockton's response measures, contact Campus Public Safety, at 609-652-4762 or publicsafety@stockton.edu.