Coronavirus Information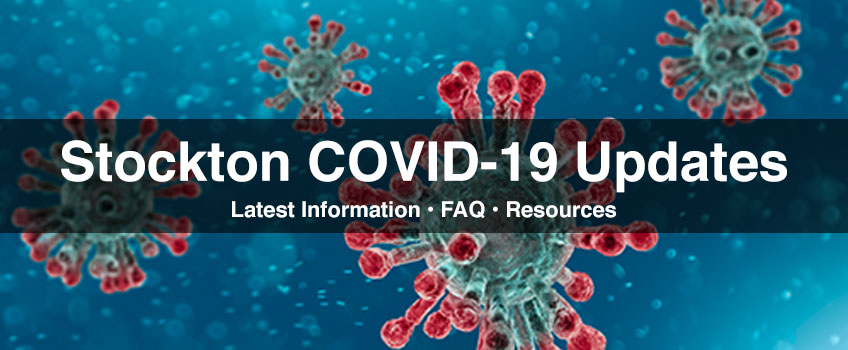 Consistent with federal and State pronouncements lifting COVID-19 related emergency declarations and requirements, Stockton University ended the daily COVID-19 update emails on Aug. 16, 2023. In addition, daily tracking of COVID-19 cases for both employees and students was suspended on Aug. 16, 2023. We reserve the right to reintroduce the daily updates and tracking should circumstances change.
Please continue to use the COVID-19 Reporting form to report COVID-19-related illness.
In light of updated federal and state guidelines on COVID-19, Stockton University strongly recommends but no longer requires employees and students to be vaccinated against the virus, effective Monday, June 19, 2023.

The University is updating its requirements to strongly recommend vaccinations, following President Biden's recent decision to end the COVID-19 national health emergency as well as the scaling back of various health protocols in New Jersey, including vaccination mandates in health care settings, amid declines in cases.

A link is accessible on the Employee and Student Life tabs in the goStockton portal for you to complete if you are experiencing COVID-19 symptoms, are not vaccinated and have been exposed to COVID-19, are not vaccinated and returning from international travel, or have tested positive for COVID-19.

View our Campus Operations FAQ.

Stockton University monitors the guidance of both the New Jersey Department of Health and the federal Centers for Disease Control and Prevention (CDC) regarding the use of face masks to help reduce the risk of COVID-19. Based on present conditions, masks are optional but recommended on Stockton's campuses.

Faculty may continue to require masks in their classes. KN95 and surgical masks are available at the Campus Center Information Desk, Wellness Center, Division offices, the library and off-site Stockton locations. Details are in the Campus Operations FAQ.
Stockton Actions
Confirmed cases of COVID-19
Confirmed cases of COVID-19 within the Stockton community include students and employees. Using the state's definition of close contacts, we directly notify all known close contact individuals who may have had direct exposure to an infected individual. Due to federal patient- and student-confidentiality regulations, we cannot provide more details about the affected individuals. Total cases may change as we learn of results from individuals and out-of-county agencies.
---
Note: The data above reflects cases confirmed through the Wellness Center or Human Resources. Galloway and Atlantic City figures indicate members who had a positive COVID-19 test and were on that campus for any reason (e.g. class/residence hall/event/activity/athletics) during their infectious period.
"Off Campus" refers to members of the Stockton community who tested positive but have not been on our campuses during their infectious period.
Active Case: An individual who submitted positive test results for COVID-19 and is currently under an isolation period.
Cleared Case: An individual who submitted medical authorization to resume work and/or educational activities from Student Health Services, a state or local health department or their own medical provider, or attested to no symptoms after completing the required isolation period.
Please note that all data is subject to continuous verification and change based on additional reporting and investigation.
Total vaccinations as of 2/28/22
Vaccinated or Exemption
Vaccinated
Exemption
Totals
Students
100.00%
89.95%
10.05%
Employees
99.88%
97.12%
2.76%

Grouped by

Union Affiliation
Management
100%
99.37%
0.63%
AFT Faculty
99.71%
98.83%
0.87%
AFT Staff
100%
96.39%
3.61%
CWA
100%
95.09%
4.94%
IFPTE
100%
94.12%
5.88%
Police
95.45%
90.91%
4.55%
Adjuncts (Active)
100%
98.35%
1.65%
TES (Active)
100%
98.13%
1.87%
About Coronavirus
COVID-2019 is a respiratory infection caused by a novel (new) virus that arose from the area of Wuhan, China, in December 2019. Outbreaks of novel virus infections among people are always of public health concern. The risk from these outbreaks depends on characteristics of the virus, including how well it spreads between people, the severity of resulting illness, and the medical or other measures available to control the impact of the virus (for example, vaccine or treatment medications).
For additional information about COVID-19, including how it spreads, symptoms, prevention, treatment and preparedness, please visit the CDC coronavirus website or the New Jersey Department of Health (NJDOH) website.
Prevention & Resources
Learn what precautions you can take about the Coronavirus.
Call the NJ Coronavirus & Poison Center Hotline at 1-800-222-1222 or 1-800-962-1253 if using out-of-state phone line.

Have general questions about COVID-19? Call: 2-1-1
Trained health care professionals are taking callsl 24/7 OR visit nj.gov/health
For questions about Stockton's response measures, contact Campus Public Safety, at 609-652-4762 or publicsafety@stockton.edu.