Coronavirus Information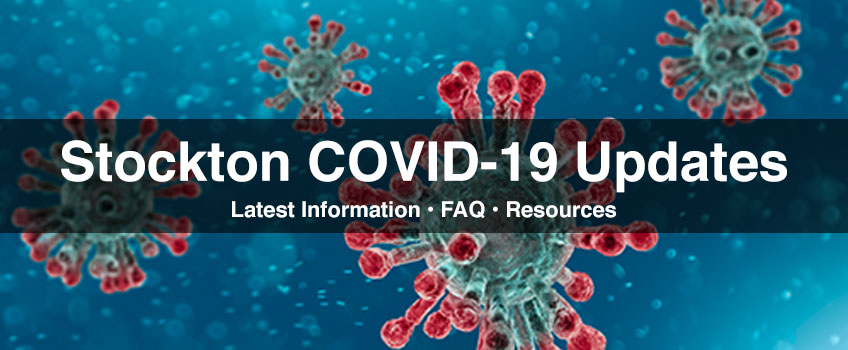 Update - Oct. 29, 2020
The I-wing weight room and the Sport Center fitness room are closed temporarily for cleaning and sanitizing in accordance with COVID-19 guidelines and precautionary measures. They are expected to reopen Monday, Nov. 2. We apologize for any inconvenience.

The Centers for Disease Control website has information on how to safely celebrate upcoming holidays.
Faculty, staff and students are reminded to complete the Stockton Health Pledge daily, even if you are not coming to campus. The pledge is emailed daily to your Stockton email and assists us in monitoring the health of our community.

If you are having any visitors to campus, please direct them to complete health pledge at stockton.edu in advance of their arrival or before leaving the parking lot to enter the building (the form is mobile friendly). This is required of all visitors to campus and will serve as their parking permit as well. At this time, please limit visitors to essential visitors only.
Stockton Actions
Coronavirus Hotline & Testing Information
Learn what precautions you can take about the Coronavirus.
Call the NJ Coronavirus & Poison Center Hotline at 1-800-222-1222 or 1-800-962-1253 if using out-of-state phone line.

Have general questions about COVID-19? Call: 2-1-1
Trained health care professionals are taking callsl 24/7 OR visit nj.gov/health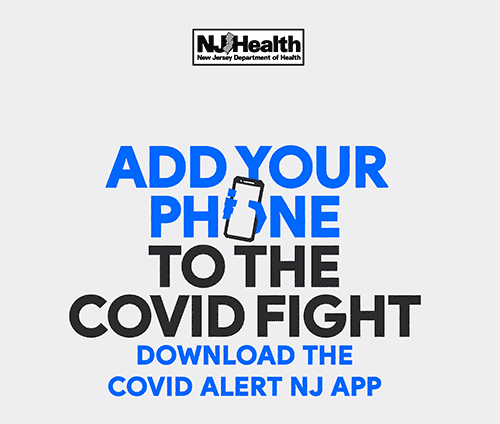 Confirmed cases of COVID-19
Confirmed cases of COVID-19 within the Stockton community include students and employees. Using the state's definition of close contacts, we directly notify all known close contact individuals who may have had direct exposure to an infected individual. Due to federal patient- and student-confidentiality regulations, we cannot provide more details about the affected individuals. Total cases may change as we learn of results from individuals and out-of-county agencies.
Daily reported cases - 10/29/20
| | | | | |
| --- | --- | --- | --- | --- |
| | Galloway | Atlantic City | Off Campus | Total |
| Students | 2 | 0 | 4 | 6 |
| Employees | 0 | 0 | 0 | 0 |
| Total | 2 | 0 | 4 | 6 |
Total cases since 9/1/20
| | | | | |
| --- | --- | --- | --- | --- |
| | Galloway | Atlantic City | Off Campus | Total |
| Students | 92 | 3 | 39 | 134 |
| Employees | 6 | 0 | 0 | 6 |
| Total | 98 | 3 | 39 | 140 |
Total cleared cases
Cleared Cases
Galloway Campus
Cleared Cases
Atlantic City Campus
Cleared Cases
Off Campus
Total Cleared Cases
Students
78
2
26
106
Employees
3
0
0
3
Total
81
2
26
109
Total active cases
Active Cases
Galloway Campus
Active Cases
Atlantic City Campus
Active Cases
Off Campus
Total Active Cases
Students
14
1
13
28
Employees
3
0
0
3
Total
17
1
13
31
---
Note: The data above reflects cases confirmed through the Wellness Center or Human Resources. Galloway and Atlantic City figures indicate members who had a positive COVID-19 test and were on that campus for any reason (e.g. class/residence hall/event/activity/athletics) during their infectious period.
"Off Campus" refers to members of the Stockton community who tested positive but have not been on our campuses during their infectious period.
Active Case: An individual who submitted positive test results for COVID-19 and is currently under an isolation period.
Cleared Case: An individual who submitted medical authorization to resume work and/or educational activities from Student Health Services, a state or local health department or their own medical provider, or attested to no symptoms after completing the required isolation period.
Please note that all data is subject to continuous verification and change based on additional reporting and investigation.
Campus Access and Operations
Information for Faculty and Staff
About Coronavirus
COVID-2019 is a respiratory infection caused by a novel (new) virus that arose from the area of Wuhan, China, in December 2019. Outbreaks of novel virus infections among people are always of public health concern. The risk from these outbreaks depends on characteristics of the virus, including how well it spreads between people, the severity of resulting illness, and the medical or other measures available to control the impact of the virus (for example, vaccine or treatment medications).
For additional information about COVID-19, including how it spreads, symptoms, prevention, treatment and preparedness, please visit the CDC coronavirus website or the New Jersey Department of Health (NJDOH) website.
Prevention
To protect yourself from the spread of viruses follow our guidelines for campus health and safety.
For more information on the Coronavirus Disease 2019 (COVID-19):
For questions about Stockton's response measures, contact Campus Public Safety, at 609-652-4762 or publicsafety@stockton.edu.