Student Presents at Prestigious Yale Bouchet Conference
With the encouragement and support of Associate Professor of History Sharon Musher, senior Ashley Finney-Wortman became the first Stockton undergraduate student to present a paper at the Yale University Bouchet Conference, a conference where doctoral students nearing completion of their Ph.D.'s present their research. Finney-Wortman presented her paper, "No, the Bare Minimum is Not Enough," at the conference in April.
Chief Officer for Diversity and Inclusion Valerie Hayes interviewed Finney-Wortman about her research.
How did you learn about the conference and decide to submit a paper proposal?
I learned about the conference through one of my professors, Sharon Musher, who thought my paper was good to present at the conference. My paper was on President Franklin Delano Roosevelt's National Youth Administration founded in 1935 and intended to help teenagers and young adults who had no job or education in the Great Depression find work, pay, education and stability. Dr. Musher felt the topic would be a very good fit for the Yale Bouchet Conference under the category of U.S./International Policy, Law, Economics.
Dr. Musher asked me to think about it. I felt intimidated by the Yale Bouchet Conference because I wasn't sure whether my paper would be accepted. Dr. Musher has a credibility with me, and if she thought my paper was good enough to be submitted, I should just trust it. The paper was my favorite and I worked hard on the paper. So, I thought to myself that I should have faith in my work and in my credibility. So, I submitted the paper as a proposal to the Yale Bouchet Conference, and the paper was accepted.
Please summarize your proposal and what you hoped to accomplish by presenting your paper.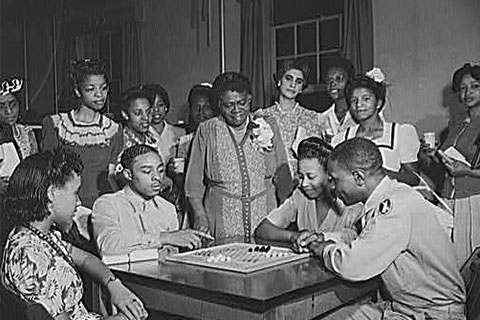 My proposal was again on the National Youth Administration, which was a policy put in place by President Roosevelt and his administration to help children between the ages of 16 and 24 get a job and education. Dr. Mary McLeod Bethune headed the National Youth Administration's Division of Negro Parents. During the Great Depression, there was a heavy migration occurring, with many individuals including Black individuals, who were homeless and jobless. But the National Youth Administration did the bare minimum to include Black youth. To me, doing the bare minimum instantly translates to not doing enough. Using scholarly articles and primary sources, my paper shows that the National Youth Administration helped a disproportionately low number of Black youths compared to the Black population in need. There was an extremely small support system of counselors available to help Black youth, and often the counselors could not reach all Black children. Southern states did not provide aid to Black youth because the National Youth Administration maintained a system of racial segregation and inequality. As a result, few Black students and children were helped by the National Youth Administration and therefore did not fulfill its mission of helping unemployed and uneducated teenagers and young adults during the Great Depression.
By presenting this paper, I hoped to introduce this program to an audience that has never heard of that program before. I also wanted to show what the aim of the National Youth Administration and how it failed. I also wanted to bring awareness to an ongoing issue in the country that is still very prevalent today, specifically that minority youth are often pushed to the side or in the back.
Dean Michelle Nearon, Yale Graduate School of Arts & Sciences, asked you an important question about your research, specifically what is the broader impact of your research? As you think about this question in light of today's racial climate or racial reckoning, what does your research tell us about Stockton's response to racial inequities?
It is easy to say that this is in the past and it does not affect us today. However, today there is an education and work gap between Black and white children. High school graduation rates for white students is about 87% and for Black students, about 73%.
As I stated in the proposal, my conclusion was that because of the societal norms of segregation and racism, the National Youth Administration did not help Black youth to the best of its abilities and therefore did not fulfill its mission. It is easy to say that this is in the past and it does not affect us today. However, today there is an education and work gap between Black and white children. High school graduation rates for white students is about 87% and for Black students, about 73% (National Center for Education Statistics). There's even a disparity in vaccinations where white people are being vaccinated for COVID-19 more than Black people, despite Black people dying at a disproportionate rate. Just because Black children are graduating or getting vaccinated, does not automatically mean they are being treated equally compared to their white counterparts. Such discrimination did not begin in the 1930s, but by not sufficiently helping Black students, the National Youth Administration furthered the disparities Black students face to this day. To change societal norms that degrade and insult Black students, we must first acknowledge societal norms of segregation and racism are still here today. It is not enough to help a little when it comes to a problem that has been prevalent for centuries. During the 1930s, it was the norm to overlook Black students because society felt they were less. Let's not continue to make that same mistake.
Regarding Stockton's response to racial inequality, I believe the school is attempting to rewrite or change racial inequality by pledging to diversity, especially given recent events. I hope my paper encourages Stockton to listen to Black students the school is trying to help. Minority students, I think, would have no problem being vocal about their needs. History will repeat itself if diversity and equality efforts fail to listen to the needs of minority students.
Undergraduate research is a first step to graduate education toward a doctoral or other terminal degree, which opens opportunities to become faculty at a college or university. Since you are the first Stockton student to present a paper at the Yale Bouchet Conference largely designed for doctoral students admitted into the Dr. Edward A. Bouchet Graduate Honor Society, how do you plan to continue your undergraduate research at Stockton?
I am graduating in May, so I don't have much time at Stockton anymore. I would like to do more research on this topic by looking at state policies, especially the southern states that fought hard to control the treatment of Black youth in their states. I would also like to do a comparison between the northern and southern states. I think this additional research would be interesting, add more clarity to my topic, and perhaps reinforce my thesis conclusion.
Do you have any last comments about undergraduate research and/or virtual attendance at the Yale Bouchet Conference to share with our readers?
My favorite part of the Yale Bouchet Conference was just listening to the other presentations. It was very interesting. I felt a little out of my element ... I was like, wow, everyone is from Howard [University] and so polished. There were amazing speakers. It was very impressive and a great learning experience.
I really enjoyed my topic, and I was so confident in my work. I was able to put the important pieces of my paper in the presentation because I knew the topic so well. It was very smooth sailing except for technical difficulties, which were a bit traumatizing. The presentation itself was really easy and just really fun to do. I had a good support system from my professor who helped me a lot through all of it.
If you have an opportunity to present your research, you should go for it. It is not as scary as you might think. Find a topic that interests you.