Holocaust Resource Center Offers Perspective on Jewish American History
By Gail Rosenthal
Director, Sara and Sam Schoffer Holocaust Resource Center
In 1654, the St. Cathrien arrived in New Amsterdam (New York City), carrying North America's first Jews. The Jewish Women's Archive's "Fact Sheet on 1654" stated for the first time, the ship passengers who were Jewish had families with children seeking a better life and a home in North America.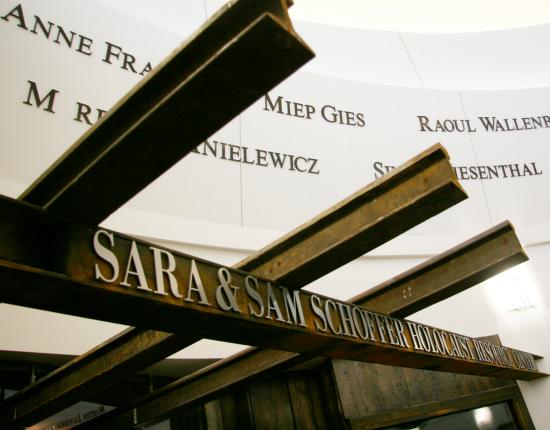 The territory's leader, Governor Peter Stuyvesant, was not welcoming to the Jews, but the Jews tried to stay. By 1655, more Jews arrived, and they were permitted to travel and trade in New Amsterdam. Daily life for the Jewish settlers was difficult because there were few work opportunities and hostility toward them, and soon there was only one Jewish family who remained, that of Asser Levy.
During Jewish American Heritage Month, we honor and remember those first Jewish refugees who tried to settle in New Amsterdam. They were hoping for a better future and freedom to practice their faith based upon the belief there is one God and their Messiah has not come but will arrive in the future.
Most Jews worship in synagogues and their spiritual leader is a rabbi. The six-pointed Star of David symbolically represents the Jewish religion. The Pew Research Center in 2020 estimated 2.4% of the adult population in the United States were Jewish, equating to about 5.8 million Jewish adults.
The Sara and Sam Schoffer Holocaust Resource Center at Stockton University realized no database existed to track Holocaust Survivors of South Jersey, an important resource for future generations. As a result, in celebration of Jewish American Heritage Month, the Sara and Sam Schoffer launched a series of programs: "Holocaust Survivors of South Jersey."
The Holocaust Resource Center at Stockton University aims to document the life stories of Jewish Holocaust survivors who lived in Atlantic, Cape May and Cumberland counties. The center's research team has identified 1,469 Holocaust survivors who lived within a 50-mile radius of Stockton University in these three counties.
The research team is in the process of collecting these survivors' life stories. In addition, the South Jersey Holocaust Survivor research team has identified a total of 372 poultry farms owned and operated by Holocaust survivors in Atlantic, Cape May and Cumberland counties.
When we traced most of the life stories of our local Holocaust survivors, we learned many of them arrived in the ports of New York City, Baltimore and Philadelphia. Some of these Holocaust survivors stayed in or near the cities where they arrived. They were able to gain employment in factories or other jobs, but there was a common problem: Knowing the English language was vital for their employment. There was a high rate of job loss.
We often quote George Greenman, a survivor of Auschwitz-Birkenau, who arrived in New York City and obtained a job developing film without prior experience. He couldn't follow the directions, ruined many reels of film, and finally ran out of the factory shouting, "I quit. The chemicals in Europe are different for developing film."
A friend–another Holocaust survivor—of Greenman suggested he move to Atlantic County, New Jersey, where there were other survivors who'd initially settled in New York City. There—as well as in Cape May and Cumberland counties—survivors settled among survivors, sharing common experiences of loss and rebuilding families and communities. They turned rural land into poultry farms, finding there no longer stood a language barrier: "After all," as Greenman once explained, "chickens speak all languages, including Yiddish!"
The "Holocaust Survivors of South Jersey Project" has only been possible under the direction of Dr. Michael Hayse and the hard work of over 200 students (undergraduate and graduate). A special thank you to Irvin Moreno-Rodriguez, Morgan Everman and Matthew Assad for their assistance.