Perceptions of Late Adulthood: Initiatives on Combating Ageism
By Christine A. Gayda-Chelder,
Karen Rose and
David C. Burdick
"The longer I live, the more beautiful life becomes." Frank Lloyd Wright
"Aging is not 'lost youth' but a new stage of opportunity and strength." Betty Friedan
"My face carries all my memories. Why would I erase them?" Diane Von Furstenberg, from "The Woman I Wanted to Be," 2014
These inspirational quotes about late adulthood are featured in an article titled, 14 of the Best Quotes About Aging on the website SeniorPlanet from AARP. All of the thoughts cited are positive, optimistic and hopeful ideas about growing older. Yet, negative stereotypes and harsh assumptions about late adulthood still persist and, if anything, have gotten worse in recent years despite (or maybe because of) the rapid growth of the older generation and longer life expectancies than ever. So, what is currently being done to combat ageism?
The Gerontological Society of America (GSA) has embarked upon an initiative titled, Reframing Aging. This project aims to combat ageism by changing the conversation about growing older. In a recent report designed to document common perceptions about aging, approximately 400 older adults responded to a survey that asked them to reflect on common misperceptions they had experienced first-hand.
Researchers reported that:
53% reported that aging is equated with physical and mental decline
Almost half said people think older people can't keep up with technologies
45% said people think they can't relate with older people (even if they are older themselves)
39% say that we should fight aging, rather than embrace it
Many added observations referencing themes like discrimination in employment and medical care.
Several mentioned that things have gotten better, including diminishing endearments for older people ("honey," "sweetie" and "dear").
A few suggested that misperceptions can vary by culture and values.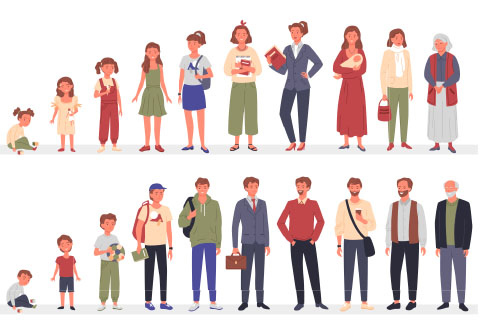 In an effort to shift attitudes about aging, GSA has made available two videos that can be used in education and research efforts: "Frame of Mind: The Why and How of Reframing Aging," and "Frame of Mind: Reframing Aging From 'Them' to 'Us'." They may also be found on the GSA website for easy access.
At the same time these resources were released, Maria Shriver hosted a free five-day summit titled Radically Reframing Aging, where experts and celebrities discussed "not only changing the way we age, but also how we talk about aging."
Although initiatives designed to combat ageist language and thinking are helpful, the COVID-19 pandemic has unveiled much-needed work on improving quality of life for aging adults. Consider the impact of ageism and racism in health care. An editorial published by The Lancet Healthy Longevity in March 2021 provides an overview of this issue.
First, inadequate health care due to ageism is presented. The article cites research in the United Kingdom, where it has been noted that older adults with lung cancer are referred for surgery less frequently. Older women may also be less likely to be referred for screening for breast cancer.
Next, the impact of ageism compounded with racism is discussed. Research has demonstrated that among individuals with dementia, Black people were twice as likely to contract COVID-19 as Caucasians. Potential solutions are identified, which include awareness of these issues and changes in medical research and education.
The news on health is not all bad, as there are targeted efforts to improve quality of life for aging adults. This can benefit everyone, regardless of age.
For example, the Administration for Community Living (ACL) has designated May as "Older Americans Month." This year, the theme is Age My Way, which was designed to encourage elders to not be hampered or handicapped by our society's pervasive negative stereotypes. This theme also encourages "aging in place," whereby individuals seek and are assisted in continuing to reside in their own homes and communities into late adulthood.
It will indeed take great time and effort to reconstruct perceptions of late adulthood. The programs and suggestions discussed above for improvements in health care are an excellent start.
In time, perhaps more individuals will share the thought of David Bowie as noted on Senior Planet from AARP: "If you are pining for youth, I think it produces a stereotypical old man because you only live in memory, you live in a place that doesn't exist. Aging is an extraordinary process where you become the person you always should have been."
Christine A. Gayda-Chelder, Ph.D., is Assistant Professor of Psychology; Stockton Center on Successful Aging Service Chair; Program Coordinator, Gerontology Minor
Karen Rose, Ph.D., SCOSA AFU champion, is Adjunct Professor, Psychology and Health Science
David C. Burdick, Ph.D., FGSA, FAGHE, is Professor of Psychology; Director, Stockton Center on Successful Aging