Haitian Heritage Celebrated
May is Haitian Heritage Month. Kimoni Yaw Ajani, assistant professor of Africana Studies, shares his insight on this celebration.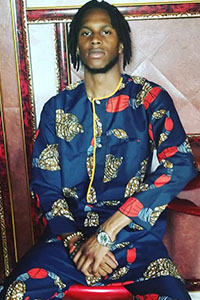 Why is Haitian Heritage Month so important?
Ayisyen (Haitian) Heritage month is important because it is a reminder of the sacrifices made by our Afrikan ancestors who fought and died in Ayiti so that we can continue to stand proud to be an independent Black=Afrikan nation in the western hemisphere.
How do you recognize and celebrate Haitian heritage during this time?
I recognize this month by pouring libations to my ancestors but most importantly by spending time with my family. After all, the Ayisyen Revolution (aka Afrikan revolution in Ayiti) was a family affair in which all hands were on deck, from the men, women, children and elders.
How can others celebrate?
Others can celebrate by connecting with Ayisyen community members and honoring the proud ancestral Ayisyen liberators who did not just fight for Blacks=Afrikans in Ayiti but for all Black=Afrikan people suffering from the injustices of European enslavement and imposition.
Ajani originally hails from a small Ayisyen (Haitian) community in Spring Valley, New York, and is first generation of Ayisyen descent living in the United States. Ajani holds a B.A. in History and a minor in African American studies from SUNY Oswego, an M.A. in Africana Studies from the University at Albany (SUNY), and a Ph.D. from the department of Africology & African American studies at Temple University. His dissertation is titled: "An Afrocentric Re-examination of the Historiography around the Afrikan Revolution in Ayiti (Haiti)."