Students, Faculty Address Hispanic Success in Higher Ed
By Arnaldo Cordero-Roman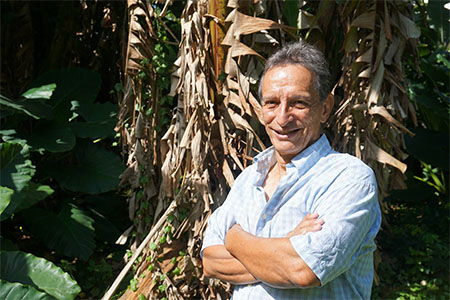 Associate Professor of Spanish
Among the many academic accomplishments that continue to take place despite strict Covid-19 protocols was our well-represented, active participation in the Hispanic Association of Colleges and Universities (HACU) 26th Annual National Capitol Forum on Hispanic Higher Education.
This two-day national virtual forum in April was bursting with challenging concurrent and plenary sessions that were highly informative, aspirational and relevant to Hispanic success in higher education.
Yes, this is history in the making! Another first for Stockton! A concerted initial attempt to form part of the national conversation concerning the past, present and future of Hispanics in higher education. We are an aspiring emerging Hispanic-Serving institution. ¡Sí, se puede!
Nine students and one senior faculty member and one executive director were able to listen and learn, to belong and get involved, to engage at the highest levels of very focused, strategic planning.
The primary mission? To see what works best; what needs to happen…in-house (internally) and outsourced (externally), especially with regards to funding. It's of no surprise that networking, joining forces and creating pathways to success is a shared responsibility.
If ever there were a more timely, practical, participatory approach to an open dialogue, this one certainly was not limited to traditionalist, experiential learning practices. Instead, the forum focused on the implementation, application and effective execution of the highest levels of impact practices throughout the country.
At the forefront of the discussions: Service and social justice, equity and inclusion in the administrative ranks for academic achievement, and professional advancement in higher education.
Colleges and universities—big and small—in addition to rural and urban academic centers displayed the greatest professional, top-notch, all-hands-on-deck work ethic to enhance a multiplicity of community-based projects that were directed, purposeful and uplifting. University presidents, provosts, corporate leaders, federal and state legislators, lobbyists and coalition groups were united, advocating for the success and empowerment of Hispanics in higher education.
The Hispanic Association of Colleges and Universities, founded in 1986, represents more than 500 colleges and universities in the United States, Latin America, Spain, and school districts throughout the U.S. HACU is the only national association representing existing and emerging Hispanic-Serving Institutions. This year, HACU celebrates its 35th Anniversary since its founding.
The highlight of this year's capitol forum? To meet with the newly appointed 12th United States Secretary of Education, Miguel A. Cardona.
Stockton's participants included:
Roxana Pérez-Nieves, Academic/Career Counselor, graduate student in the Master of Arts Counseling Program, UNIDOS Executive Board Member
Irvin Moreno-Rodríguez, Program Assistant, Holocaust and Genocide Studies. MAHG Program graduate student. UNIDOS Executive Board Member
Jeannie Pincus, nontraditional transfer student. Dean's List/LIBA/Education Major, GENS, Minors: Disability Studies and Holistic Health
Yumara Hernández, transfer student. GENS and LIBA/Education Major. Minor: Spanish
Jhoselín Cañas, sophomore. Health Sciences Major, Dean's List
Margelline Santos-Nuñez, transfer student. Dean's List, ARHU/LCST/Spanish K-12 Certification. LACS Minor.
Sonia Rivera, transfer student. Dean's List, ARHU/LCST/Spanish
Samara Souza, transfer student. Majors: Health Science and Pre-Communication Disorders. Minor: Spanish
Maddie McCracken, transfer student. Dean's List/Business/Business Studies/Management. Minor: Spanish
Arnaldo Cordero-Román, Associate Professor of Spanish. UNIDOS President
Merydawilda Colón, Executive Director Stockton Center for Community Engagement & Service Learning, Tenured professor of Social Work
Stockton University is an associate member of HACU. View their top legislative priorities.