Fraternities & Sororities Address Issues of Diversity, Inclusion
By Joseph Thompson
Assistant Director, Office of Student Development
In June 2020, the Instagram account @BlackatStockton was right in calling out the things they saw on campus. Some of the people they called out were members of our fraternity and sorority community, and correctly so. As the advisor of the fraternities and sororities, I promote and prioritize not just inclusion and celebrating our differences, but accountability.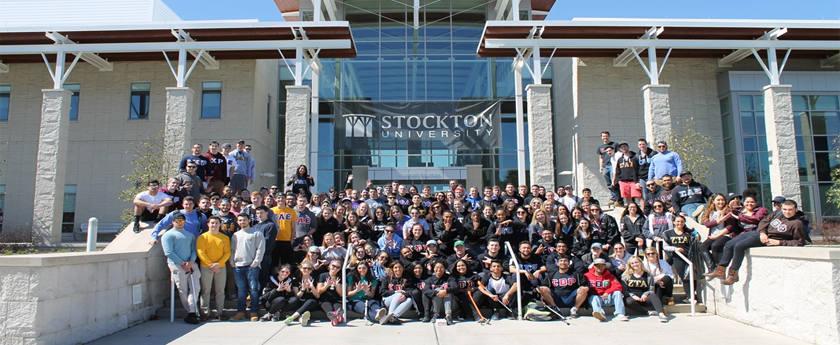 Formalized standards and accountability measures are what separates the fraternal community from a random group of students. While blatant acts of racism or discrimination often result in swift removal of fraternity membership, it is not always so. Speaking with student leaders in the fraternal community, it was clear they wanted to do something, but often felt like they lacked the knowledge and tools to make change. That is when the Greek Council voted to install Diversity, Equity & Inclusion chairs in all recognized chapters on campus and create a standing committee that would work on DEI initiatives.
In October 2020, Greek Council brought in Robert Wilson, a speaker who was just named to the "Top 100 under 50 Emerging Leaders in Corporate America and Organizations" by Diversity Magazine. Wilson worked with the students twice that month, focusing on topics of unconscious bias, privilege, inclusion and creating spaces for courageous conversations.
From there, Greek Council also brought in alumnus Ellis Bonds '15, former Greek Council president, chapter president (Lambda Sigma Upsilon Latino Fraternity, Inc.) and now Assistant Director of Student Diversity and Inclusion Programs at the University of Delaware. Bonds has been a tremendous asset to our community since he is an alumnus and knows the community well. This year, he has held two workshops for the chapter DEI chairs, focusing on the racial disparities evident in the history of fraternities and sororities and what we should be doing now to combat implicit bias, microaggressions and other issues that show up in our chapters.
There are probably people out there who believe the work the community is doing is performative, but that is far from the truth. In my time at Stockton, I have worked with many students who truly want to our community to be more inclusive. They want people of any race, religion or sexual orientation to feel accepted and supported in the fraternity and sorority community, but they also know there is a lot of work to be done.