Student Empowered by Experience at Fannie Lou Hamer Symposium
Editor's Note: The following aricle was submitted to Professor Donnetrice Allison as a class assignment and is included here with the permission of the author.
By Kyla Greene, '25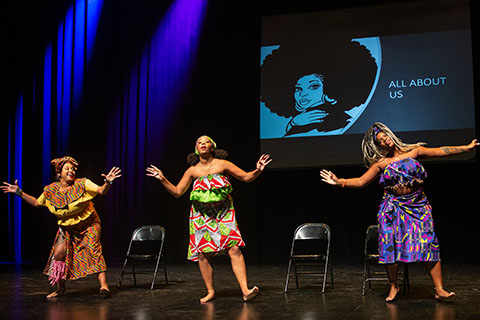 Psychology
Today I went to the 18th Annual Fannie Lou Hamer Human & Civil Rights Symposium in person. The purpose of this event was to enlighten us all of who Fannie Lou Hamer was and of all the accomplishments and non-horrid history of Black people in America.
They started off with a few women singing gospel songs, such as my personal favorite, Revolution, by Kirk Franklin. The origin of most music genres all go back to Black people, and gospel has, and continues to be, such a huge part of a lot of our culture. After this is when we learn about the Black Arts Movement. This was an art movement led by young, gifted Black folks during the 1960s through 1970s, which created new cultural institutions and a sense of pride in the Black community through activism and art.
When African people were stolen from their homeland there was a loss of culture. The music, dances, art and different styles all began to jumble up and many parts of it got lost. Since then, African Americans in this country have begun to build up our own culture based off what little remained. This movement was a way to reclaim our world, embracing our image, and claiming our culture, while teaching the next generation about our past. After briefly talking about this, we moved on to an African dance performed by three women about women giving birth. This performance was very well done and was the most enjoyable part of this entire event.
Prior to this, I had no idea who Fannie Lou Hamer was, but I had heard her most famous phrase said at the Democratic National Convention, "I'm sick and tired of being sick and tired." I have now learned that Fannie Lou Hamer was a civil rights and women's rights activist who advocated for voting rights of Black folks, demanding a meaningful change instead of empty, broken promises. She was cofounder of the Freedom Democratic Party and brought light to the racism she and others have faced brought on by white supremacists, just so she could have basic human rights.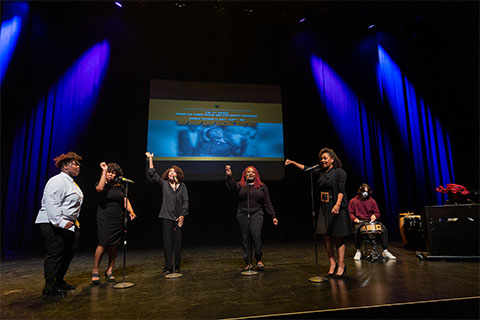 We were then met with a Zoom session from Dr. Bettina L. Love, who is an author and advocate for educational reform and the abolition of racism and injustice in black communities. She then reminds us that if the only time we talk about Black history is about enslavement or the trials and tribulations we've faced then that is an issue. We often forget to talk about Black joy and the way it has positively impacted the improvement of the Black community.
She says "To be Black in this country, it is a civic project. You work for your freedom, justice, liberation by building communities, schools, churches and figuring out how to love out of civics." Instead of focusing solely on the negative impacts on the Black community, we must also focus on the African diaspora at work and the "Black Impact."
This country doesn't really run on "pop culture," it's black culture. All of the slang we use, the hairstyles we do, dances, music and art, all came from Black artists whose purpose is to tell a story and to continue our legacy. For example, the song by Janelle Monae Hell You Talmbout and the revamp Say Her Name, were created to shine light on and pay homage to those who died at the hands of police brutality. Another example of this would be braids. They obviously originated in Africa but were also used as patterns of roads and paths to travel to or avoid getting to and from different plantations. It is a symbol of freedom. There are so many more things Black people have created and continue to do today, to keep our culture alive.
Overall, this was an amazing experience, I believe I was the only one in class who went in person, and it definitely would've been more fun to see it with somebody. I would have loved to discuss it after and talk about how empowered I felt after. I've always loved and appreciated Black culture and have come to learn that we are the blueprint for most things in life, however, this event made me sit back and say "Wow." As much as the white man tried to tear the Black community down, we basically built it all up all over again from what little memory we had left of who we were in Africa. It's so incredibly impressive how far we've come, and how so many other groups attempt to copy us and tear us down. As long as the Black community continues to stay together and focus on Black joy and education, I feel like things will get much better.