Third Annual Black Gala Makes a Splash
By Loukaia Taylor, '22
Communication Studies
As three busloads of Stockton University students, faculty and staff entered the Spirit of Philadelphia Feb. 25, the air surrounding the boat went from frigid to electrifying. The third annual Black Gala, or "The Black Met Gala," meant a lot to everybody for different reasons. This was the first gala after two years of virtual events, and attendants experienced a night of relative normalcy while also celebrating Black excellence.
Alexsandra Panton, president of the Unified Black Student Society, was cheered on by students while she welcomed them to "A Night of Essence and Ebony," a theme that she said was perfect.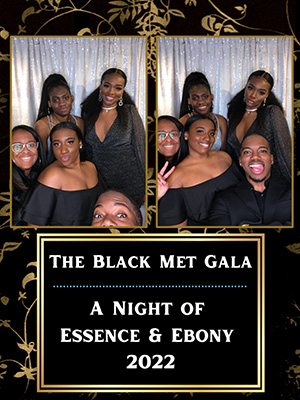 "We didn't want our event or theme to be typical or prom-ish," Panton said as she laughed about other theme considerations, including 'under the sea.' Rather, Panton wanted the event to be upscale and elegant. "It was during a meeting that the idea of a Met Gala, a huge celebrity event, becoming one that honored Black excellence came about."
When the boat wasn't rocking from students dancing, taking pictures and mingling, all eyes were on the program UBSS created, which included keynote speeches by Brian K. Jackson and Toyo Aboderin, singing and poetry performances, and an awards ceremony. When designing the program, Panton made sure that it was reminiscent of pre-COVID galas.
"I remember having a lot of fun during the first Black Gala in my freshman year," Panton said. "It was very well organized and we wanted to keep the same flow as before."
Jackson, chief operating officer of the Atlantic City Campus, spoke about the unique challenges and perspective of being a Black, gay man in academia, while Aboderin, Stockton alumna of the Communication Studies program, discussed the growth that Stockton has had since her time as an undergraduate student.
Kierre Fenderson, a Master of Social Work student, dazzled the students with his renditions of "Hours and Hours" by Muni Long and "Stay" by Rihanna. Student Tajmere Roundtree performed original poems that were warmly received.
The evening concluded with dancing and special awards given to recognize Black alumni, faculty and staff for their contributions to Stockton.
Outstanding Alumni Award: Haashim Smith-Johnson, '19, admissions recruiter
Outstanding Faculty Award: Dr. Patricia Reid-Merritt, distinguished professor of Africana Studies and Social Work
Distinguished Service Award: Michael "Cheesesteak Mike" Clark
Reid-Merritt was pleasantly surprised to be one of the honorees, and appreciated the event,
"This was the first time I attended the Black Gala. UBSS used this opportunity to recognize student achievement, past and present. I thought the recognition of a faculty member was a special touch," Reid-Merritt said. "With few words to share after the acceptance of the award, I returned to the upper deck to watch the festivities on the main floor. When hundreds of students hit the floor to dance, sing and party the night away, it was truly the highlight of the evening. There was such an expression of joy and happiness. They seemed to be having the time of their lives as free and independent college students."
Panton was pleased with the event. "Once it sold out, I felt very accomplished with what we did and how it turned out. I can't wait to see how it grows and becomes bigger over the next few years."
The Black Met Gala was the joint effort of UBSS, African Student Organization (ASO), National Pan-Hellenic Council (NPHC) and Stockton's chapter of the NAACP.