Faculty Highlight

Mariana Smith
Assistant Professor of Art
Summer 2019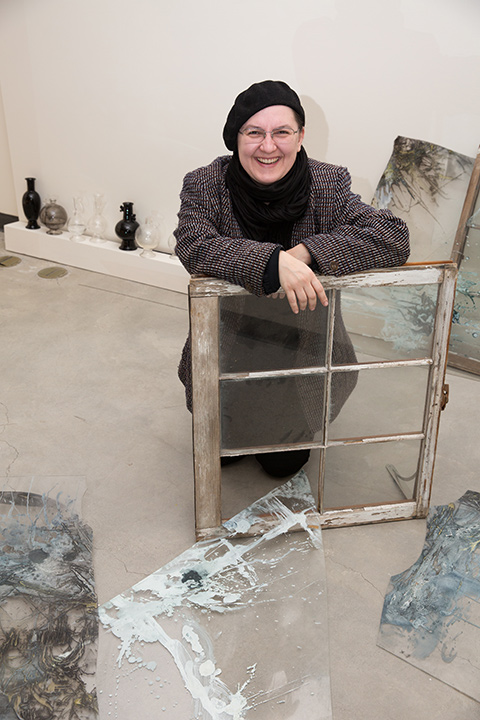 "It's going to get really dorky right now. It's like, art nerdiness," Mariana Smith warns before diving into a description of her latest project. Smith, an Assistant Professor of Visual Arts entering her fifth year at Stockton, teaches courses in printmaking, drawing, globalization, and art theory. While printmaking is her main academic subject at Stockton, her studio practice involves more mixed media: contemporary art such as video installations combined with traditional art such as miniature paintings grounded in Russian folk art. "As an educator this sort of practice really is exciting because I can work with students on a broad spectrum of their interests," Smith said.
In Smith's own academic research, she works with narratives of displacement and memory. "I'm interested in historical thinking about memory, spaces and displacement, and, as an immigrant, nostalgia as a subject matter. For me it connects not only to storytelling but also to literally orchestrated spaces. As an immigrant I find myself in that perpetual in-between space," Smith explained.
The medium Smith works in complements her subject matter. Describing her artistic process, she said, "I'm constructing these odd spaces where there is a sort of internal logic that hangs onto printmaking and painting and historical references, and then I juxtapose it with my own narratives. It's fun, it's playful, it's not always serious. I like printmaking because it's a medium that you have to plan in advance and there's a certain requirement for precision and utter chance and haphazardness, and I kind of jam them together in space, so it becomes both a random and an orchestrated space."
Smith gave an overview of how printmaking has evolved as a discipline within the last ten years. Formerly the prerogative of "very serious practitioners who see themselves as guardians of the craft," printmaking has become much more experimental. Smith views printmaking as an inherently democratic discipline because, she said, "collaboration is kind of built-in to printmaking projects and portfolio exchanges. Printmaking for me is not just a means of making images."
Smith grew up in Moscow, Russia, where she began her art career at age seven, taking classes at both her regular school and an art school. Her mother, a graphic designer, further encouraged her interest in art by taking her to visit the city's art museums. Her first undergraduate degree from the Moscow College of Applied and Industrial Arts was in folk art – iconography, souvenir paintings, and miniature paintings; she later earned a second BFA from Columbus College of Art and Design and an MFA from Cornell University, both with a concentration in printmaking.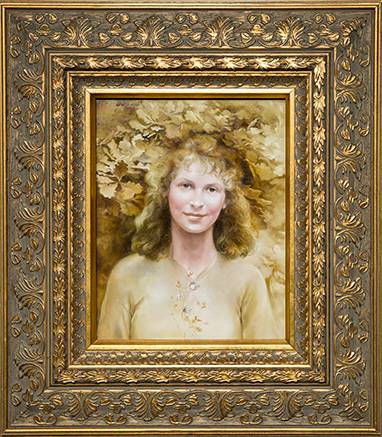 Smith's experiences as an immigrant inform much of her work. In her exhibition, Liminal Spaces, which was on display in the Stockton Art Gallery in Winter 2019, she explored how the immigrant attachment to the idea of the motherland exists alongside an ambivalence toward the actual country. "The narratives of connection to places are woven with my Russian background and with leaving the country. I don't think I will ever go back, so for me a kind of distancing and detachment get attached to the place. I've found this new home in America," she said.
When Smith came to Stockton, she found herself increasingly focusing on migration studies, organizing several symposia and exhibitions around the topic. "In studio I'm just processing my own experience, but I find that when I work in the community it's important for me to take a step back and become a facilitator for somebody else," she said.
In February 2016 Smith organized the symposium, Metamorphosis: The Human Stories, inviting scholars from Dresden to discuss migration and immigration, specifically how to "work with the refugees and migrants in a smaller city such as Atlantic City, and what tools the art academy uses to work with these communities." In 2017 Smith then went to Dresden to participate in a series of lecture and workshops. It was interesting, she said, to see how migration and immigration had risen in prominence as a political subject matter since 2016, as well as how different countries address issues, such as ways to increase community involvement.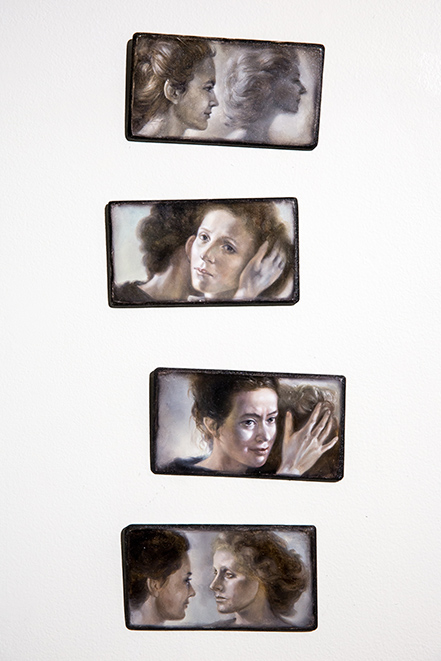 Smith plans to work with faculty and staff in Migration Studies and Service Learning to connect the two as an interdisciplinary hub to create a whole new range of opportunities for both Stockton students and South Jersey communities. In 2018, Smith attended an immigration conference at the University of Macedonia in Greece, where she ran a workshop on how to create and use zines as tools for community engagement and communication. Smith explained, "The privileged scholar and the refugee community member – there's a power imbalance that is always there. Art can be used to create an unusual situation for both community members: both are completely out of their comfort zone. Zines are this funky sort of thing where you ask people to fold paper in a strange way and then they start collaging and nobody's done it before. I've found that zine-making creates more communication, where the problem-solving skills of every participant are equal."
Smith is helping to plan another symposium on a larger scale with scholars from Germany and Greece in 2021. Within the next few years, Smith will be continuing work on Metamorphosis: The Human Stories with a series of exhibitions and lectures on borderlines and migration.
Smith believes that art students at Stockton can receive an education comparable to that of an art school due to the University's interdisciplinary opportunities and the high caliber of the art program's faculty: "If you're really saying to yourself, 'I want to be competitive and make the most of Stockton,' the resources are here. Art requires you to work a lot and be passionate. Your college years are your practice for being a competitive professional. You should be hungry and tenacious. I think with this kind of attitude, you can succeed."
When asked what she would like the legacy of her work to stand for, Smith said, "As an artist, I never thought of myself as leaving something profound. If I'm in a museum or private collections, it's fine. But I think that as an academic and a professor, I love to have students who would carry on the idea that it's not scary to be an artist. It's important to be true and authentic to yourself – that honesty and sincerity will actually get you through life. Using art is just one of the pathways. That nugget of sincerity and the passion that drives you, I see students sometimes lose it. I want to give students permission to do exactly what they love and then succeed with that. That's what art can do: it gives you permission to be sincere."
Read more Arts and Humanities highlights.