Faculty Highlight

Edward Siecienski
Professor of Religion and Clement and Helen Pappas Professor of Byzantine Civilization and Religion
Spring 2023
Tell us about your educational background.
I attended Georgetown University from 1986 - 1990 and then went to Saint Mary's Seminary and University from 1990-1995, where I earned an MDiv. After working a few years at St. Patrick's Seminary in California, I returned to do my Ph.D. studies in Historical Theology at Fordham University, finishing in 2005.
Tell us about your professional background and research.
Most of my work deals with Latin-Greek interactions in the Medieval period. Although I started out doing mostly patristic – i.e., early church studies – I wound up focusing on medieval Byzantine-Latin exchanges, especially over the disputed issues that divided the churches in the 11th century.
What brought you to Stockton?
An advertisement! I was working at Misericordia University, and I saw that Stockton was looking for somebody who could do both Theology and Byzantine studies in order to fill the gap left by Father Demetrios Constantelos, who was one of the founders of Stockton and was approaching retirement. While I always said that I could never replace Father Demetrios because he was irreplaceable, I felt that the kind of things that he did, I could do.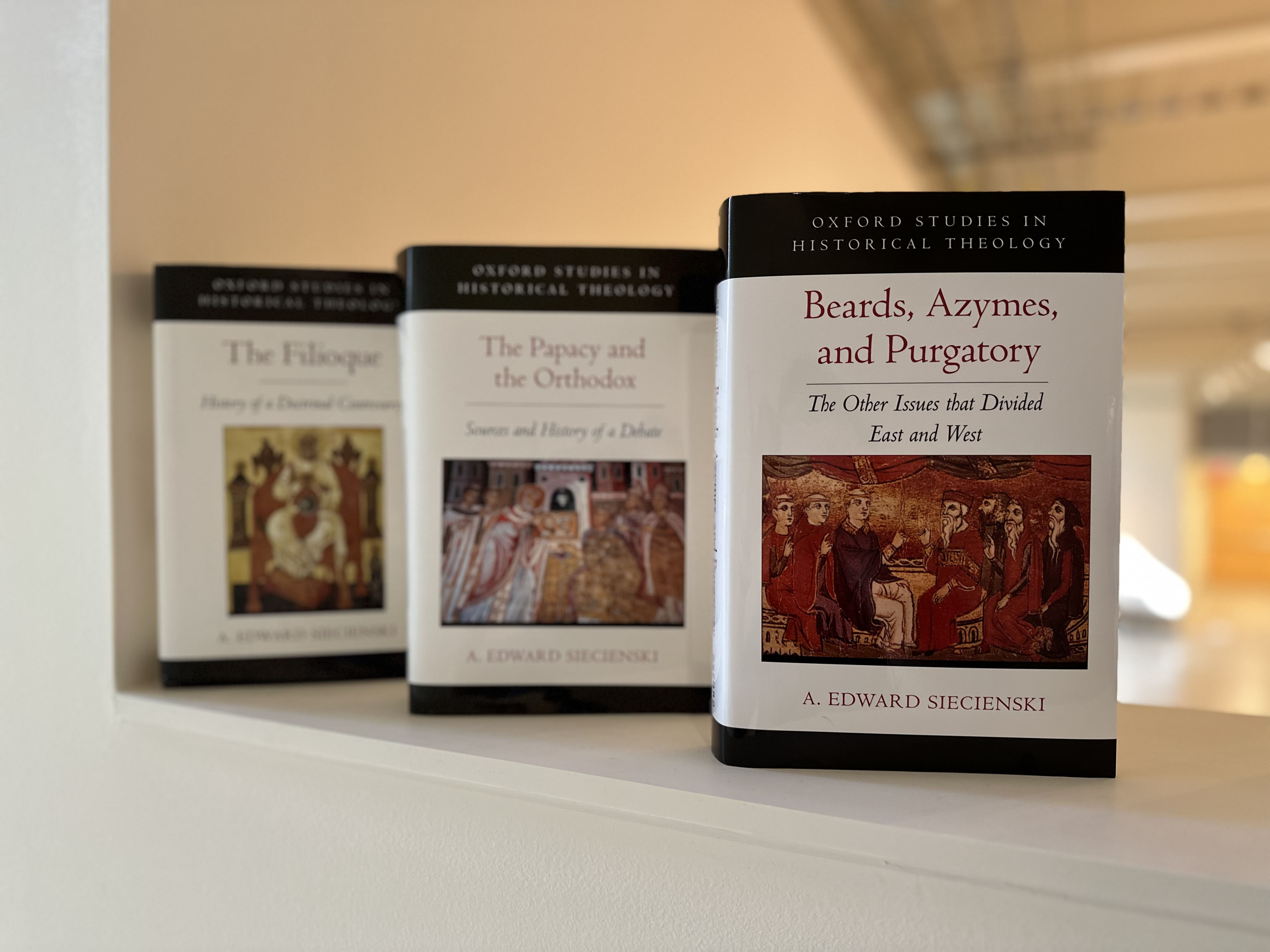 Tell us about your new book. What inspired you to write this book?
My first book, The Filioque: History of a Doctrinal Controversy, was a spin-off of my doctoral dissertation. A good, complete history of the Filioque in English needed to be written, and the nice people at Oxford University Press agreed. In 2010, they published the book, which was my first monograph, and it was received quite positively.
A few years later I submitted a proposal for a similar book on the papacy and its relations with the Orthodox world, and so the second book, The Papacy and the Orthodox: Sources and History of a Debate, was born. It was published in 2017.
At the time I envisioned that there would be a third volume on the "other issues" that separated the churches, and this was the book that was just released in September 2022, Beards, Azymes, and Purgatory: The Other Issues that Divided East and West. I see these books as comprising a trilogy of East-West issues that explain why the Catholic and Orthodox Churches are not part of the same Church today.
What inspired you to specifically write about this subject-matter?
The Catholic and Orthodox Churches, the two largest Christian denominations in the world – a church of 1.2 billion people and a church of 300 million people – are divided by a series of issues. However, these issues are not only matters for historians and theologians but also for people today - they are existential issues for millions of Christians who wonder why they can't receive communion in their wife's or husband's church. These are issues that aren't just academic, they are pastoral – they affect people in the pews all the time. I always thought if I could do anything to try to move the two churches closer to one another by studying the issues that divided them in the first place, then that would be a worthwhile accomplishment.
What do you hope people will take away from this trilogy?
First of all, I think these are good stories. I remember reading something early on in my graduate studies, a quote by Barbara Tuchman, the historian who wrote The March of Folly and The Zimmerman Telegram. She said that there's no trick to interesting young people in history. All you have to do is tell good stories. I think that the histories behind these divisive issues are really quite interesting, and so I try to tell them as a narrative. I try to make the books clear, objective, and interesting. That they're interesting is probably due more to the subject matter than to me. My job has been to tell it in a clear and objective way.
Any further thoughts you'd like to share?
This is my 15th year teaching at Stockton, and I must say that I have enjoyed it since day one. I love my colleagues in the Philosophy and Religion department and I've had some fantastic students over the years who have expressed a real interest in the kinds of things that I teach - e.g., imperial Byzantine history, the Crusades, the history of the Papacy. It's wonderful to see people fall in love with subjects that they may never have explored had you not been there. I look forward to many more productive years at Stockton and (perhaps) to writing a few more books.