Faculty Highlight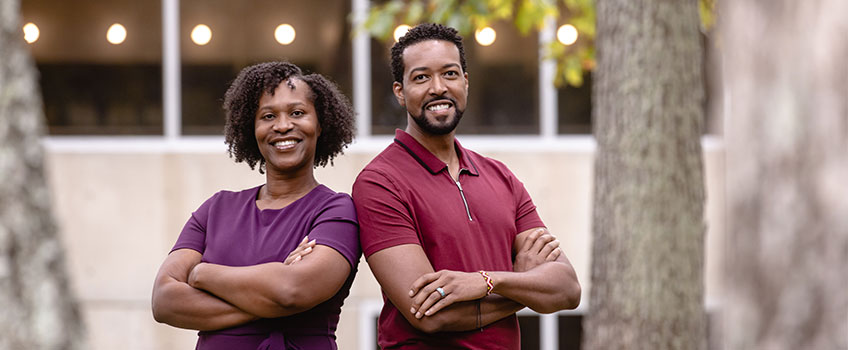 Photo Credit: Susan Allen

Donnetrice Allison, Professor of Communication Studies and Africana Studies, & Aaron Moss, Assistant Professor of Theatre/Directing
Faculty Spotlight - "Teaching While Black" Project
Fall 2022

Tell us about your backgrounds. What brought you to Stockton?
ALLISON: I finished my Ph.D. in intercultural communication at Howard University in Washington, D.C. I was looking at the Communication Studies program at Stockton and they were searching for another faculty member, so I ended up applying and started in 2004.
MOSS: I did my Master of Fine Arts at Yale School of Drama. When I first applied to Stockton, I was teaching in New York. I came across Stockton out of curiosity. I loved the vision; everyone was thinking really big in terms of the future – the next 50 years at Stockton – and I could really see myself being a part of that.

What inspired you to embark on this creative process?
ALLISON: I had been a media critic for two decades and a lot of my research was about analyzing how black people were portrayed in the media. I was analyzing all of this media out there, but I wanted to create it. There was a script writing contest, and at that time I had been teaching in predominantly white institutions (PWI) for about 16 years, and I thought, "there's a story there."

How did you come together to work on this project?
ALLISON:The main character of the pilot is a millennial, and I'm not! When Aaron started, I initially sat down with him to get his perspective on being a young black faculty during this time. But then he had many ideas about what we could do with this script, so I thought, "maybe this is a creative partnership!" We've been working on the project together since 2019.
MOSS: Donni came to me because I am a young faculty of color, but also because I had experience working in television and film. All of my experience working in television and film was in front of the camera, so it was quite a risk that she took on me. To develop this project, I used my experience of directing on the stage, developing new works with playwrights, my understanding of reading scripts and my experience of being in front of the camera for television and film.

How did students get involved in the project and what was most challenging?
ALLISON: When Aaron suggested that we shoot it, it was a natural idea that we were going to have students involved. Even though I'm in Africana Studies now, I was in Communication Studies for sixteen years, so I knew students in that program would be interested, and Aaron knew his theatre students would be interested.
MOSS: I think a lot of our classes are project-based, so when students get an opportunity to participate in a faculty-led project-based learning opportunity they jump to it because they're getting that one-on-one attention. Also, students are not only working with experienced faculty, but they are working with people from the industry, which accelerates what they're learning in the classroom.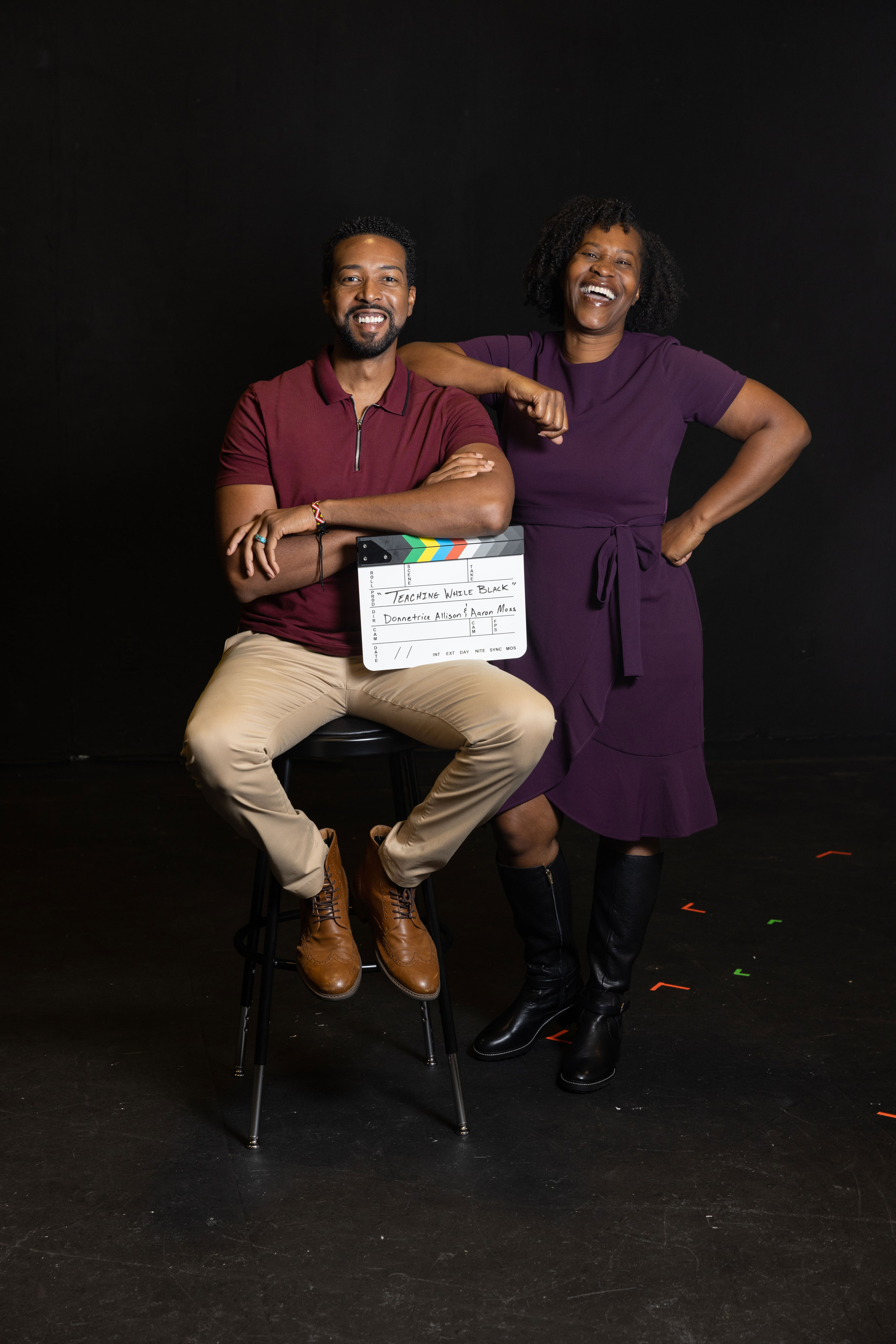 Can you describe the collaborative nature of the project?
MOSS: The filming process is like a train going way too fast on the tracks. At some point, you've got to be able to turn and pivot, and if it doesn't have that delicate touch, it's going to fall off the tracks. There's a limited amount of time and money, and the greatest resource you have is the people involved. We really tapped into everybody's strengths.
ALLISON: I do a lot of the writing, and Aaron has been so instrumental in teaching me about the process behind the scenes; how to structure a scene, the time it takes, and what it was going to take to actually pull this off. And the tedium of the scenes – how many ways you have to shoot it from each person's perspective. We were here some nights until 2 AM. It takes a long time!
MOSS: I was able to bring in some really rich experiences that I had being in front of the camera, just watching how really amazing directors and producers worked. I've worked with David O. Russell, Michael Bay, and Alec Baldwin – so just seeing how they handle their sets, really influenced me on how I wanted to handle the set (with a much smaller production budget!).
One thing Donni and I did really well, was communicate frequently, honestly, and clearly. I think that was the strength of the production. Students saw how well we communicated and collaborated. That's something that we want them to walk away with from this experience.

What is most important when collaborating on a project of this nature?
MOSS: The collaboration process is kind of messy because it's not linear. There are a lot of twists and turns, and what you end up with is something completely different than what you began with. Then, you have the input of many different collaborators and things change.
The piece that allows all of the elements of the production to string together really well and stay taut is mutual respect. Understanding that everybody's there because they want to do their best. Donni wants to produce the best story that's reflective of these issues, these people, this time, and this culture. Then, you find the best way to help augment and highlight what they're really trying to say.
ALLISON: Respect is key. There was never this power dynamic because we have so much respect for each other.

What is the message you hope will be conveyed with this project? And why is it important to tell this story now?
ALLISON: For as much progress has been made in our society when it comes to racial differences in particular, I think there's a lot more that needs to be done and seen. That's one of the reasons why I would love for this project to go somewhere because there's a lot that we've experienced, talked about, and put into this project that some other folks might not see or maybe haven't conceptualized. Then, there are other folks who would see it and say, "that's what I've been experiencing!"
MOSS: With the national and international conversations that were starting to happen simultaneously, in 2018 and 2019, and then the uprisings of 2020, it was the perfect timing to tell this story. I think we are still trying to contextualize and comprehend why people are saying, "we have to reconsider our organizations and institutions, how they're structured, and who has a voice." This story speaks to all of that.

What else would you like to see happen with this project?
ALLISON: Once we put it out there as the pilot that we shot, we would like a producer to get behind it. Aaron and I have prepared a show bible for up to five seasons. As soon as somebody comes and says, "I like this. I'm ready to support you," we'll say, "here you go, we have five seasons planned for you already!"
MOSS: And Stockton can say, "it started here!" We'll have screenings here in Galloway and Atlantic City in the Spring 2023 semester. We're also submitting to festivals, and planning to do a screening in New York and then hopefully one in LA in the future.