Global Perspectives

Stockton is committed to providing students, faculty and staff with exposure to diverse cultural perspectives.
¡Bienvenidos! Stockton Welcomes Panamanian Teachers
In July 2017, Stockton University was approved by the Panamanian Ministry of Education to offer training to teachers from Panama as part of the government's Bilingue Initiative. The partnership with Panama kicked off in January 2018, when 21 Panamanian teachers joined Stockton's community (pictured above) for an eight-week visit where they studied English, teaching methods and technology in the classroom.
Stockton's Model UN
Stockton's Model UN International team represented the politically powerful China at the January conference in Galapagos, bringing home a Distinguished Delegation Award for their efforts. Several other students earned individual awards.
Chinese Delegation Visits AC, Stockton University
Stockton welcomed international guests from Atlantic City's sister-city Zhanjiang, China, in June. The five member delegation led by the President of Zhanjiang Overseas Friendship Association, Zhong Li, received a tour of Stockton University Atlantic City and met with members of the Atlantic City Chamber of Commerce.
Association of International Educations Conference
In May, JY Zhou, internationalization specialist, and Lois Spitzer, associate professor of Teacher Education, took seven students to the 70th anniversary NAFSA 2018 conference in Philadelphia. NAFSA (Association of International Educators) is the largest conference in international education with around 10,000 participants from over 100 countries. Stockton's attendance at the conference was made possible through a 2020 Learning Initiative grant, and allowed students the opportunity to have a truly global learning experience while broadcasting Stockton's presence to the world.
Veterans Trip to Greece
The Stockton Student Veteran Organization (SVO) went to Greece for Spring Break. The 19 participants spent 12 days touring Athens, Nafplio, Sparta, Olympia and Ithaca where they toured Sparta Theatre and learned about the ancient Olympic games. The trip is linked to a course on Homer's Odyssey designed specifically for veterans.
School of Education Tour in Taiwan
Ten students and faculty from the School of Education experienced an enriching and life-changing seven-day educational tour of Taiwan in December 2017 that included school visits and an academic conference arranged by Stockton Professor of Mathematics Chia-Lin Wu. The visit included a tour of a residential school for special education students, a private middle school and a public elementary/middle school. The group also had the chance to visit a Buddhist temple, a windfarm and two universities.
Trip to Colombia
Students from the School of Health Sciences visited Escuela Colombiana de Rehabilitacion in Bogota, Colombia to exchange research presentations with the students there. They also had the chance to tour a coffee plantation and learn traditional Colombian dances and games.
Student Spotlight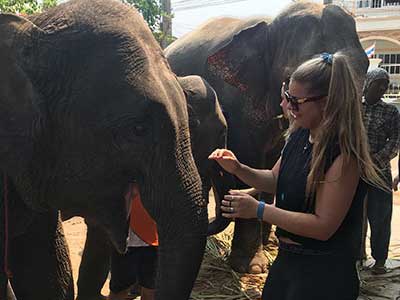 Student Hanna Anderson participated in the Bamboo Project Surin Elephant Village Project in Thailand where she participated in agricultural and building projects, and visited with children in the local schools in the village.