Engagement

Stockton is committed to the positive development of southern New Jersey. Through research, teaching and community partnerships and service, the University actively seeks to address social and economic issues.
These efforts are supported by a variety of entities, including the Stockton Center for Community Engagement, the Office of Service-Learning, Stockton Center on Successful Aging, the Lloyd D. Levenson Institute of Gaming, Hospitality & Tourism and the William J. Hughes Center for Public Policy.
Excellence in Civic Learning & Community Engagement
Stockton received the American Association of State Colleges and Universities' first Civic Learning and Community Engagement Award in recognition of the work of the University's American Democracy Project (ADP) and Political Engagement Project (PEP) in encouraging students to become civically active in their communities.
The William J. Hughes Center for Public Policy
In November 2017, Stockton hosted former Vice President Joe Biden, who presented the Distinguished Lifetime Achievement Award to U.S. Ambassador William J. Hughes at the William J. Hughes Center for Public Policy Honors ceremony. Biden, a long-term friend and colleague of Hughes from their time in Congress together, spoke of the need for civil discourse.
U.S. Supreme Court Associate Justice Neil M. Gorsuch reflected on his career as a judge during a visit to Stockton in January. Gorsuch told 500 Stockton students, staff, faculty and community members that it is up to the younger generation to understand and continue to uphold the ideas on which America was founded, while also emphasizing the importance of civic service and civility.
Unite Against Hate Day
Stockton hosted its inaugural Unite Against Hate Day in February to strengthen the community's efforts toward inclusion and resisting discrimination of all forms. The theme for the day was "Studying and Deconstructing Hate and Terror" and featured 21 workshops and presentations by faculty, students and guest speakers.
Stockton Center on Successful Aging
In November 2017, the Stockton Center on Successful Aging (SCOSA) hosted its inaugural Fall Conference in conjunction with the Cape Atlantic Caregiver's Coalition's "We Care Because You Care" event. The day combined 20 local providers of care in Atlantic and Cape May counties with six educational sessions presented by professionals in the field of aging. The event featured engaging, energetic and educational speakers on topics relevant to professionals, providers and older adults.
Student Spotlights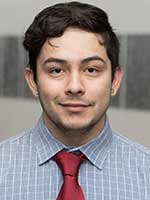 Bryan Gonzalez-Mejia, a Political Science major, was named a Newman Civic Fellow by Campus Compact in recognition of his work on campus promoting civic engagement and community involvement. In addition to his involvement in the Student Senate, Model UN and Stockton's Political Engagement Project and American Democracy Project, Gonzalez-Mejia served as a tutor in Stockton's Center for Community Engagement's after-school homework project in Atlantic City and Pleasantville, and assisted with the naturalization classes offered by Stockton.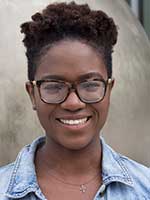 Senior Jodie Davis, a Public Health major, was named a fellow by the Newman's Own Foundation. Davis was the only student in the nation to be fully funded in this competitive educational scholarship opportunity. Davis is the former president of Stockton's chapter of the NAACP, a C.A.R.E. peer mentor, a teacher's assistant for Organic Chemistry, a member of Alternative Spring Break, MLK Day of Service Student Coordinator and a Bonner Leader for the Office of Service-Learning.
ACCOLADES
"Champion of Good Works"
Commerce and Industry Association of New Jersey & COMMERCE Magazine
Excellence in Innovation Award for Civic Learning and Community Engagement
American Association of State Colleges and Universities (AASCU)
2017 Higher Education Excellence in Diversity (HEED) Award
INSIGHT Into Diversity magazine

2018 Institutional Excellence Award
The National Association of Diversity Officers in Higher Education
BY THE NUMBERS
Days of Service:
800+ volunteers - 2018 MLK Day of Service
430+ volunteers - 2017 Fall Day of Service
Alternative Spring Break:
15 students volunteered at Give Kids the World in Florida
51 students & staff volunteered for Habitat for Humanity