IRS Adrian Project
Calculators, Spreadsheets, Handcuffs
Accounting alumni take aim at careers in law enforcement with IRS.
By Stephanie Loder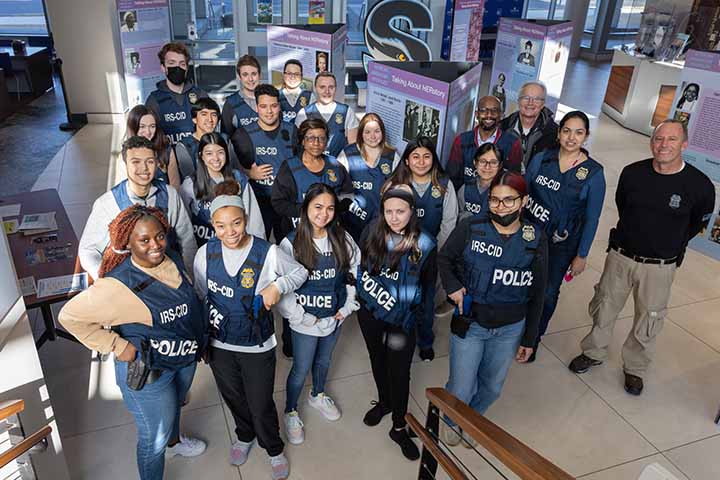 C
hristina remembers the day she decided to become an IRS special agent.
"I was at a job fair at Stockton, and I saw the IRS recruiting sign that said, 'Be an accountant with a badge,'" she said.
Now a special agent working undercover, she asked not to reveal her full identity. She said that day at Stockton changed her destiny.
"I didn't have a career path, and I was taking hospitality courses at the local community college. I figured I might be able to get a job at a casino," she said.
After the job fair, she spoke with IRS recruiters, transferred to Stockton and graduated in 2000.
She has since traveled the nation for investigations and arrests.
"Before I went to the job fair and Stockton, I didn't know what I wanted to do with my life," she said. "My mother was a single mom, and we didn't have the money to spend on college. No one in my family ever graduated college. After high school, I never saw law enforcement as a career and going to school to become a lawyer just wasn't in the budget."
She said she chose Stockton because it was within driving distance of her home and affordable.
Her advice to an accounting student who might be on the fence about training as an IRS Special Agent?
"If you are on the fence, keep going over it. This is such a great job," she said.
While criminal justice and accounting may seem like very different majors, Stockton's interdisciplinary approach to learning offers students the opportunity to explore multiple career options and combine courses to match their interests.
Special Agent Casey Fagan graduated from Stockton in 2009 after studying both criminal justice and accounting.
In high school, she became interested in law enforcement, and at Stockton she learned about the IRS special agent program through a criminal justice class.
Fagan was one of three Stockton alumni turned federal agents who participated in the IRS Adrian Project, which provides college students with a "day in the life" glimpse into the career of an IRS special agent and what a criminal investigation can entail. The project was held in March at the Stockton Atlantic City campus.
IRS Criminal Investigation field offices bring the Adrian Project to college and university campuses nationwide. The goal is to provide students with a firsthand look at what it's like for IRS special agents to carry out an investigation, tracking illicit money from the crime to the criminal.
I felt that this was the balance I needed between law enforcement and accounting. It was a good mix and Stockton helped prepare me with the basics."
Barry Palatnik, professor of Accounting, brought the IRS Adrian Project to Stockton to show students the different options open to accounting majors.
Palatnik, a CPA who was an IRS revenue agent in the 1980s and '90s, said students who signed up for the Adrian Project were eager to find out about the life of a special agent.
"The students were extremely excited. They know about the IRS, and many of the students want something different. This allows them to use accounting and learn law enforcement skills. Some students don't want to be situated in one place all of the time."
Fagan, who grew up in the central region of New Jersey, credited Stockton with helping to make her decision to become an IRS special agent.
"I loved my time at Stockton. My professors were very supportive," said Fagan.
While studying at Stockton, Fagan said she also served as a residential advisor (RA) and joined Sigma Sigma Sigma, a national women's sorority.
She said she also took advantage of academic advising to work out how to make her courses fit her career goals.
Fagan, who works in the New Jersey office, said her job as a special agent has allowed her to travel nationwide. Her career, however, began with Stockton.
"I felt that this was the balance I needed between law enforcement and accounting. It was a good mix, and Stockton helped prepare me with the basics," she said.
Special Agent Scott Smith graduated in 1992 and credits now-retired accounting professor Frank Thomas for helping his career decision.
Thomas, who earned the 2004-2005 Outstanding Educator Award from the N.J. Society of Certified Public Accountants, introduced to students the idea of other opportunities available after graduation, Smith said.
"I was originally a criminal justice major, then I met some federal law enforcement officers during a career fair in my sophomore year," said Smith, a resident of Atlantic County. "So, I switched to being an accounting major."
As an agent, Smith handles cases involving money laundering and criminal tax evasion.
"I have great things to say about Stockton. They have career fairs and great outreach for students," he said. "Stockton structured me in the right direction."