1,000 Snapshots of History
Nearly 1,000 Snapshots of History
Mural project chronicles Stockton's 50 years.
By Susan Allen '09, '14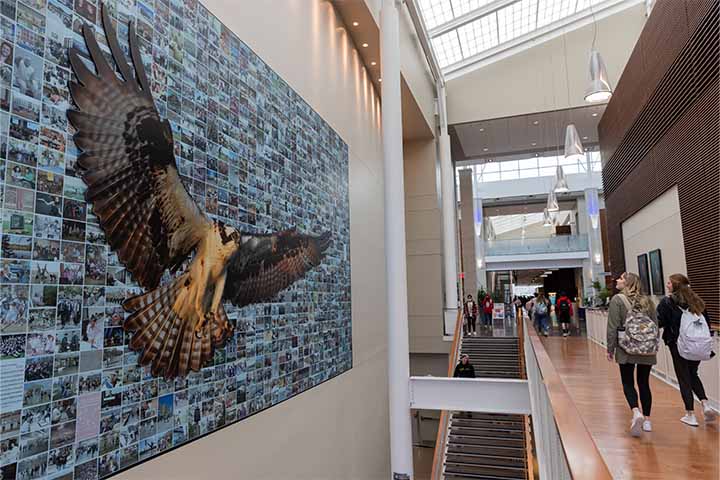 "L ook, there's me!"
"That's the club I'm in!"
"My mom was in the choir here, look at that photo from '81!"
People walking over the Campus Center bridge stopped to watch the installation of 50th in Flight, a mural that turned close to 1,000 snapshots of Stockton's first 50 years into a 30 x 16-foot visual story.
The longer you look, the more you learn about the college in the pines that held its first classes on the Atlantic City Boardwalk and grew into a university with locations throughout South Jersey.
Each image was hand-selected from the Stockton Library's Special Collections, CDs, negatives, slides, prints, submissions and Flickr.
The 50th Anniversary Exhibits Committee was tasked with displaying five decades of history. Heather Perez, a Special Collections librarian and instructor, said, "We didn't want to do a traditional explanatory panel exhibit. We wanted something unique and eye-catching."
Jessica Chamberlain '20, a Literature graduate currently in the American Studies graduate program, had an idea.
"We were sitting here in Special Collections, I had just gotten back from Disney, and I was talking about a mural that had a bunch of small photos that made one big photo," Chamberlain said, recounting her conversation with Perez. "Wouldn't it be cool, if for the 50th, we could take all the photos from the archives and make a big mural that mimics a mosaic?"
As part of the 50th Anniversary Exhibits Committee, Chamberlain helped to adapt that concept into what is now an Osprey soaring across a blue sky filled with photos of Stockton through the years.
Images from the archives and from people's camera rolls and photo albums now live prominently on a wall where they are seen daily. They also live digitally on a website of 50 stories that chronicle places, traditions, history pre-dating Stockton, athletics, academics and more.
"You can walk past this mural a lot, and still you won't have seen every photo," said Chamberlain.
Chamberlain's journey to the Library archives began with a knock on Tom Kinsella's door.
"I just showed up at his office," she said, after learning that he had internship opportunities to help Stockton commemorate its 50th anniversary through storytelling.
She was inspired by her love of history. "I would read history books for fun outside of school. Even though my major is Literature, I still love history and wanted to incorporate that into my undergraduate career."
We really hope that people connect with the mural and see something that they're passionate about, or something that says Stockton to them or maybe even find themselves in the mural."
In various internship positions, she has researched, written and edited stories for the "Stockton Stories" website and SoJourn, a print publication of the South Jersey Culture and History Center, worked in the archives and most recently contributed to the 50th in Flight mural.
"Jess made her mark by researching places on campus that helped foster community," said Kinsella, professor of British Literature.
Chamberlain used social media in her outreach to alumni for photo submissions. One memorable connection she made led to the donation of the actual tree-shaped Pinetree Co-Op sign that is pictured in the mural. An alum, William Vis, was given the sign when the Co-Op closed its doors and decided he wanted to give it back to Stockton.
On installation day, Chamberlain said, "It is surreal looking at this mural. Five years of my life have contributed to this final product, and it's super exciting to see."
Kinsella called the mural "an artful representation of Stockton's diversity of people and achievements through the years."
"We really hope that people connect with the mural and see something that they're passionate about, or something that says Stockton to them or maybe even find themselves in the mural," said Perez.
For Chamberlain, seeing photos of the courts brings back fond memories of her roommates, and classroom photos remind her of where she met her fiancé. Looking at the mural shows viewers pieces of their story.
The Campus Center bridge has unofficially become Stockton's memory lane.
View 50th in Flight digital gallery