Changing First Perceptions
Changing First Perceptions
Professor Donnetrice Allison encourages her students to see beyond stereotypes.
by Diane D'Amico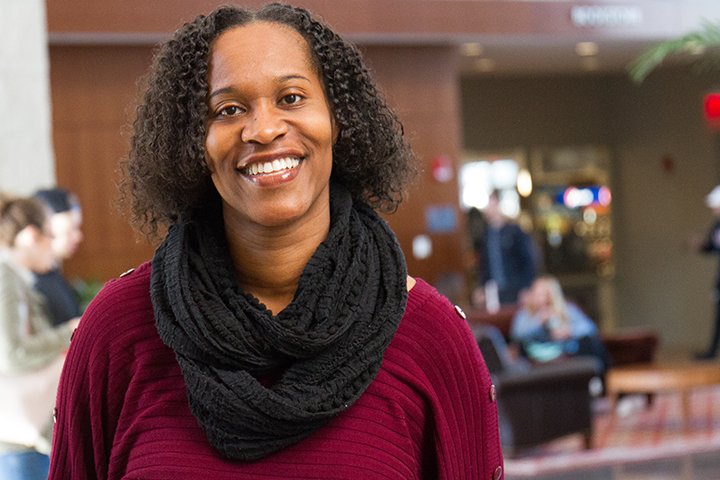 Donnetrice Allison is used to being a "first" or an "only." She is the first among the seven children in her family to earn a bachelor's degree. She was the only black member of the department at her first teaching job at James Madison University in Virginia in 1995.
This year, she is the first black woman to be president of the Stockton University Faculty Senate.
"Even my daughter could not believe that in 2017 I could still be a 'first'," Allison said.
A professor of Communication Studies and Africana Studies at Stockton, Allison is keenly aware of the impact an image, perception or stereotype can have in society, and has devoted her life to challenging them by example. She shares personal stories with her students, many of whom have told her she is their first black teacher.
Being a "first" does come with responsibilities. Allison had a few black mentors who made a huge difference in her life, and now she makes a concerted effort to be a positive role model for all students, so they, too, can see beyond the stereotypes.
"That's why I am here," she said about Stockton, where she is in her 14th year of teaching. She taught while in graduate school at the predominantly black Howard University, which she described as "a warm blanket" of acceptance.
"But I knew I'd end up in a world that was not like that," Allison said. "Exposure is the only way to address racism. It is important for me to represent black women in a positive way. I have fought against stereotypes my whole life."
She talks to her students often about "acting black" or "acting white," how the terms are used and what they mean.
She recently edited a book, "Black Women's Portrayals on Reality Television: The New Sapphire." While some said viewers know reality shows are not real, Allison said people who have no other frame of reference will believe that all black women are loud and aggressive like their TV counterparts.
She cites a secretary at a former job who told Allison she was glad she did not have "the attitude I thought you'd have."
Last year, she gave a TedX Talk on inclusion and diversity, saying that just recruiting more minority faculty or students is not actual inclusion. As Faculty Senate president, she is reviewing last year's faculty climate survey to make sure all employees are supported at Stockton.
As coordinator of the annual Fannie Lou Hamer Civil and Human Rights Symposium and a Hip-Hop Summit at Stockton, Allison strives to bring understanding to what it means to be black and white in today's America.
This year's Fannie Lou Hamer Symposium theme "The New Civil Rights Movement in the Age of Social Media" addressed the ability of social media to both mobilize a movement and spew hate.
This year's Hip-Hop Summit's theme is "Stay Woke: Using Hip-Hop as a Tool for Consciousness Raising." The daylong event will be held on Thursday, Dec. 7. During a recent class, students discussed messages in Hip-Hop music, and how Hip-Hop and rap have infused popular culture ranging from gang life to music in the 1970s children's show "The Electric Company."
"

Exposure is the only way to address racism."
Allison is thrilled that so many white students take Africana Studies classes, a program she coordinates. In a recent Civil Rights and Media class, students talked about how little they had learned in high school about slavery or the Civil Rights Movement, and how unpleasant aspects were often glossed over or ignored.
"I love to have (white) students say they never thought of something that way before," she said. "And I've had some sit and scowl, or drop the class saying I am making them the bad guy. But I'm not trying to do that."
Learn more about Stockton's Communication Studies Program.