Art of Healing
Art of Healing
Two alumni have created a safe space for expression.
by Stacey Clapp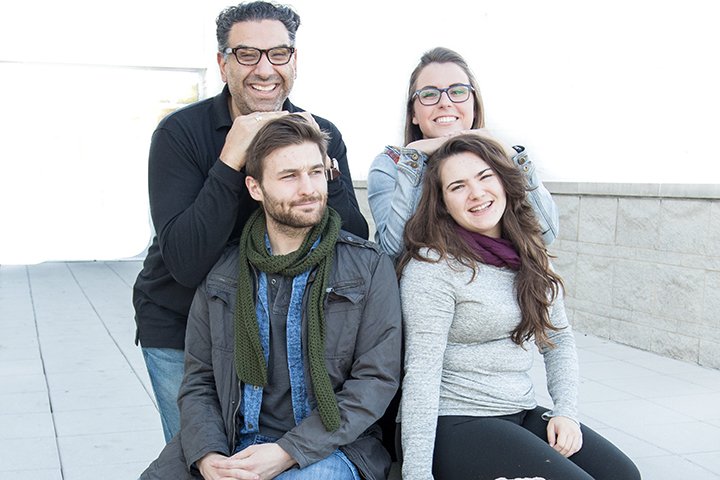 Baring your soul in a roomful of strangers and sculpting those emotions into a work of art is, admittedly, a tough sell. But it is exactly that exercise that can lead to the freedom to learn about yourself and to heal, say the organizers of a new Stockton initiative.
Jacob Wolos '18 and Alyssa Natale '18 conceived and brought The Creation Labs to Stockton University this fall.
The workshop series seeks to provide a safe space for students to use interdisciplinary collaborative art as a means of catharsis through personal trauma.
Though Wolos majored in Sculpture and Natale earned her degree in Dance, they said the workshops are open to any Stockton student, not just arts majors.
"Performance and improvisation are not for everyone," Wolos admitted. "But if you trust your mind and body, something good will come out of it."
During the first workshop in September, Wolos said it was a process to help the participants find a commonality to build on.
"They learned something about themselves, each other and working with one another. They were strangers, but learned to be collaborative," Natale added.
The end goal, said Natale, is for participants to see change in how they see the world and to cope with everyday life in more effective, creative ways.
Wolos saw this first-hand, when he attended a similar workshop at The Juilliard School in New York City last summer, which inspired him to bring the concept to Stockton. "I reached out to a counselor here, and the idea was immediately embraced," he said.
Because the workshops are a form of experiential therapy and psychodrama, a trained counselor from Stockton's Counseling Center attends each event.
"This is hands-on and experiential. If trauma happened to your body, it has to be worked out," said Carlos Martinez, assistant director of Counseling Services. "Using storytelling and these techniques helps participants through that."
During these daylong events, students work in groups to find a commonality they can collaborate around. Ideally, this leads to each member of the group embracing creativity as a means of self-exploration.
Wolos and Natale called on fellow artists to lend their talents to each workshop. The sessions each feature a different passionate guest artist who practices and approaches art through a different medium, including words, music and movement.
"Participants are welcome to not only practice in the medium they are most comfortable or familiar with, but to also discover others," Wolos said.
The founders follow a loose schedule, but the impromptu nature of the workshop is what leads to satisfying breakthroughs.
"The main aspect of the workshop is to create something collaboratively and not give rules or restrictions," said Natale. "We want to leave the door open for whatever is there that day, what is inside each individual. Then all kinds of things start to happen."
And the workshops are just as powerful for Wolos and Natale as for the participants.
"I walked away feeling the power that comes with conveying art. Art is not just something to observe or take in, but something that is a tool. Something that is human. Something that is not reserved to a certain class or type of people," Natale said.
Though open to the Stockton community, The Creation Labs focus on initiating, inspiring and maintaining art as a coping mechanism for trauma patients.
Wolos hopes he can take this concept to help others, through homeless shelters, veterans' hospitals and women's shelters. "The Creation Labs lets people flex the muscles of collaboration and reminds you the disciplines we talk about don't matter. There are no barriers. We all need this."
"

Art is not just something to observe or take in, but something that is a tool. Something that is human. Something that is not reserved to a certain class or type of people. "