Top Dog
Top Dog
Stockton University K9 team named national champions.
By URM Staff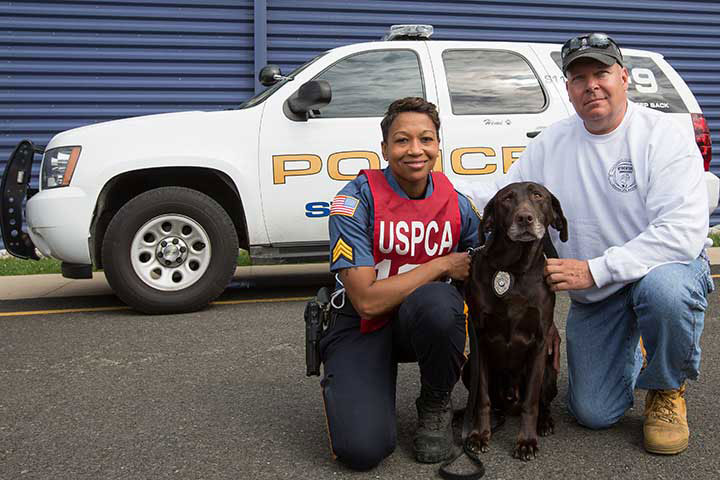 In Case You Missed It:
Stockton University Police Sgt. Tracy Stuart and her canine partner Hemi, a chocolate lab, were named the 2018 National Explosives Detection Team Champions at the 2018 United States Police Canine Association National Detector Dog Trials, which were held at Stockton University in May 2018.
Stuart and Hemi also placed first in package searches and fourth place in room searches, and Stuart took third place in the team award.
More than 100 teams from 11 states and a team from Mexico competed in this year's event. The teams were judged on accuracy, performance and speed in the different events, which were held around the Stockton campus.
-By Diane D'Amico
---
& Now:
Since securing the title as 2018 National Explosives Detection Team Champions this past spring, not much has changed for Stuart and Hemi.
"I still carry myself in the same professional manner, but it certainly gives me satisfaction," Stuart admitted. "I want to continue to maintain Hemi's professionalism and my professionalism as a handler."
It's important that Hemi's senses and detection abilities "stay on point," explained Stuart.
Stuart and Hemi continuously work on explosive training together in order to for Hemi to maintain his proficiency and skills. The Stockton K9 team participates in training with the New Jersey State Police and the USPCA. Hemi recently passed USPCA tracking recertification, and the duo plans to attend a USPCA detection seminar in January.
"Our explosive dogs have been trained on dozens and dozens of explosives," Stuart explained. "We cycle through 20 different explosives. It's almost like cycling fresh milk on the shelf in order to make sure they do not lose interest in checking them. It keeps them sharp."
Stuart also strives to excel in the classroom. She is pursuing a doctorate in Organizational Leadership from Stockton. Her goal is to graduate top of the class. "It's a challenge. I continue to challenge myself and to challenge him," she said.
Stuart sums up the recent accolade, their good fortune and the support she receives from Stockton with "life is good."
"I love my job. I am living the dream. I have the national champion staring right at me," said Stuart, referring to Hemi, during a recent phone interview. "We've gained so much beyond having the recognition as the 2018 USPCA champions. When you think of dreams coming true — they can really happen."
-By Meaghan Haugh Resta