Stockton's Most Decorated Athlete
Stockton's Most Decorated Athlete
Jared Lewis pursues coaching dreams while attending graduate school.
By URM & Athletics Staff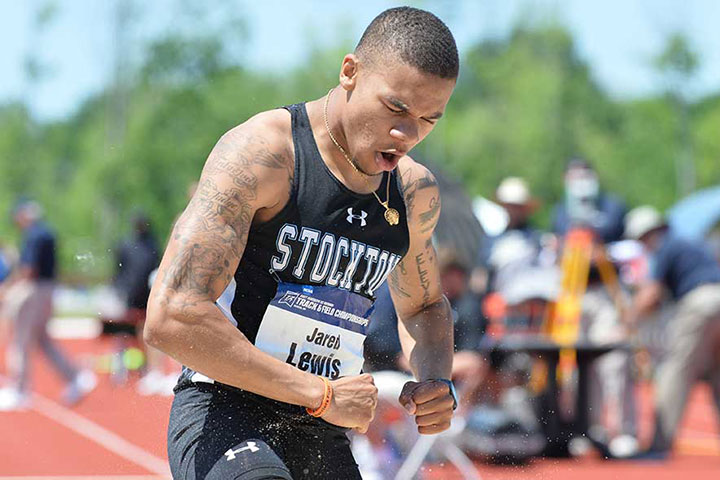 In Case You Missed It:
Jared Lewis '18 graduated from Stockton University in May with his bachelor's degree in Hospitality & Tourism Management, and notably was the most decorated student-athlete in Stockton's history.
Lewis won two NCAA championships in the indoor triple jump and earned nine All-American honors. He also qualified for the NCAA Championships in all eight of his seasons (four indoor, four outdoor) and was the NCAA runner-up in the triple jump twice in addition to his two national titles.
Lewis won 11 NJAC event championships (six triple jump, five long jump) and earned a total of 16 NJAC All-Conference honors as well as seven USTFCCCA All-Atlantic Region accolades during his career. He registered a whopping 50 event wins in an Osprey uniform.
Lewis was voted NJAC Most Outstanding Athlete for men's track and field and NJAC Outstanding Field Athlete twice each. In addition, he was the 2016 NJAC Male Athlete of the Year for all sports and was voted Stockton Male Athlete of the Year for the three straight years (2016-18).
Lewis was recognized by the publication Diverse: Issues in Higher Education as an Arthur Ashe Jr. Sports Scholar twice, as well.
---
& Now:
Lewis is currently attending the California University of Pennsylvania pursuing his master's degree in Sports Management with a goal of securing a full-time track and field coaching position at a university. In step with his goal, he is now the Graduate Assistant Coach for the Track and Field and Cross-Country Program at Cal U. He credits his vast accomplishments at Stockton with leading him to his current coaching role where he can do what he loves.
"I have the chance to be around the sport of track and field, sharing my experiences and coaching students to become better athletes and individuals, while also getting my master's degree. I am extremely grateful for the support I received while attending Stockton University," Lewis said. "After many years of coaching, if my plan stays the same I would like to pursue an administrative role of athletics, with hopes of possibly becoming an athletic director for an institution."
Lewis hopes to begin training again and jumping in a few track meets this year to see if he can improve some of his personal best performances.
"I am extremely excited to finish my degree this summer and begin coaching at a university. Maybe a position will open up at Stockton University one day, and I will have the opportunity to pursue a position at my alma mater," Lewis said.
-By Mandee McCullough '04
Stay up-to-date on Osprey news.