Manahawkin Location Expands
Manahawkin Location Expands
Stockton plans to offer more health science programs.
By Diane D'Amico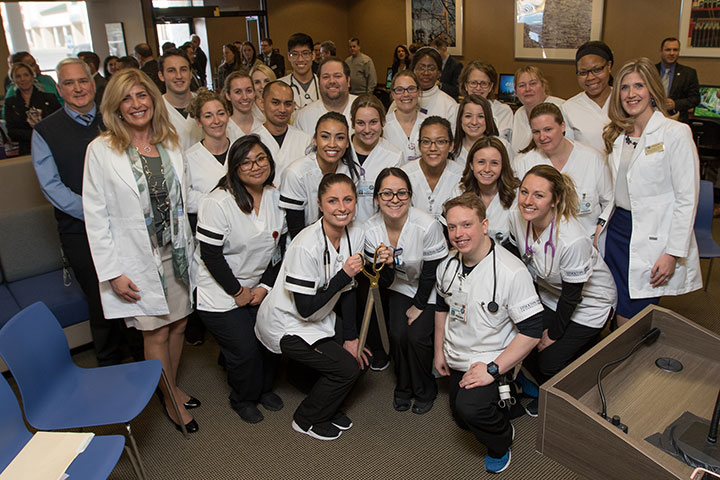 In Case You Missed It:
Stockton officials formally dedicated the new 7,915 square-foot expansion to its Manahawkin location on March 8.
Formerly Rothman Institute Orthopaedics, the expanded location will serve Stockton's nursing students. It includes a six-bed Foundations of Nursing lab, complete with simulated patients, and seven physical assessment examining rooms, one of which includes the talking simulator.
"We understand the need for this critically important profession," Stockton President Harvey Kesselman said, adding that the expansion is just the next step in Stockton's commitment to providing programs in Ocean County.
BSN graduate Daniel Paganelli said the Manahawkin site is not just a campus, but a second home for students in the TRANSCEL Nursing program, a 15-month accelerated program which provides students who already have a bachelor's degree the opportunity to become an RN with a BSN. Students also do clinical rotations in area medical facilities.
We want to keep our talented young people in the area."

Beach Haven Mayor and Stockton trustee Nancy Davis, a professor emerita of Pathology at Stockton, said the university's growing presence in the county will enrich the lives of residents.
"I know students will be dazzled by this center," she said. "We want to keep our talented young people in the area."
-By Diane D'Amico
---
& Now:
The Accelerated Nursing program continues to take 24 new students each September with all lectures and labs held at the site. Mark Adelung, assistant professor of Nursing, said the program has expanded clinical sites further into Ocean and Burlington counties with students now completing clinical rotations at Ocean Medical Center in Brick, Community Medical Center in Toms River and Deborah Heart and Lung Center in Browns Mills.
The Graduate Nursing program is also expanding, said Lori Ann Prol, program director. Advanced Health Assessment was taught in Manahawkin for the first time this fall. The site was selected because of the new Health Assessment Lab suite on site.
To accommodate increased enrollment and promote new enrollment, Graduate Nursing will offer five permanent courses at the Manahawkin site starting the Fall 2019 semester.
In addition to health science courses, the site also continues to offer a variety of general education courses for all students with topics ranging from Science of Forecasting Waves to The Environment and Film, Holocaust and Genocide studies, Car Culture in America, and Social & Ethical Considerations of Business.
-By Diane D'Amico
Learn more about Stockton's School of Health Sciences.
Learn more about Stockton University at Manahawkin.