Expanding STEM Opportunities
Expanding STEM Opportunities
Academic quad reaffirms Stockton's commitment to New Jersey's future.
By Samantha Cary '13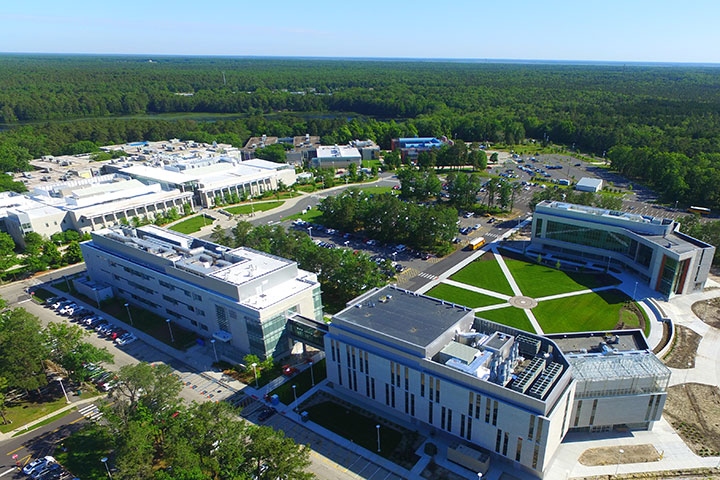 In Case You Missed It:
Stockton opened the doors to the new Health Sciences Center and Unified Science Center 2 (USC2) on May 2, ready to educate students to become innovators and entrepreneurs in sciences, technology, engineering and mathematics (STEM) fields.
The nearly 100,000-square-foot expansion adds classrooms, teaching and research labs, simulation suites and much more to Stockton's main campus in Galloway. Coupled with the Campus Center and Unified Science Center (USC), the Academic Quad creates a grand entrance to the campus. More than just adding space, the expansion makes room for hands-on learning opportunities, preparing students for jobs that have not been invented yet.
"We desire that our students, not only secure the newly created positions, but to be the creators of these positions, to be the innovators, the entrepreneurs," said President Harvey Kesselman at the dedication and ribbon-cutting. "We're stimulating their thought processes and equipping them with the problem solving acumen to be world changers because the need for critical thinkers and problem solvers never goes away."
---
& Now:
The first classes to experience the new facilities in the Health Sciences Center and USC2 just wrapped up at the end of the fall semester. "This new facility offers more than simple laboratory space. It integrates a creative space, a workshop, a makers space and a laboratory into an open and interactive facility that empowers creative skill and stimulates innovation," said Patrick Hossay, associate professor of Sustainability. "It offers a dedicated space for students to play with new ideas, develop innovative solutions, and achieve professional expertise with hands-on equipment."
The Doctorate of Physical Therapy (DPT) program had all their classes housed in the same location for the first time ever, taking up their new residence on the third floor of the Health Sciences Building. Students took advantage of the Exercise Science lab, which contains the same equipment in use by fitness professionals in the field.
"Students are learning how to conduct and evaluate fitness assessments, design and implement exercise programs based upon assessment finds and to monitor health and fitness changes and progression over time," said Kelly Dougherty, assistant professor of Exercise Science and founding program coordinator for the program. "As a program, we look forward to our first group of graduates and to tracking their success over time."
In addition to the Exercise Science lab, and the DPT program, the Health Sciences Building also houses a Sustainability lab, new classrooms, and simulation suites.
"Today's professionals need more than theoretical understanding. They need hands-on skills. And this new facility allows them to develop the applied knowledge and practical skills that are so highly valued in industry and so desperately needed to help shape a sustainable future," said Hossay of the Sustainability lab.
The USC2, an expansion of the USC that opened in 2013, features a greenhouse with three temperature zones, labs dedicated to physics, organic chemistry, and anatomy and physiology, a vivarium, and an x-ray room. The opening of the USC2 allows the sciences to be housed in one building, streamlining student access to faculty, equipment and resources.
Learn more about Stockton's School of Health Sciences.
Learn more about Stockton's Sustainability program.