Stockton University Atlantic City Opens
Stockton University Atlantic City Opens
New campus offers beachfront living & learning.
By URM Staff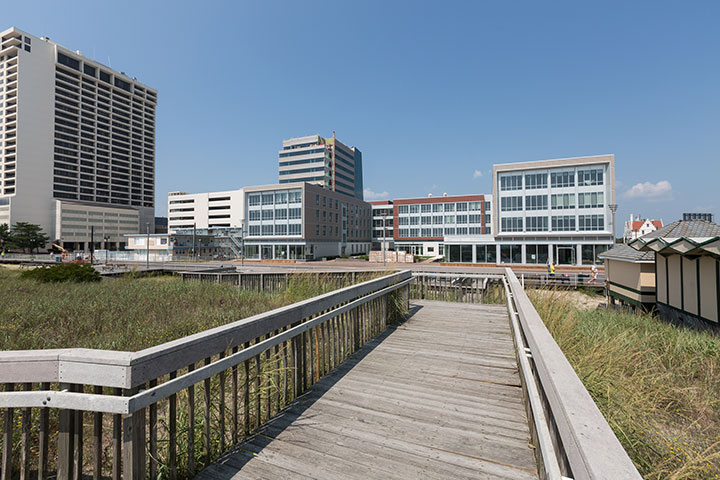 In Case You Missed It:
Stockton opened the doors of the new Stockton University Atlantic City in late August - just in time for the start of the fall semester.
Located at the intersection of Atlantic, Albany and Pacific avenues in the city's Chelsea neighborhood, Stockton University Atlantic City includes a three-story, 56,000-square-foot Academic Center and Residential Complex. More than 500 residential students moved into their beachfront apartments overlooking the Atlantic City Boardwalk during the weekend before classes.
It took a team to build Stockton Atlantic City, but the new campus is only the beginning of the University's commitment to students and Atlantic City, speakers said at the ribbon-cutting ceremony in front of the new student Residential Complex on the Boardwalk Sept. 20.
President Harvey Kesselman told the almost 1,000 people in attendance that the campus is not about the buildings, but about the opportunities they will offer students.
"We do everything in support of our principle of Students First," Kesselman said. "This is a transformational moment in Stockton's history."
The new $178.2 million campus, located in the Chelsea section of Atlantic City, was funded through sources including the New Jersey Economic Development Authority; Atlantic County Improvement Authority; State of New Jersey's Higher Education Capital Improvement Fund Act; Stockton University; and South Jersey Industries.
-By Diane D'Amico
---
& Now:
More than 100 courses were offered and 1,300 students registered for classes this fall at Stockton University Atlantic City.
Michelle McDonald, chief officer for Academic Programming AC & associate vice president for Academic Affairs, reflected on the unique academic opportunities that have emerged at the new residential campus.
"Watching how students and faculty bring the city into the classroom — and our classes into the city — has been inspiring," McDonald said. "Hospitality students visited nearby businesses and interacted with experts, critical thinking students recited Walt Whitman on the beach. And students in General Studies courses learned about the science of waves and the best way to line cast while learning about the local ecology. It is more than a university education — it's an education that makes sense here."
McDonald said while Stockton has been part of the city since it was founded, Stockton Atlantic City is a "chance to help build something better and stronger."
"One of our biggest hopes — that Stockton AC would be embraced by the community — is already happening. The number of events co-sponsored by community organizations is extraordinary," she said. "We've highlighted coastal research, worked with local senior communities, partnered to deliver meals to the hungry, and proudly marched in the city's holiday parade. There are so many ways to get involved in Atlantic City that are right outside our doors."
Brian Jackson, chief operating officer, Atlantic City Campus, said that it has been exciting to see students embrace the idea of "beachfront living and learning" at Stockton Atlantic City.
"I hear from local residents all the time, that they love seeing Stockton students walking in the neighborhood because it's brought new life to the community. Local businesses are also excited to engage with Stockton because of the prospect of generating more business," Jackson said. "I'm also excited to see faculty and staff choosing to live in AC by purchasing homes or renting apartments. Stockton's roots are just beginning to grow, now that we have planted ourselves firmly in the Atlantic City sand."
This semester, the University established the Stockton AC Food Pantry, which is supported by donations from the Community Food Bank and the Stockton community.
"The AC food pantry is an expansion of the Galloway food pantry and allows students to visit both campus locations to access the food pantry and receive food vouchers," explained Haley Baum, assistant dean of Students, Atlantic City.
In the spring, over 100 courses are scheduled at Stockton Atlantic City. Courses range from grant writing for non-profit and community organizations (ANTH 2315) and diversity in families, schools and communities (EDUC 1515), to pathways to U.S. Citizenship (SOCY 3650) and the history and culture of Atlantic City (GIS 4652).
Baum and team members from Student Affairs and Residential Life are working together to ensure that students at Stockton Atlantic City have support services and activities to keep them fully engaged. This fall, they conducted a campus feedback survey and held "Coffee and Connection in AC" events to gather feedback from students, faculty and staff about their experiences. The University will add more move nights and fitness and exercise classes at the new campus.
"I think one of the cool overall opportunities for students studying and living at Stockton AC is that they are the first. They are the ones who are creating the campus culture and making Stockton AC what it is," Baum said. "They have the chance to really make their mark and say that they were the first to help write the story that is Stockton AC."
-By Meaghan Haugh Resta
STOCKTON ATLANTIC CITY HIGHLIGHTS
A dozen local businesses registered with the Osprey Card Program to date.
Over 100 student-centered programs were held in Atlantic City in Fall 2018.
Over 600 bookings for campus facilities were made in Fall 2018 by the University community and community at large.
Stockton, South Jersey Gas and the new University District designation are attracting new dining and shopping options to the neighborhood.
Partnered with Princess, Inc. to prepare and distribute over 900 meals around Thanksgiving and the Toys for Kids program to help sort and distribute toys to local families during the 2018 holiday season.
-Source: Brian Jackson, chief operating officer, Atlantic City Campus
Learn more about Stockton Atlantic City.