Service Request Form
The service request form will allow you to access the services provided by University Relations & Marketing.
These services you can request include:
Graphics Production
Marketing Content Consultation
Marketing and Advertising
Marketing Video Production
News & Media Relations
Photography
Proofing & Editing
Publications & Special Projects
Social Media
Web Communications
Production times vary for each of our departments/services. Someone from the University Relations & Marketing team will contact you within three business days to further assist you with your project needs.
PLEASE NOTE: The Office of University Relations & Marketing does not design marketing collateral for student clubs/organizations. University Relations & Marketing will assist with logo usage to ensure a consistent brand identity for Stockton University. If you have any questions, please contact Kelsey.Santiago@stockton.edu.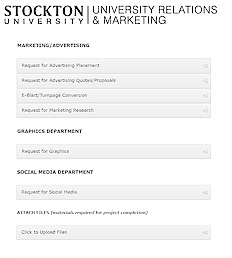 Please submit your request four weeks in advance to ensure timely delivery.