Lynne and Harvey Kesselman Scholarships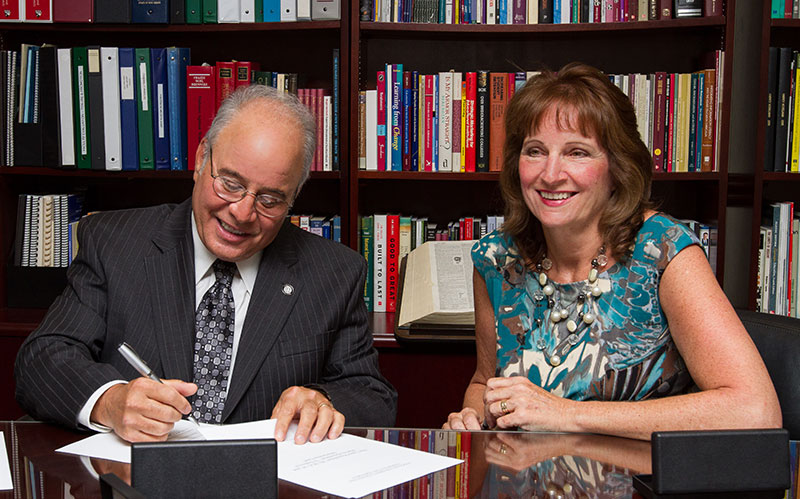 UPDATE: President Kesselman also announced that he and his wife Lynne would double their $25,000 commitment to the Lynne and Harvey Kesselman Endowed Scholarship Fund, established in 2015.
Stockton University President Harvey Kesselman and his wife, Lynne, career educators and Stockton alumni, have committed $25,000 to establish a new scholarship: The Lynne Kesselman '82, M.A. '05, and Harvey Kesselman '79 Endowed Scholarship Fund.
During Dr. Kesselman's 35-year tenure at the University, he has served in many leadership roles including as provost and executive vice president; dean of the School of Education; interim vice president for Administration and Finance; CEO of the Southern Regional Institute (SRI) and Educational Technology Training Center (ETTC); and vice president for Student Affairs. He also serves on many national and state academic organizations.
Lynne Kesselman serves as first lady at Stockton and has retired from her teaching position at Egg Harbor Township High School. Her career highlights include being named an American Star of Teaching, a national award from the U.S. Department of Education.
Mrs. Kesselman taught web design, programming, financial literacy, workplace readiness, and marketing. She maintained the high school website, leading her Web Design students to apply what they learned.
In addition to teaching and mentoring, Mrs. Kesselman has mastered thousands of hours of professional development in technology and provides ongoing formal and informal technical training for faculty and staff at the high school. Lynne Kesselman earned a Bachelor's Degree in Business and a Master's Degree in Instructional Technology, both from Stockton. She earned the Stockton Professional Achievement Award for alumni in 2014-15.
President Kesselman received a bachelor's degree in Political Science from Stockton, a master's degree in Student Personnel Services/Counseling from Rowan University and a doctorate in Higher Education Administration from Widener University.
Proceeds totaling $5,340 raised at an event earlier this year honoring Dr. Kesselman will be used to award the scholarship to deserving students over the next five years, beginning in the 2016-2017 academic year. Annual awards of at least $1,000 will be given to Stockton students.
Once fully funded, the earnings of this permanently endowed scholarship will be used to provide ongoing scholarship awards.