Motor Pool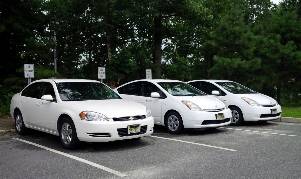 Stockton has a motor pool available for employees to use for local, off-campus, and overnight travel for official business only. Reservations are necessary to ensure a vehicle is available when needed and must be made through the Motor Pool Vehicle Request form.
Before you can reserve a car you must complete Stockton's Driver's License Verification form (with a clear photocopy of your driver's license) found on the Department of Risk Management/Environment/Health/Safety website. Completed forms should be submitted to parktrans@stockton.edu.
If a driver plans to utilize a 15-passenger van they must first schedule and complete an online 15-passenger van safety awareness presentation. Please contact Sandi Mintz to schedule the training.