University Properties: Galloway Main Campus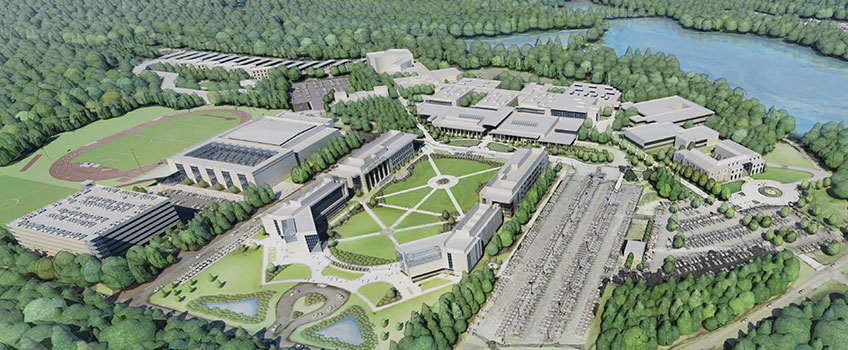 Stockton University's campus in Galloway Township, Atlantic County, New Jersey is comprised of a main campus core containing 1,600 acres and various parcels outside the core containing 300 acres. There are 67 buildings located in the main campus core totaling 1,752,935 SF. The first buildings were constructed in 1969 with the latest buildings constructed in 2017. Galloway's main campus core is a mix of academic, residential, administrative and student service space. Galloway's main campus core contains 5,500 surface parking spaces.
Academics
Stockton's academic spine is anchored by the Arts and Science Building and the West Quad Academic Building. The spine consists of 671,000 SF with a mix of classrooms, science labs, visual arts and performing arts studios, other specialty program spaces, faculty and staff offices, academic support space, administrative space, the Richard E. Bjork Library, various study spaces, computer labs, and more. Main offices for the School of General Studies (GENS), School of Behavioral and Social Sciences (SOBL), School of Business (BUSN), School of Arts and Humanities (ARHU), and School of Education (EDUC) are located in the main academic spine, with faculty offices disbursed across campus. Outside of the academic spine is the academic quad. The academic quad buildings extend our statewide leadership in science and mathematics education and provide academic tools for students and faculty in Stockton's School of Health Science (HLTH) and School of Natural Sciences and Mathematics (NAMS), including students seeking careers in science, technology, engineering and mathematics (STEM). The academic quad is comprised of the Unified Science Center consisting of 64,000 square feet, the Unified Science Center 2 consisting of 58,000 square feet, and the John F. Scarpa Health Sciences Center consisting of 37,000 square feet.
Housing
Stockton has five housing units on its main Galloway campus. Housing II and III are traditional three-story residence halls, while Housing I, IV and V are all apartment-style complexes. Housing I is a 255-unit, 1,068-bed, garden apartment complex, which allows four to five students to live in proximity while being part of a larger court community of 128 students. Housing II is an 11-building, suite-style complex, housing around 545 students. Housing III is a five-building complex, housing approximately 345 students. Housing IV consists of eight buildings, each with eight two-bedroom apartments, providing housing for 242 students. Each apartment holds four residents. Every four apartments are separated by an indoor foyer that leads out to the Housing IV recreational university green. Housing V consists of a complex of six buildings with a total of 388 beds. The Housing V suites house four students, with four key-entry bedrooms. These students share a kitchen and living area with their roommates and have access to a larger community recreation room. Stockton has one residential facility located in Galloway off its main campus. This facility known as Chris Gaupp, located at 421 Chris Gaupp Drive in Galloway, contains 2 floors of residential living with 2 or 3 students per bedroom and provides housing for 120 students.
Dining
Stockton has 6 dining locations on its main campus in Galloway. There is a traditional buffet-style student dining restaurant located in N-Wing, a food-court located in the Campus Center, Dunkin' Donuts located in the Campus Center, Au Bon Pain located in C-Wing, The Bean's List located in F-Wing and a variety of food offerings in the Lodge.
General Administrative and Student Support Space
The Galloway campus is home to Stockton's administrative and student support services. Information Technology, Administration and Finance, Enrollment Management, Student Affairs, Counseling, Office of Military and Veteran Services, and the Women's Gender and Sexuality Center are just some of the various support divisions throughout the Galloway campus. The administrative and student support services utilize approximately 99,000 SF of space throughout the Galloway campus.
Facilities and Operation
Throughout the Galloway campus there are various buildings and areas that support the operation of the University. They include but are not limited to Plant Management maintenance shops, electric/utility buildings, sewage lift stations. These various areas throughout the Galloway campus total approximately 63,665 SF of space.