Friends of Hellenic Studies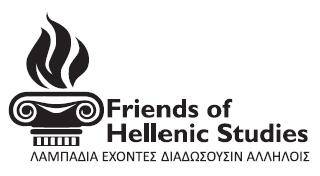 Fall 2017
Αγαπητοι Φιλοι / Dear Friends,
We hope you enjoy our newest edition of the Hellenic Voice. We have enlisted the aid of five Stockton students (three Graphic Design students and two Literature majors) in its production. We would like to thank them and you for your continued support of The Hellenic Voice and for our mission.
The Friends continue to be a terrific asset to the Stockton community and student body. The benefits are visible in all those students who participate in our local Hellenic events as well as those whose lives are forever changed through travel to the Mediterranean, especially to Greece and Cyprus. Student reports are filled with marvelous, once-in-a-lifetime experiences and events. They tell stories of beautiful landscapes, impressive ancient monuments, amazing cultural events, splendid beaches and, above all, the hospitality of their Greek hosts. All this is possible because of the generosity of the Greek community HERE, in and around South Jersey, and we are grateful for your participation in our programs, events and fundraising activities.
This past January saw the passing of our beloved Hellenic Studies founding father and mentor, Rev. Dr. Demetrios Constantelos, a profound loss to our community. We regret his passing but honor his memory and appreciate all that he did for Stockton and the Greek community. He is sorely missed. The Constantelos Reading Room remains a wonderful reminder of his gifts to Stockton and his influence on students, faculty, and our community over the last 40 years. The room remains accessible whenever the library is open, and we hope that you will feel free to visit it. There are nearly always students present in the room, which is precisely what Father Constantelos wanted. Come and visit when you can. We hold our monthly Friends of Hellenic Studies meetings in this space on the second Wednesday evening of every month, from 6:30 to 8:00. We invite anyone who has ideas and suggestions and would like to contribute their time and talents to join with us. All are welcome - we need YOU.
In promoting awareness in the community we hold many events, lectures, and free summer classes in Modern Greek and occasionally Latin. These classes are for beginners to advanced levels, and everyone is welcome to attend. Please visit our website for more information.
We have our upcoming event, "Exploring Hellenism," this coming spring. This year we will highlight several of the Aegean Islands. We will be presenting food, culture, wine and history from Mytilini, Chios, and Kos. Stay tuned for more details and please join us for this wonderful event! Opa!!!
Note that our website has been recently re-designed by Tula Christopoulos and Victoria Conover – check it out!
Finally, we hope that the Friends of Hellenic Studies has become part of your annual giving, so that we can continue to support student travel, education and enrichment. If you have not done so yet, we encourage you to become a member of the Friend of Hellenic Studies. Below are several levels of support at which you can participate in.
With all good wishes,
Amy Papalexandrou and Eleni Stamelos, Co-Chairs of the Friends of Hellenic Studies