Faculty - Assessment
Assessment refers to institutional efforts to 'globalize the curriculum'. This includes institutional-level outcomes such as increasing courses with the "global awareness" Essential Learning Outcome (ELO) and improving student learning in specific areas of global learning that include knowledge, skills, and attitudes.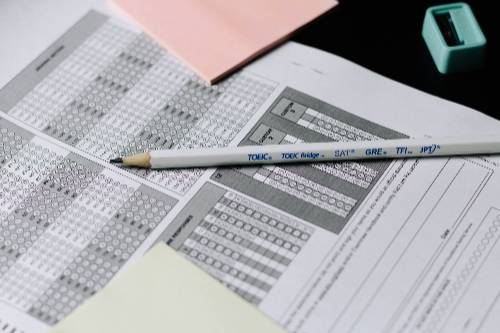 Image from Nguyen Dang Hoang Nhu at UnSplash
Assessing Global Learning at Stockton
Global Awareness is an Essential Learning Outcome (ELO)
Click here to download the ELO Global Awareness Map. Consider adding this ELO to your course syllabus.
---
Global Awareness is a Learning Objective for IDEA Class Evaluations
Consider selecting the following learning objective as essential or important for your global learning course: "Developing knowledge and understanding of diverse perspectives, global awareness, or other cultures"
The AAC&U VALUE Global Learning Rubric
The Association of American Colleges and Universities (AAC&U) proposed a set of 16 VALUE rubrics that "were developed by teams of faculty experts representing colleges and universities across the United States through a process that examined many existing campus rubrics and related documents for each learning outcome and incorporated additional feedback from faculty. The rubrics articulate fundamental criteria for each learning outcome, with performance descriptors demonstrating progressively more sophisticated levels of attainment. The rubrics are intended for institutional-level use in evaluating and discussing student learning, not for grading. The core expectations articulated in all 16 of the VALUE rubrics can and should be translated into the language of individual campuses, disciplines, and even courses. The utility of the VALUE rubrics is to position learning at all undergraduate levels within a basic framework of expectations such that evidence of learning can by shared nationally through a common dialog and understanding of student success." (AAC&U)
Please download your free copy of the AAC&U VALUE Global Learning Rubric here.
Review this AAC&U publication "Using the VALUE Rubrics for Improvement of Learning and Authentic Assessment" by Terrel L. Rhodes and Ashley Finley for more information about how to use this and other VALUE rubrics within your courses and at the programmatic/institutional level.
Additional resources for AAC&U Global Learning can be found here.
---
Additional Assessment Instruments
Please contact Dr. JY Zhou if you are interested in any of these instruments for classes, special projects, and other programs:
The Intercultural Development Inventory® (IDI®) assesses intercultural competence—the capability to shift cultural perspective and appropriately adapt behavior to cultural differences and commonalities. Intercultural competence has been identified as a critical capability in a number of studies focusing on overseas effectiveness of international sojourners, international business adaptation and job performance, international student adjustment, international transfer of technology and information, international study abroad, and inter-ethnic relations within nations.
The following courses and projects participated in the pilot study of using IDI to assess studens' global learning.
GEN 1245 Children's Literature (Dr. Susan Cydis)
Short-term faculty-led study abroad programs (Dr. Peter Straub, Dr. Tait Chirenje)
Developing Students' Cultural and Linguistic Competence for a Global Workplace (Dr. Elaine Bukowski, Dr. Arnaldo Cordero-Roman, Dr. Linda Feeney, and Dr. JY Zhou)
Stockton Model United Nations Team (Dr. Tina Zappile)
The Global Perspectives Inventory (GPI) assesses three dimensions related to global learning and development; each dimension has two scales. GPI data provide a starting point for understanding how students think (cognitive), how they view themselves (intrapersonal), and how they relate to others from different cultures and backgrounds or who have different values (interpersonal).
Cognitive Dimension
Knowing Scale: Recognizing the importance of cultural context in judging what is important to know and value
Knowledge Scale:
Understanding and being aware of various cultures and their impact on society
Intrapersonal Dimension
Identity Scale: Being aware of and accepting one's identity and sense of purpose
Affect Scale:
Respecting and accepting cultural differences and being emotional aware
Interpersonal Dimensions
Social Responsibility Scale:
Being interdependent and having social concern for others
Social Interactions Scale:
Engaging with others who are different and being culturally sensitive (From the GPI webpage)
"The Beliefs, Events, and Values Inventory (BEVI) is an accessible, adaptable, and powerful analytic tool that can be used as an independent or dependent measure in a wide range of applied settings, evaluative contexts, and research projects. From an applied standpoint, the BEVI helps individuals, groups, organizations, and institutions 1) understand better what they believe and value about themselves, others, and the world at large and 2) reflect upon how such beliefs and values may - or may not - be conducive to learning, personal growth, relationships, and the pursuit of life goals. From the perspective of evaluation and research, the BEVI 1) helps answer questions such as "who learns what and why, and under what circumstances," 2) allows for the examination of complex processes that are associated with belief/value acquisition, maintenance, and transformation, and 3) analyzes the impact of specific experiences that are implicitly or explicitly designed to facilitate growth, learning, or change. " (From BEVI webpage)
The following courses and programs participated in the pilot study of using BEVI to assess their students' global learning.
GIS 3673 Understanding Global Learning (Dr. JY Zhou)
PSYC 3230 Cross-cultural Psychology (Dr. Zori Kalibatseva)
CMDS 5125 Advanced Clinical Methods (Dr. Phillip Hernandez)
CMDS 6450 Communication Disorders in Culturally and Linguistically Diverse Populations (Dr. Phillip Hernandez)
2-year Education Program: EDUC 3000 Gateway to Teaching