For Students
Join us in the United Nations Sustainable Development Goals (SDGs) Workshop!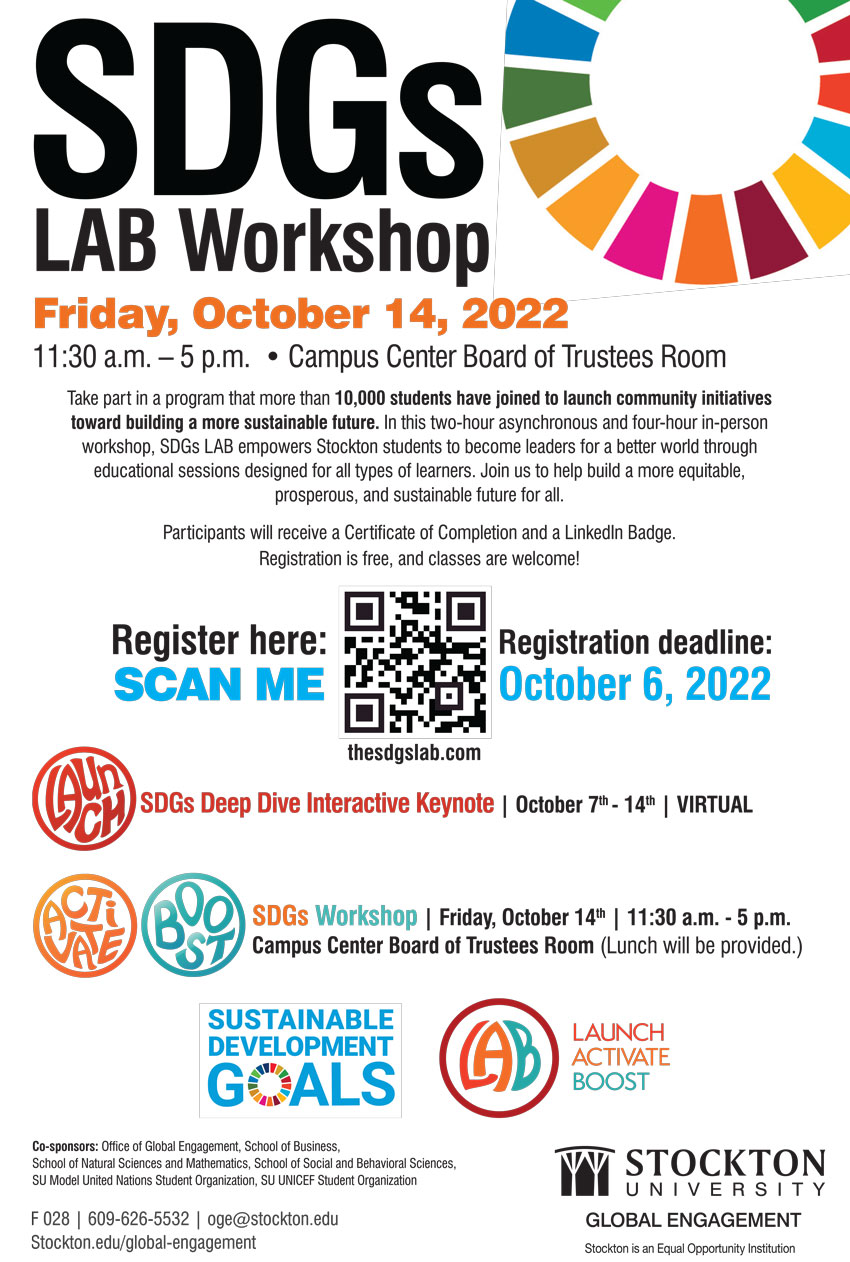 We are excited to announce a campus-wide workshop on United Nations Sustainable Development Goals (UN SDGs) — SDGs LAB.
We invite our students to part in a program that more than 10,000 students have joined to launch community initiatives toward building a more sustainable future. SDGs LAB empowers Stockton students to become leaders for a better world through educational sessions designed for all students. Join us to help build a more equitable, prosperous, and sustainable future for all!
This SDGs LAB workshop has two parts:
Asynchronous 2-hour interactive keynote available on October 7-14, 2022
In-person 4-hour workshop on Friday, October 14, 11:30am - 5pm in Campus Center Board of Trustees Room
Participants who complete both parts will receive a Certificate of Completion and a LinkedIn Badge.
Registration is free (Deadline: October 6, 2022). Please share this event with students and encourage them to join us. Classes are welcome!
During the in-person workshop, we will have the SDGs Fair to showcase Stockton's sustainability initiatives. If your office/program would like to host a table, please let us know at oge@stockton.edu.
Team Registration Open for Global Innovation Challenge (WMGIC): International and Sustainable Development Challenge
The William & Mary Global Innovation Challenge invites you to participate in our annual international and sustainable development case competition.
Teams of 3 to 5 undergraduate students from universities around the world are invited to join this annual challenge, to be held virtually on Zoom April 1 - 2, 2022. Students of all majors and disciplines are welcome.
This year's case will center on climate change and human security. Students will develop innovative solutions to pressing global challenges for the chance to win $6,000 total in prizes. During the 24-hour competition, students will have the opportunity to network with industry professionals from government, business, and non-profit organizations.

Established by students at William & Mary in 2017, WMGIC provides undergraduate students worldwide with a platform for open collaboration and discussion with peers, faculty, and knowledgeable professionals to analyze and create sustainable and scalable solutions. The competition increases students' knowledge about the case study, design thinking, innovative processes, and policy entrepreneurship.

WMGIC focuses on four concentration areas within the wider theme of international and sustainable development: 1) governance, 2) social entrepreneurship, 3) technology and 4) business consulting. In conjunction with the UN Sustainable Development Goals, WMGIC's objective is to generate discussion on development challenges facing today's global community. We hope to promote the ideation of novel solutions or further rationalize current "best practices."

Registration is now open, but space is limited. Please contact oge@stockton.eud before March 25, 2022 if you're interested or have any questions.
Global Learning Events & Activities at Stockton:
For a Complete Schedule of Global Learning Events Go Here
---
Get Involved with Global Learning through Student Organizations
Student Organizations Related to Global Learning

Search for organizations here
---
Watch This Video on the Importance of Language Skills & Global Competencies for Students
by U.S. Department of Education
---
Find Additional Resources for Global Learning Here
---